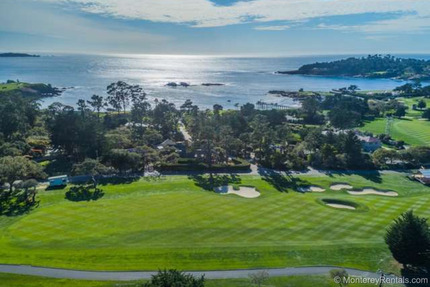 Overview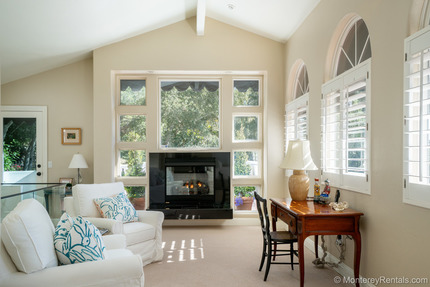 Study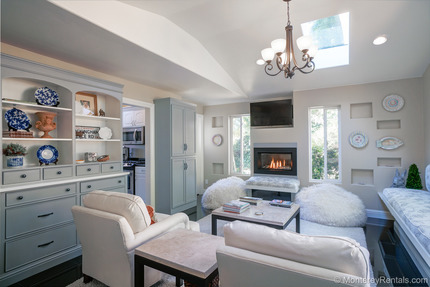 Family Room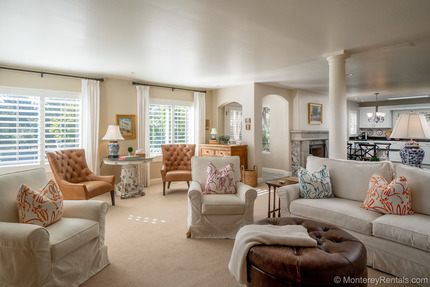 Living Room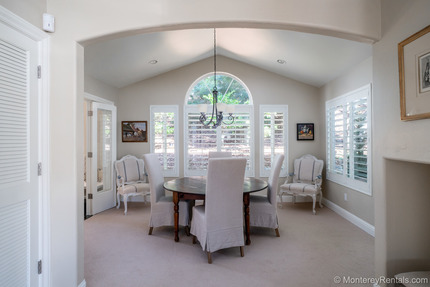 Dining Room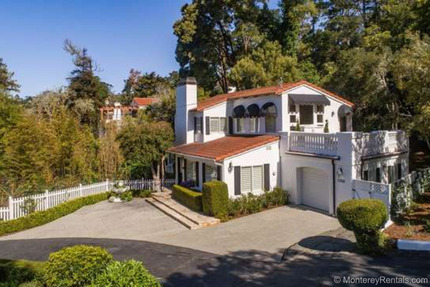 Exterior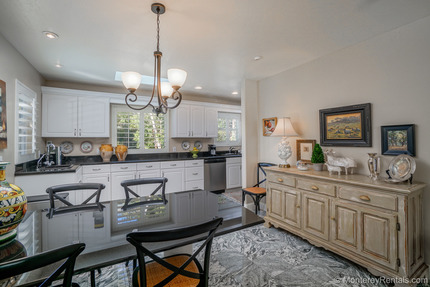 Dining Area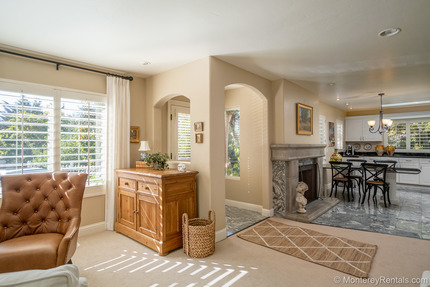 Entry Area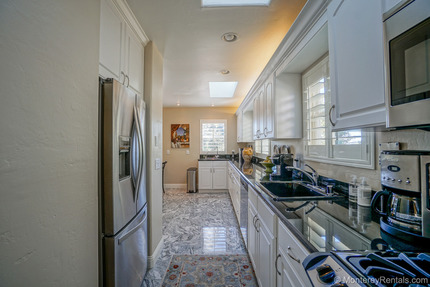 Kitchen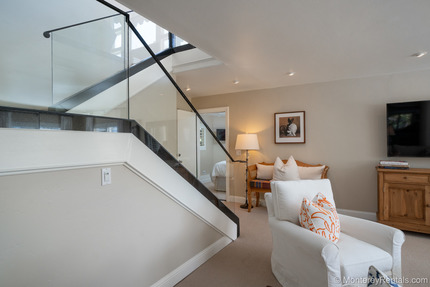 Stairs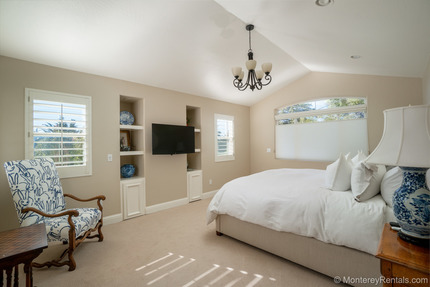 Master Bedroom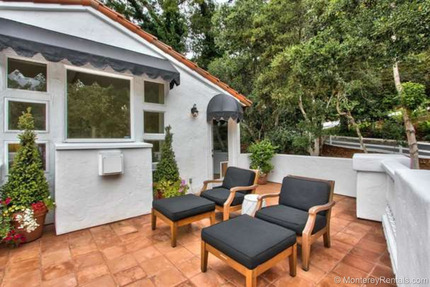 Master Bedroom Patio/deck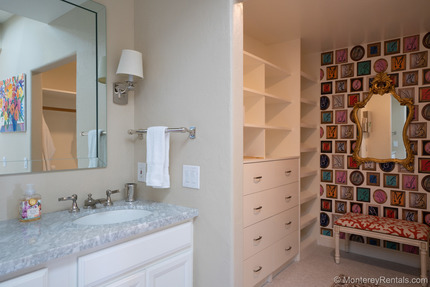 Master Bathroom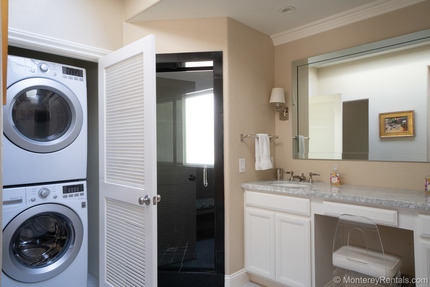 Laundry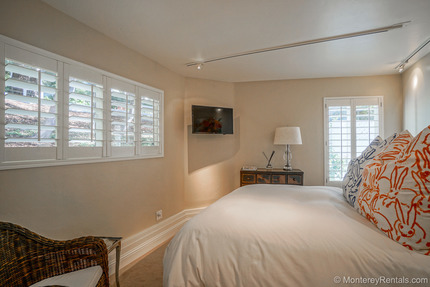 Second Bedroom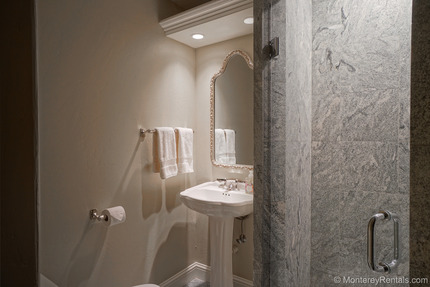 Lower Bathroom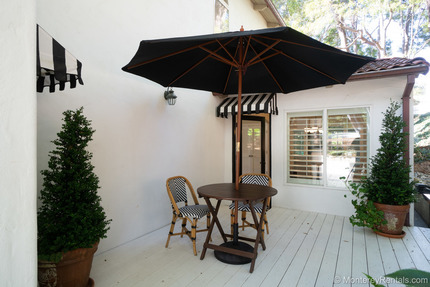 Patio/deck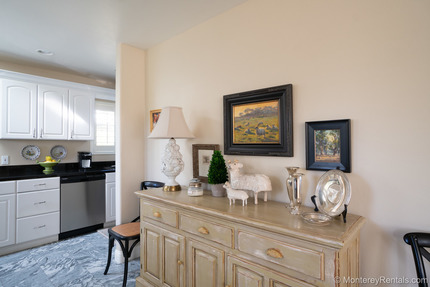 Detail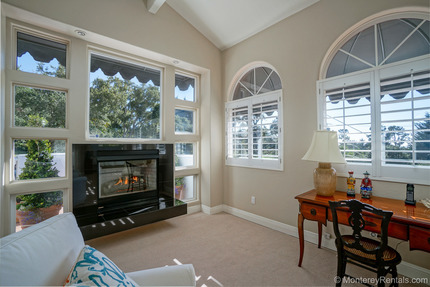 Study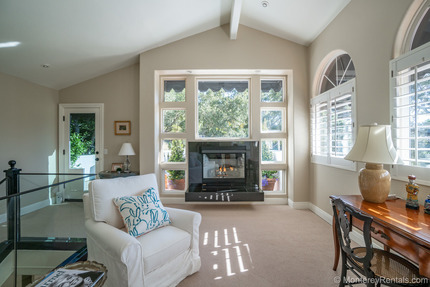 Study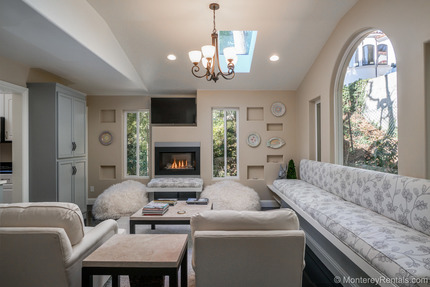 Family Room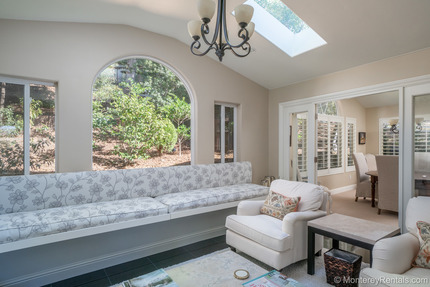 Family Room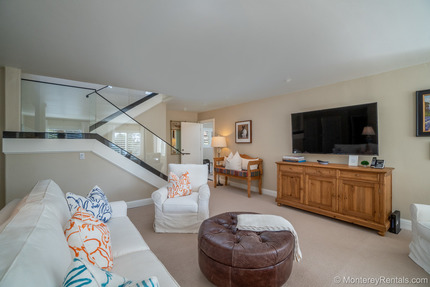 Living Room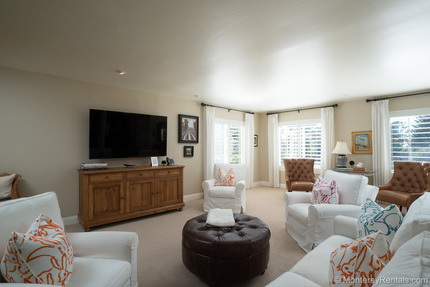 Living Room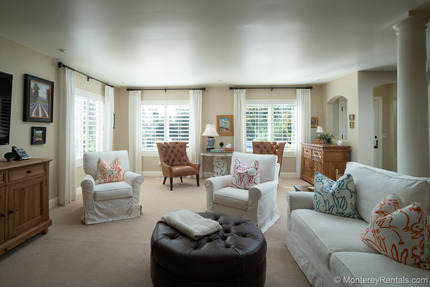 Living Room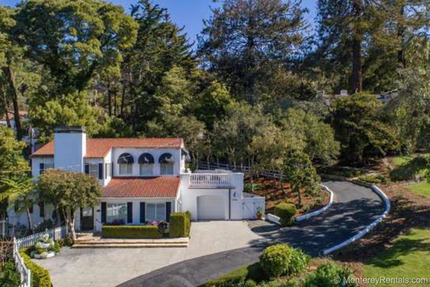 Exterior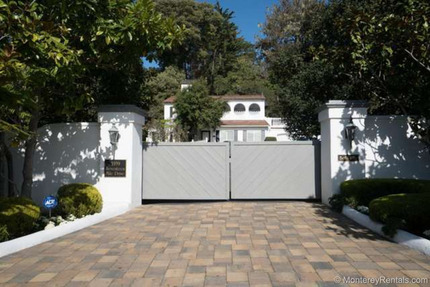 Exterior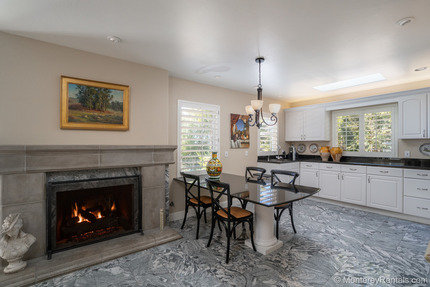 Dining Area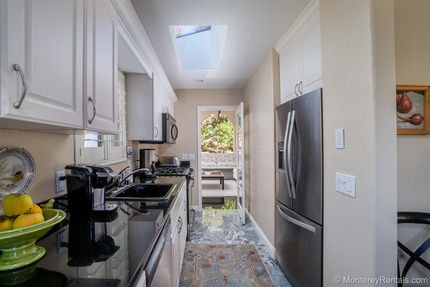 Kitchen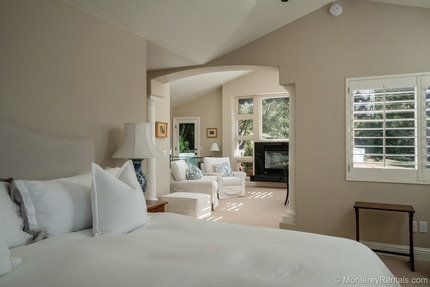 Master Bedroom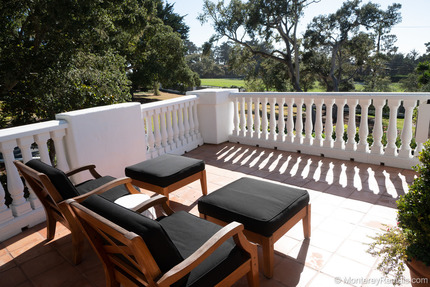 Master Bedroom Patio/deck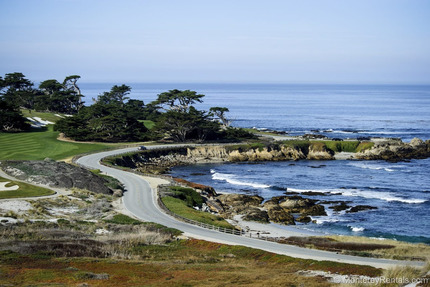 View at Pebble Beach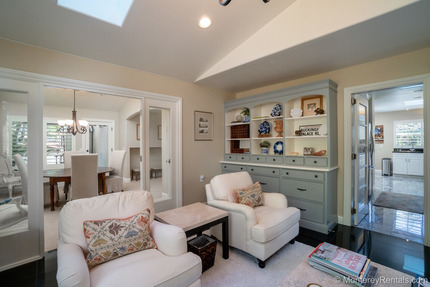 Layout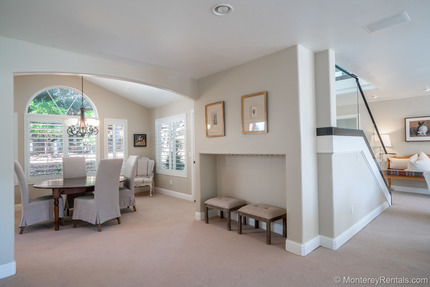 Layout
17-Mile Drive - Pebble Beach
2 Bedroom Golf Course Mediterranean
Location, Location, Location! This gated estate is directly across from the 15th Fairway of the Pebble Beach Golf Links: just walk across the street to the Lodge area or golf cart access. More spacious than many homes, this 2000 square foot guesthouse features ocean... more views from the master suite and the verandah and is completely separate and private from the main house on the hillside above. Downstairs there are two living rooms, a galley kitchen, a formal dining area, a bedroom (Queen) and a full bath with a shower. The upper level features a sitting area with comfortable chairs, a desk, and a fireplace. The light-filled master has a King bed, an en suite bath (with a walk-in shower) and a large closet. There are two patios: one off the master upstairs, and one on the lower level with a barbecue. Striped awnings, shutters, painted cabinetry, and three fireplaces add to the elegant ambience. NOTE: With advance notice (and approval) this house may be configured into a three bedroom. Extra fees apply. less ↑
Amenities
Kitchen - Full
Laundry - In Unit
Linens Provided
Laundry Detergent
Shampoo, Conditioner, Soap
Paper Towels, Tissues, TP
Hair Dryer
Iron and Ironing Board
Gas Fireplace (3)
Parking - Off Street
Luxury
View/Location
Partial Ocean View
Golf Course View
Near the water
Beds
Communication
Internet - Wireless [Free]
Desk
Activities
Beach - 10 Min Walk
Restaurant - 10 Min Walk
Golfing Nearby
Day Spa - Nearby
Outdoor
Deck/Patio (2)
BBQ Grill [Gas/Electric] - Private
Kitchen
Refrigerator - Full Size
Dishwasher
Coffee Maker — Regular and Keurig
Entertainment
Suitability
Honeymoon Spot
Smoking Not Allowed
Dog Friendly — With application
6 Guest Reviews
What a gem.
My husband and I frequently rent lovely vacation homes and this was the pinnacle. We spent five magical weeks here. The owner has wonderful taste and knows how to make her guests feel pampered and welcome. The home exudes beauty and comfort. Plush beds and... more linens, great showers, charming dishes, spacious rooms, three cozy gas fireplaces, beautiful gardens. We were actually reluctant to book this property because it is a "guest house" and we did not want to intrude on the owner's privacy. My concern was completely misplaced. This home is sited a substantial distance from the main house and feels very private. It would be my first choice for every return trip to the peninsula. A wonderful experience in every way. less
— Maureen, Stayed 01/08/2020
Awesome
Perfect house for a couple and or family. House is clean, beautifully decorated and the owner and agent were very responsive. Location is great and close to Carmel- we will definitely stay again!
— Todd, Stayed 07/14/2019
Pristine, Peaceful, and Private
The moment you arrive you know you are in a special cottage. Not only is its exterior beautiful and surrounded by rose gardens and lovely flowers, but the interior décor is equally lovely. Totally pristine location: peaceful , relaxing, and private. I have been many... more times and look forward to my next visit. less
— S.C., Stayed 9/19/18
Pampered!
We loved this beautiful home with the fabulous views of the ocean and the Pebble Beach golf course - we stayed for a month and didn't want to leave! We felt so pampered with our location which gave us easy access to Carmel and we... more went down the coast to Big Sur. Our beds were amazing and the linens were superior. The kitchen had everything we needed when we wanted to cook or grill outside on the patio. Everyone had a chance to spread out with multiple fireplaces and TVs. Just wanted to let you know how much we enjoyed our stay - we would love to book again in the near future! less
— C.W., Stayed 07/1/2018
We'll be back
We enjoyed this Pebble Beach cottage: the kitchen was ready for nights that we wanted to grill outside and our teenager loved his own escape to a comfortable tv room with a fireplace. Great location to Carmel, and a trip down the coast. Everything was... more convenient. We will return! less
— D.A., Stayed 9/23/18
Amazing Property
I had the privilege of staying in this lovely home on two separate occasions for a total of three weeks. It is cozy with an open floor plan and beautifully decorated. The kitchen/dining and living areas are very spacious, the upstairs master bedroom suite is... more exquisite with fabulous views of the beautifully landscaped gardens below as well as the 15th hole of the Pebble Beach golf course, and the sun deck off the master bedroom offers gorgeous views of Stillwater Cove. Hidden behind a gated entrance, it's just a short walk to the Pebble Beach Golf Course, The Lodge, and the Beach Club. It is truly an amazing property in close proximity to fabulous shops and restaurants in Carmel. less
— Sue, Stayed 5/7/18
Policies