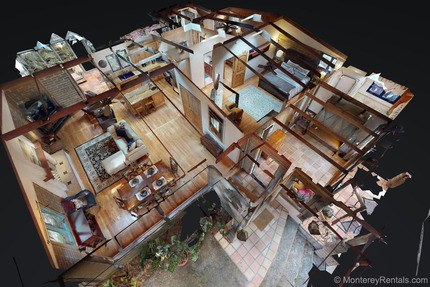 Walkthrough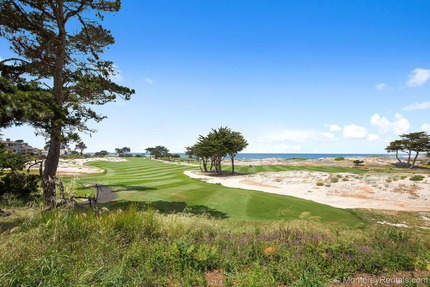 Nearby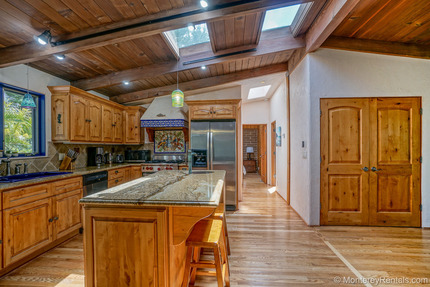 Kitchen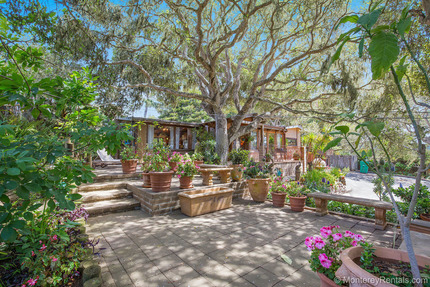 Patio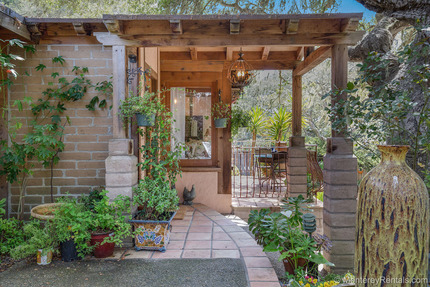 Balcony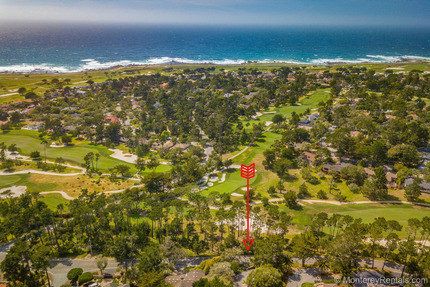 Location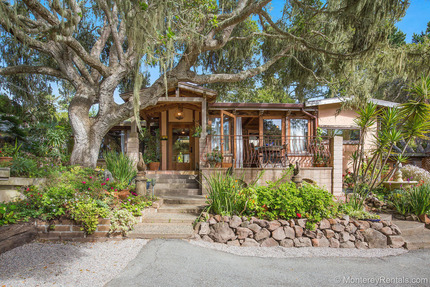 Exterior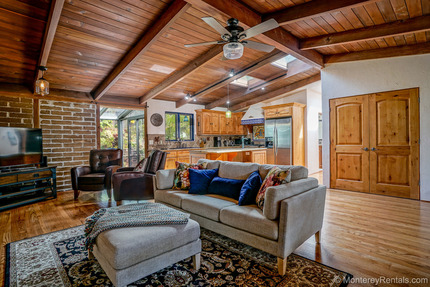 Living Room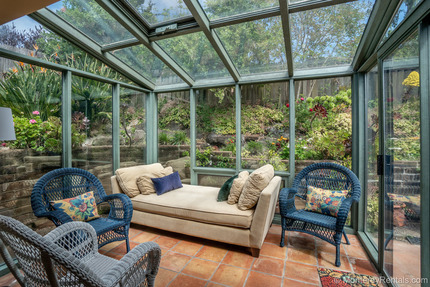 Sunroom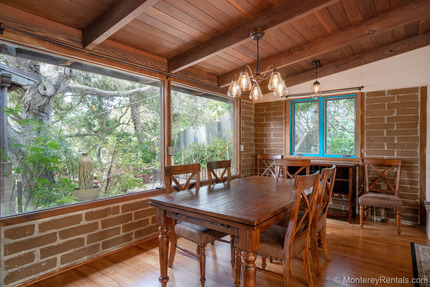 Dining Area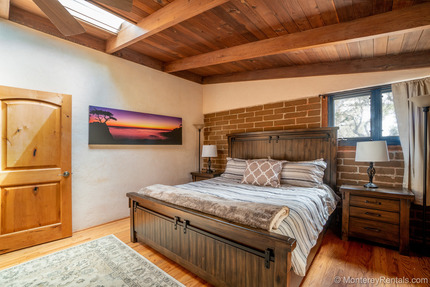 Master Bedroom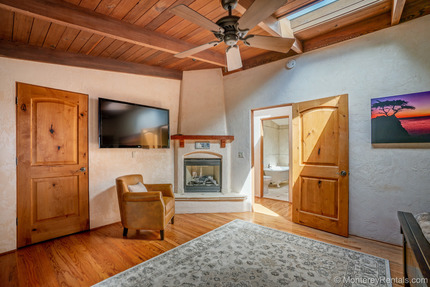 Master Bedroom Sitting Area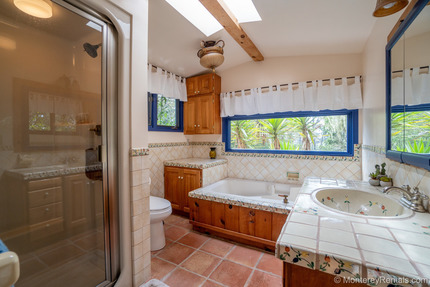 Master Bathroom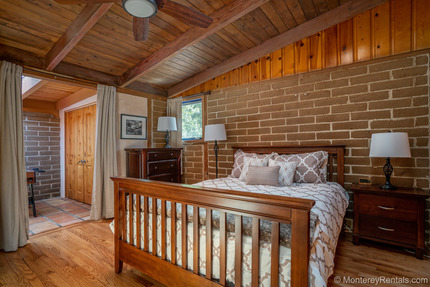 Second Bedroom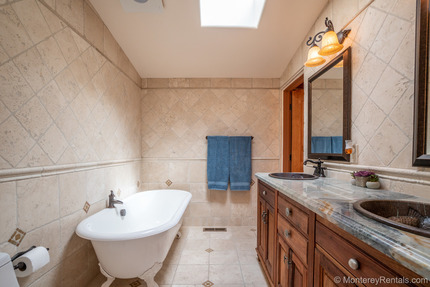 Second Bathroom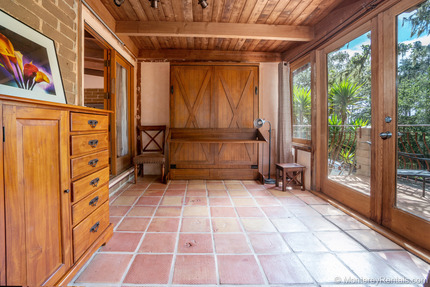 Third Bedroom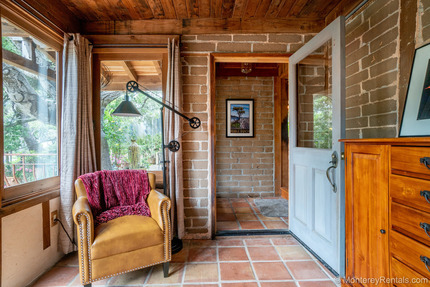 Third Bedroom Sitting Area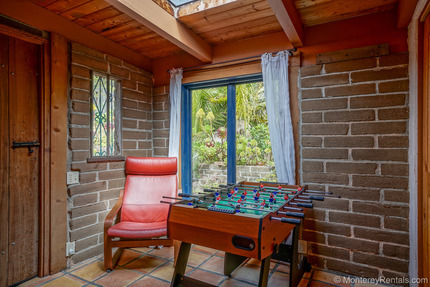 Game room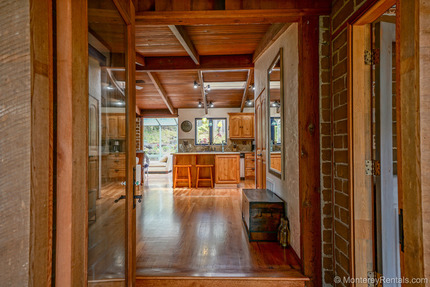 Entry Area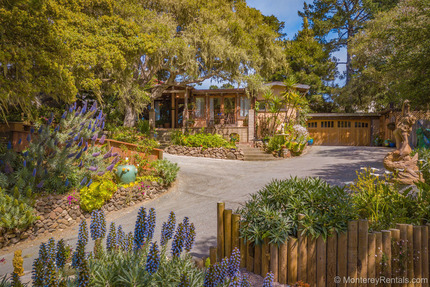 Overview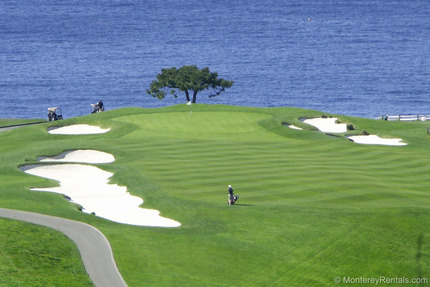 Nearby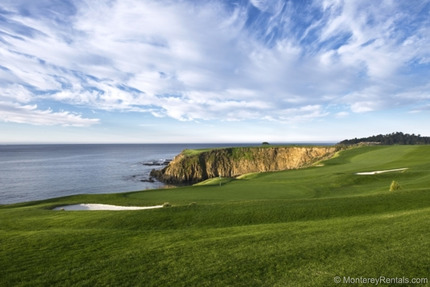 Nearby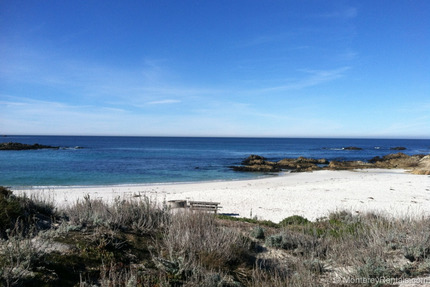 Nearby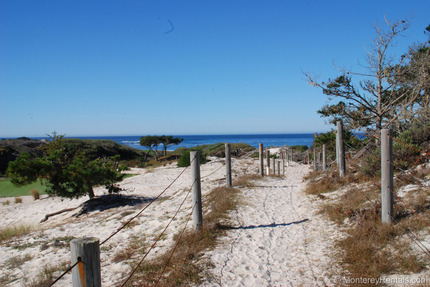 Nearby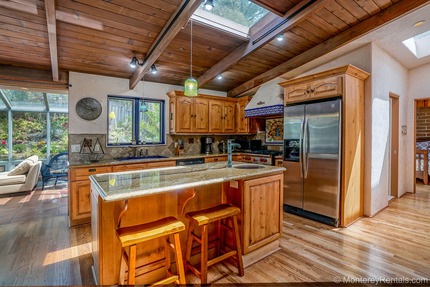 Kitchen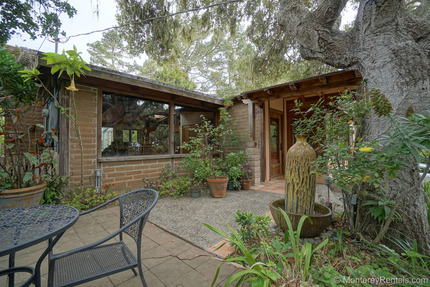 Patio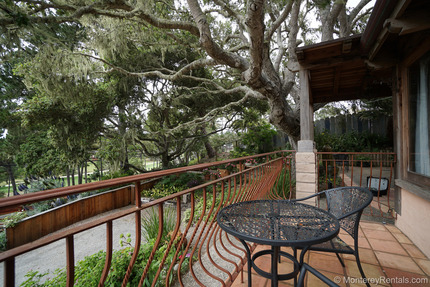 Balcony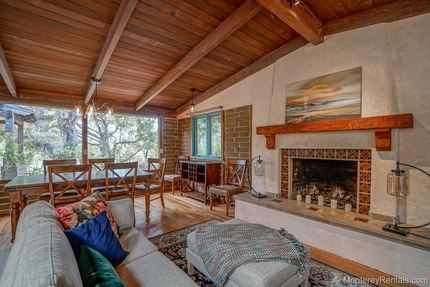 Living Room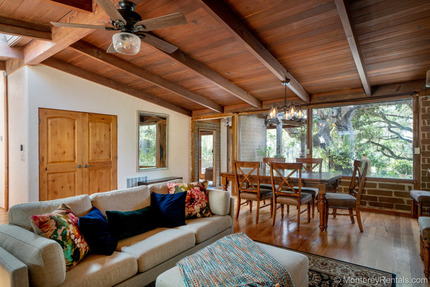 Living Room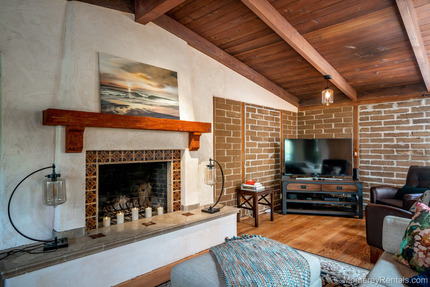 Living Room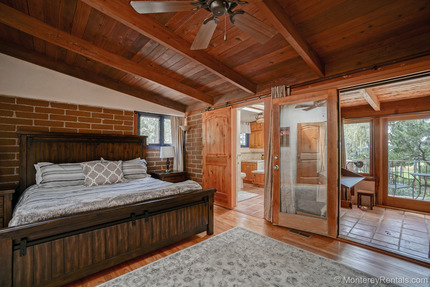 Master Bedroom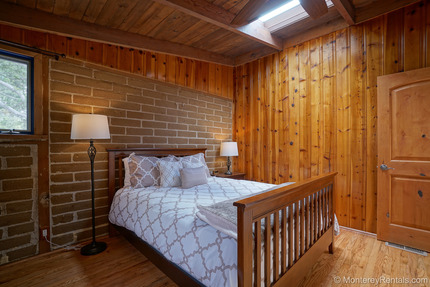 Second Bedroom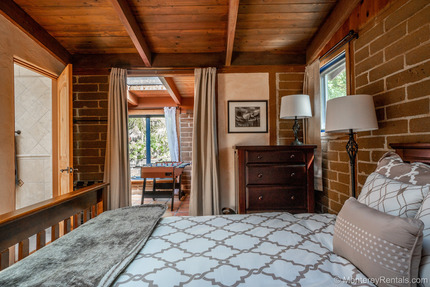 Second Bedroom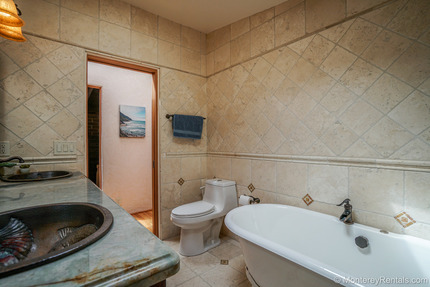 Second Bathroom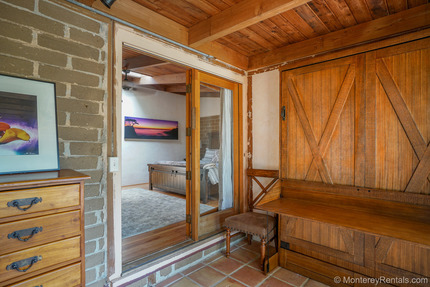 Third Bedroom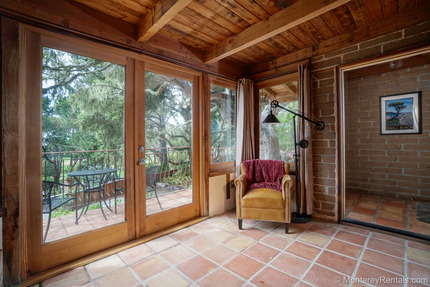 Third Bedroom Sitting Area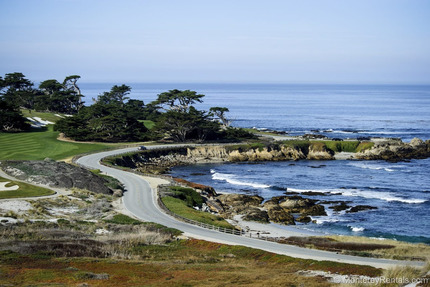 View at Pebble Beach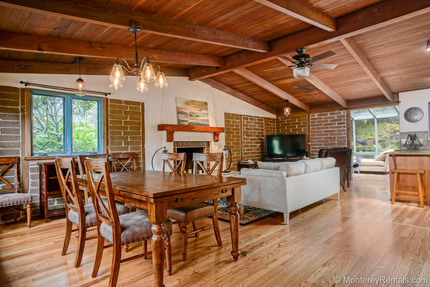 Layout
Encanto - Pebble Beach
3 Bedroom Partial Ocean View Home
Prepare to be charmed by this Spanish-style adobe overlooking the Pacific and the 18th hole of the MPCC Shore Course. Located in the gated community of Pebble Beach, it features oak flooring, an open floor plan and a gourmet kitchen with a Wolf range,... more granite counters, travertine backsplash and hand-painted tile and copper accents. The master suite has a King bed, a fireplace and a full bath with a tub and shower; the second and third guest rooms (one with a Queen and the other with a convertible desk/wall bed) share the second full bath with a clawfoot tub/shower. There are few places where you can experience the charm of a bygone era while enjoying all the modern conveniences today's travelers expect. And the location is ideal: a few blocks to 17-Mile Drive and close to all Pebble Beach golf courses and the Lodge at Pebble Beach (restaurants, shops, and a world-class spa). A short, scenic drive takes you to the Monterey Bay Aquarium and Cannery Row, Fisherman's Wharf, and charming Carmel-by–the-Sea, known for its unique shops, galleries, bistros and restaurants. less ↑
Owner/Manager
Kyle Burritt
Amenities
Kitchen - Full
Laundry - In Unit
Linens Provided
Laundry Detergent
Shampoo, Conditioner, Soap
Paper Towels, Tissues, TP
Hair Dryer
Iron and Ironing Board
Gas Fireplace
Parking - Off Street
View/Location
Partial Ocean View
Golf Course View
Near the ocean
Beds
Communication
Internet - Wireless [Free]
Activities
Beach - 10 Min Walk
Golfing Nearby
Day Spa - Nearby
Outdoor
Balcony
Deck/Patio
BBQ Grill [Gas/Electric] - Private
Kitchen
Refrigerator - Full Size
Dishwasher
Microwave
Toaster
Coffee Maker
Food Processor
Tea Kettle
Entertainment
TV - Standard Cable/Satellite (3)
Suitability
No Pets Allowed
Smoking Not Allowed
3 Guest Reviews
Disappointed
My wife and I have rented a home in Pebble Beach, Carmel or Carmel Highlands every March/April since 2000. This home is without doubt the worst home we have ever rented. The issues with the home were exacerbated by several storms which caused power outages... more for nine days. I want to be clear that the weather and power outages were not the fault of the homeowner or the rental agency. However, their reaction to the crisis was unacceptable to say the least. Even if the weather had been perfect, there were a number of issues we had with this home, including restrictions against using a fireplace that had obviously been used for years (this was critical during a nine day power outage); they would not allow us to use candles during the power outage; the laundry facilities are in the garage, which required going outside, down several steps, and then back up the driveway to the garage (in constant rain). The driveway gate (power operated) locked us out for two hours when the access panel failed. Several power outlets did not work - we had to buy an extension cord. The owner is cutting corners by not providing serving dishes and adequate cooking pans (mentioned by a previous tenant). This could be a very acceptable rental home if the owner and rental agency were more respectful of tenants. less
— Peter, Stayed 02/27/23
Owner/Manager Response
I am so sorry to hear of the negative experience you had at Encanto. We appreciate the time you took to provide your feedback; we take all guest comments very seriously. While the weather and power outages were beyond our control, as you were kind enough to acknowledge, we understand that our response during the crisis fell short of your expectations. We sincerely apologize for the inconvenience and frustration this caused. We discussed this situation in our staff meeting today, along with strategy to improve our response to climate emergencies in the future. Regarding the restrictions on using the fireplace and candles during the power outage, we understand that this was a critical issue for you. However, pursuant to California statutes, an agent must follow the directions given by a principal (the home owner). We apologize for the inconvenience of the laundry facilities being located in the garage, and we understand that this was difficult during the stormy weather. I was most dismayed to hear about the issues with the driveway gate. It was my understanding that the gate professional who visited the property had shown you how to open the gate when the power is off. I apologize if I misunderstood and that did not happen. I appreciate knowing about the non-functioning power outlets. We will work to address these issues to ensure they do not occur for future guests. Lastly, we apologize for any inconvenience caused by the lack of serving dishes and adequate cooking pans. We give each owner a list of items with which the home should be furnished. We will advise the property owner that some items are missing and will make sure that they are replaced.
Loved the House
We very much enjoyed our month long stay at Encanto. The beautiful house had everything we needed including 2 comfy recliners to watch TV, a sunroom where we spent many hours enjoying the beautiful landscaping, potted plants of many varieties everywhere, and kitchen with every... more necessary item for meal prep. Skylights in every room, copper sinks, and more....a lovely house that we enjoyed so much. We could hear the seals from the ocean when sitting out front under the huge trees covered with spanish moss, enjoying the cool breezes and more beautiful landscaping. Location was perfect...minutes away from Carmel, Pacific Grove and every day cruising along 17 Mile Drive...awesome!!! less
— Charles , Stayed 09/06/2022
Enjoyed our stay
Everything was just fine. We enjoyed our stay. Whereas the dishes and silverware were very fine, the containers for serving were quite limited. There was one small covered bowl. It would be nice to have placemats and napkins. The bathtub in the guest bedroom is... more very pretty, but totally non-functional unless you have a small child to bathe. We are elderly and it was almost suicidal to try to get in that tub. Also, it took forever for the faucet to emit enough water to even get a bath. One solution would be to change the faucet so that at least a hand-held shower could be attached. That would help, but getting in and out of the tub is still a dangerous situation. We had difficulty with the tv and Massey came right away. He was very knowledgeable and pleasant. We had no interaction with Monteray Rentals beyond that. less
— john and Kathy, Sharon and Ken, Stayed 11/13/2020
Owner/Manager Response
Thank you for bringing this to our attention. The owner will be replacing the faucet and adding a hand held shower attachment shortly.
Policies