Monterey County is under an indefinite stay-at-home order. No hotel or lodging entity can accept or honor reservations for non-essential travel unless the reservation is for at least 14 days and the persons identified in the reservation will quarantine in the hotel or lodging until the 14 day period has expired. We may offer lodging for essential functions and travel including COVID-19 mitigation and containment measures, treatment measures, accommodation for essential workers, and/or housing solutions. If you fit into one of these categories, please contact us for assistance.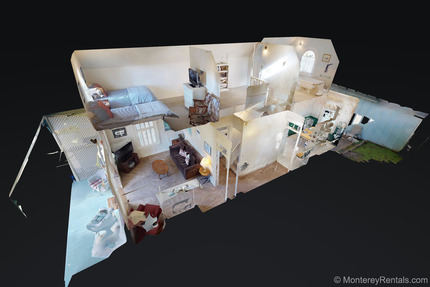 Walkthrough
Overview
Neighborhood
Dining Area
Living Room
Kitchen
Upper Bathroom
Master Bedroom
Lower Bathroom
Second Bedroom
Location
Nearby
Neighborhood
Neighborhood
Neighborhood
Living Room
Location
Nearby
Nearby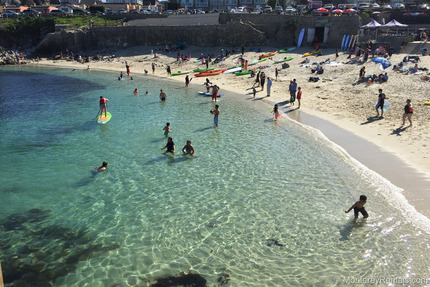 View at Pacific Grove
Sweet Pea - Pacific Grove
2 Bedroom Walk To Beach Victorian
Experience the vintage charm of Pacific Grove in this two-bedroom/two bath seaside cottage built in 1890. This historic home is close to Jewell Park, a short stroll from Lover's Point Beach—and just a few blocks from the shops and restaurants lining Lighthouse Avenue.You'll feel... more warm and welcome with a gas fireplace, a cheerful, green and white country-style kitchen, and a small patio with room to barbeque. Period touches abound, from the brass bed in the master to the white claw foot tub in the upstairs bath. And when the fog rolls in, the cozy nook at the top of the stairs is the perfect place to nestle in with a cup of cocoa and a good book.Pacific Grove Transient Use License #410 less ↑
Amenities
Kitchen - Full
Laundry - In Unit
Linens Provided
Gas Fireplace
Beds
Queen Bed
Twin/Single Bed (2)
Communication
Internet - Wireless [Free]
Telephone
Free Local Calls
Activities
Beach - 5 Min Walk
Restaurant - 5 Min Walk
Snorkeling - 5 Min Walk
Surfing - Nearby
Golfing Nearby
Day Spa - Nearby
Kitchen
Cooking Utensils Provided
Refrigerator - Full Size
Dishwasher
Microwave
Toaster
Coffee Maker
Entertainment
TV - Standard Cable/Satellite
DVD
Suitability
No Pets Allowed
Smoking Not Allowed
37 Guest Reviews
Perfect
The Sweet Pea provided everything that was needed and we appreciated having contact numbers for house keeping and maintenance. It was a perfect stay in a perfect little house, for what we were needing. We are looking forward to our next stay!
— Tiffany, Stayed 11/15/2020
Sweat Pea
We had a great trip. A perfect location! Parking is very limited. We had to park a block (or two) away. Thanks so much. We will be back.
— Kim, Stayed 09/23/2020
Victorian Charm
We come to Pacific Grove 4-5 times a year. We love the town. This home fit our needs. We walked to Lover's Point and nearby coffee shops and restaurants. We enjoyed the 17 Mile Drive. The home is in a residential area. Upon arrival the... more neighbor checked out us out and then was kind once she approved of us lol. The home is very clean! Thank you for that. My 3 and 5 year old loved having the upstairs to themselves. We did too! I brought a bin of toys and used that bin as the step stool for the bathroom sink. The stairs are steep and narrow, it wasn't an issue for us. The washer and dryer is located outside in the back of the house. Having 2 little ones sometimes requires throwing things in the wash. Bring your own items in regards to spices etc. I honestly prefer to bring my own, I don't like using what's been left in the house. The only thing that would have been helpful are coffee filters. We easily picked some up at the store. Thank you for the hospitality, I would definitely come back again. less
— Carissa, Stayed 09/02/2020
Owner/Manager Response
We are very happy to hear that you enjoyed your time with us, and since your stay we have equipped all of our properties with reusable coffee filters to accommodate COVID-19 guidelines. We hope to see you again soon!
Sweet Spot
I was delighted to find myself in a charming cottage, just 2 blocks from the ocean and 4 blocks from downtown Pacific Grove. I was able to walk everywhere--including downtown Monterey and the aquarium. And it's true--all I needed to bring was my suitcase and... more groceries. The second bedroom and bath was on the second floor, which works out great for an extra guest. Like they say, it's lLocation, location, location! less
— Sandra S, Stayed 02/03/2020
Policies