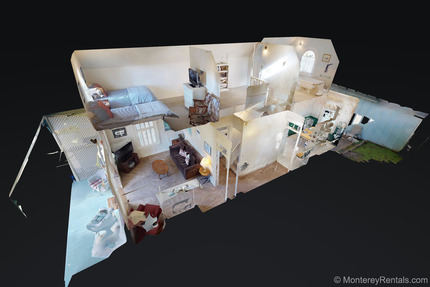 Walkthrough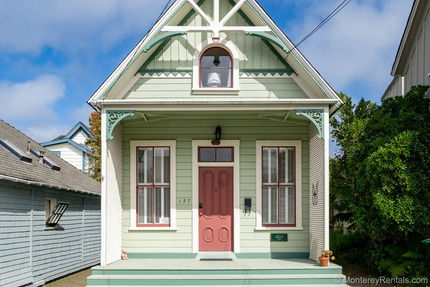 Overview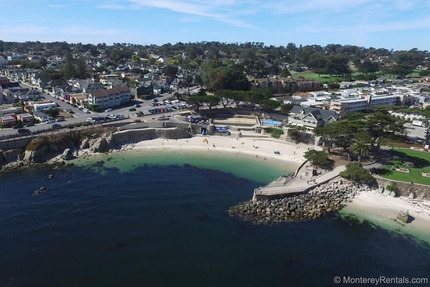 Neighborhood
Living Room
Exterior
Patio/Deck
Dining Area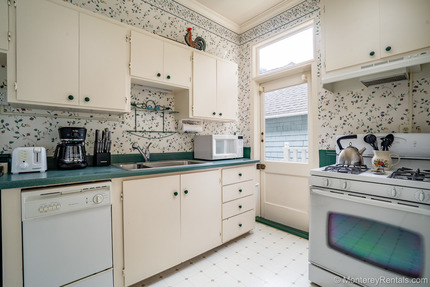 Kitchen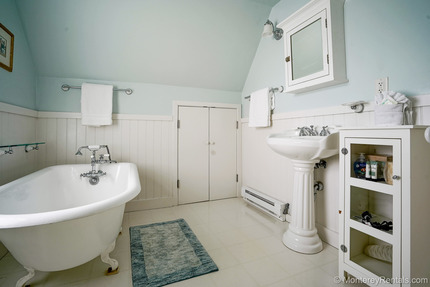 Upper Bathroom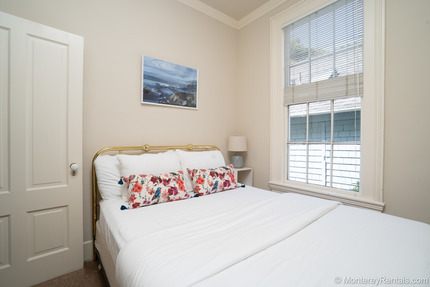 Master Bedroom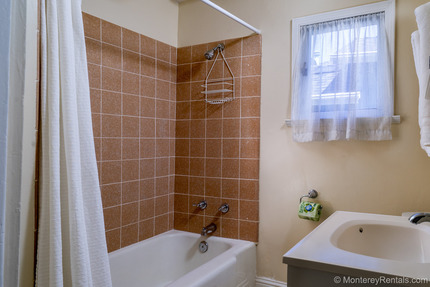 Lower Bathroom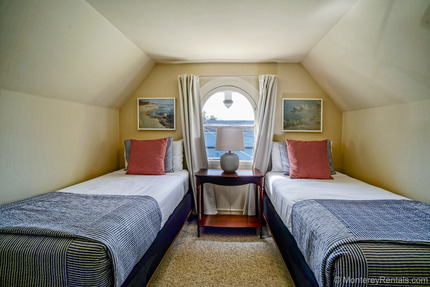 Second Bedroom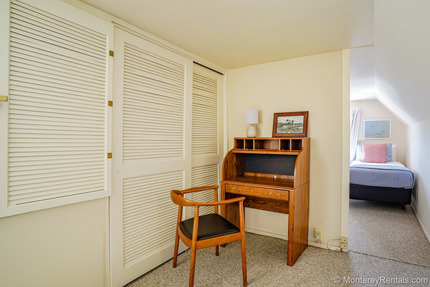 Office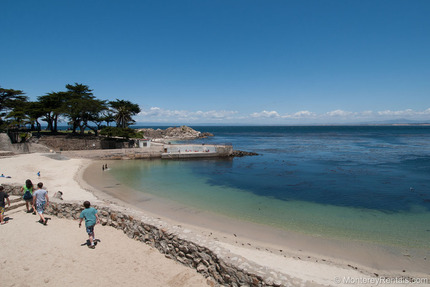 Location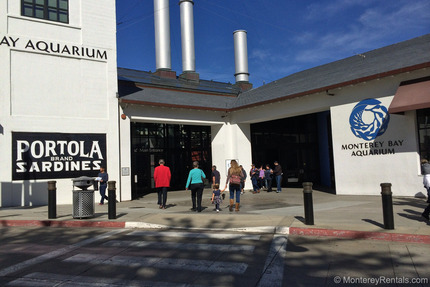 Nearby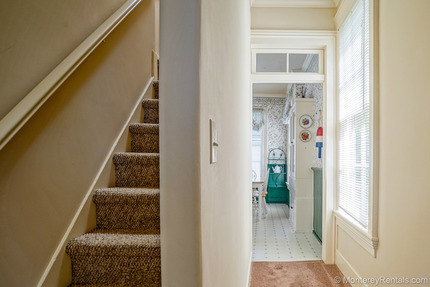 Stairs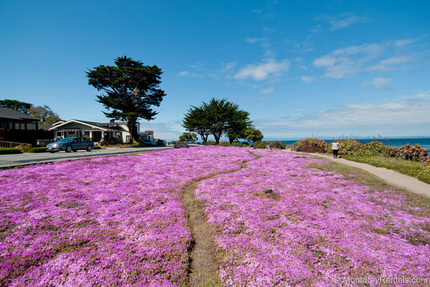 Neighborhood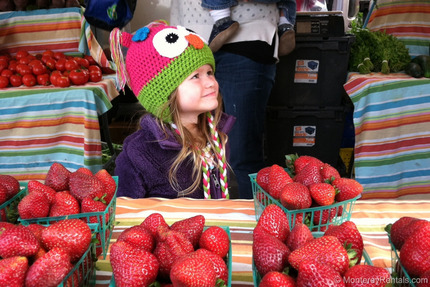 Neighborhood
Living Room
Living Room
Living Room
Patio/Deck
Dining Area
Dining Area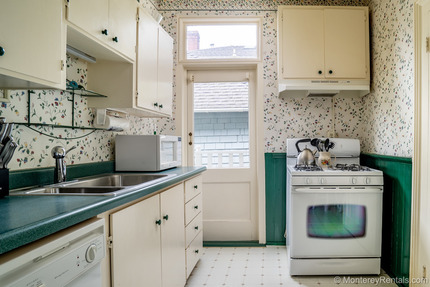 Kitchen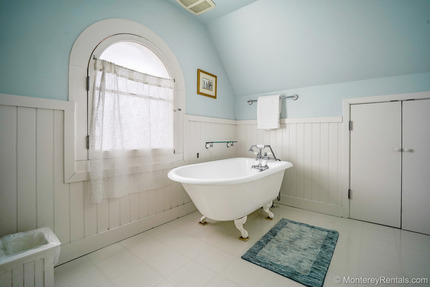 Upper Bathroom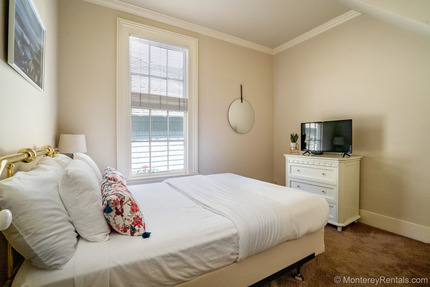 Master Bedroom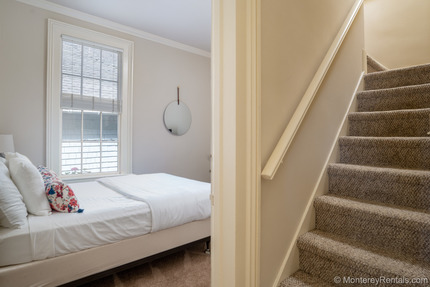 Master Bedroom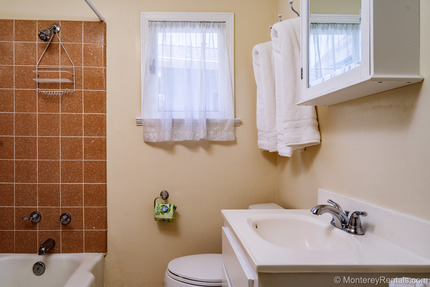 Lower Bathroom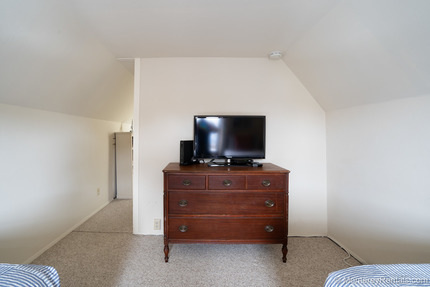 Second Bedroom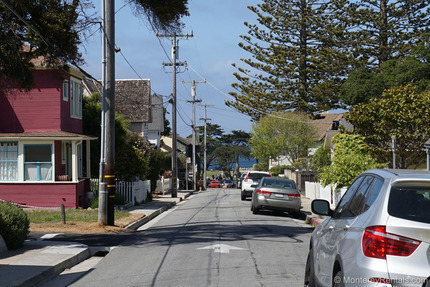 Location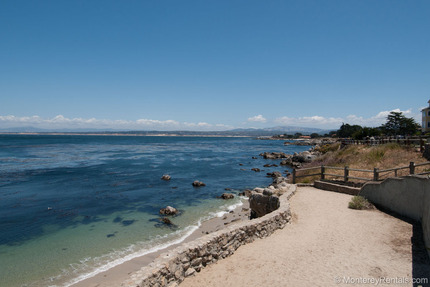 Location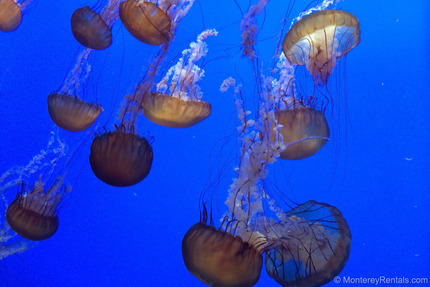 Nearby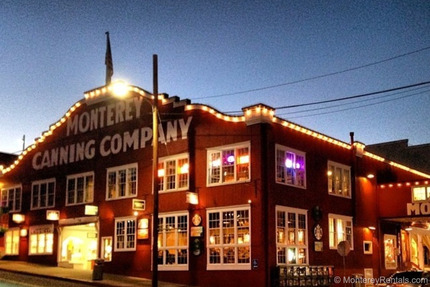 Nearby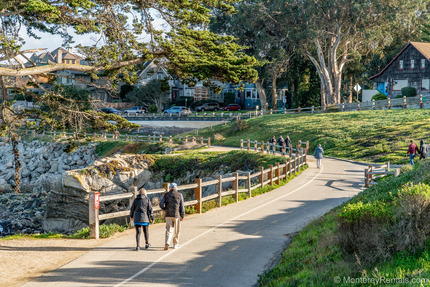 Nearby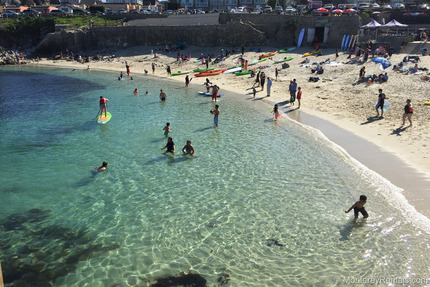 View at Pacific Grove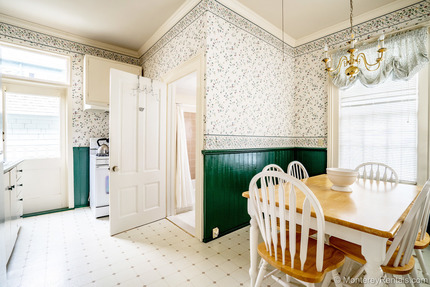 Layout
Sweet Pea - Pacific Grove
2 Bedroom Walk To Beach Victorian
Experience the vintage charm of Pacific Grove in this two-bedroom/two bath seaside cottage built in 1890. This historic home is close to Jewell Park, a short stroll from Lover's Point Beach—and just a few blocks from the shops and restaurants lining Lighthouse Avenue. You'll... more feel warm and welcome with a gas fireplace, a cheerful, green and white country-style kitchen, and a small patio with a barbeque. Period touches abound, from the brass Queen bed downstairs to the white clawfoot tub on the upper level. There is a full bath with a tub/shower on the ground floor, and a second full bath upstairs along with two twin beds and an office nook. Pacific Grove Transient Use License #410 less ↑
Owner/Manager
Michelle Larkin
Amenities
Kitchen - Full
Laundry - Onsite
Linens Provided
Shampoo, Conditioner, Soap
Paper Towels, Tissues, TP
Hair Dryer
Iron and Ironing Board
Gas Fireplace
Tub
Beds
Queen Bed
Twin/Single Bed (2)
Communication
Internet - Wireless [Free]
Telephone
Free Local Calls
Desk
Activities
Beach - 5 Min Walk
Restaurant - 5 Min Walk
Snorkeling - 5 Min Walk
Surfing - Nearby
Golfing Nearby
Day Spa - Nearby
Outdoor
BBQ Grill [Gas/Electric] - Private
Kitchen
Cooking Utensils Provided
Refrigerator - Full Size
Dishwasher
Microwave
Toaster
Coffee Maker
Entertainment
Suitability
Bedroom on Ground Floor
No Pets Allowed
Smoking Not Allowed
View/Location
Walk to town
Near the water
42 Guest Reviews
Sweet Stay at Sweet Pea!
Sweet Pea is an adorable cottage in an ideal location, a quiet residential neighborhood with friendly neighbors, two blocks from the Pacific and two blocks from downtown Pacific Grove. The house was spic and span and well maintained, just perfect for two couples or a... more small family. We especially enjoyed the large front porch that easily accommodated four of us and the gas fireplace in the living room. Although there was no off street parking included, we were always able to find overnight parking on 16th or another nearby street. We loved our stay and would choose Sweet Pea again in a second! less
— Trudy, Stayed 09/10/2021
Sweet Cottage is Sweet Pea
This is a charming, quiet, well appointed cottage on a quiet little street a short stroll from the iconic Lovers Point. With high ceilings and a nice second floor, it's more spacious than the word "cottage" might suggest. We would definitely want to rent it... more again on a future visit to the uniquely pleasant and historic town of Pacific Grove. We loved this place! less
— Frank, Stayed 07/21/2021
SWEET little place!
This cute little house was perfect for our family of four. It's small but has everything we needed. Beds were comfy and the location was fantastic! It was fun to walk to the beach or the shops and restaurants in Pacific Grove. The washer and... more dryer were hard to find. They're in a shed attached to the back of the house near the patio. A note to renters with small details such as those at the rental may have helped. less
— Alexa, Stayed 07/06/2021
Owner/Manager Response
Thank you for your review - it sounds like you had a wonderful vacation. We've updated the info sheet inside the house to clarify the location of the washer/dryer.
Nice little house; perfect location
It was our first trip out after vaccination and it was perfect. There is a fireplace,so if it's cold you're cozy. Lots of charm and you're in walking distance of everything. Nice dining area in the kitchen that could fit 6. Not a lot of... more space to store groceries, but the dishes and pans are great. Nice dishwasher. Pretty much everything you need although I would bring cloth napkins. Two bedrooms and two baths so great for couple or two or family with kids (although should be older kids because one bedroom is upstairs). Parking might be bad on weekend so go during the week if you can. We did and it was great. Just what we needed. less
— Karen, Stayed 05/18/2021
Policies