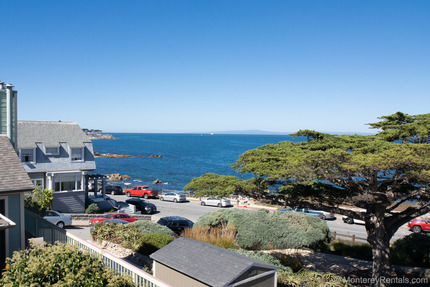 View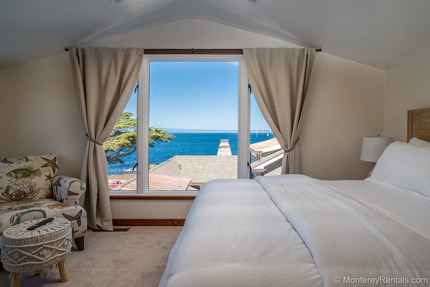 Master Bedroom View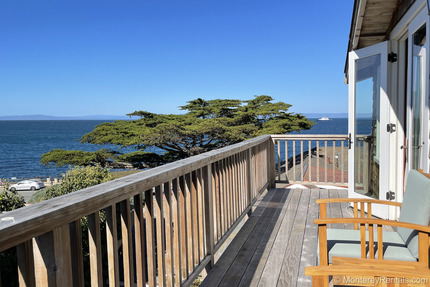 Master Bedroom Patio/Deck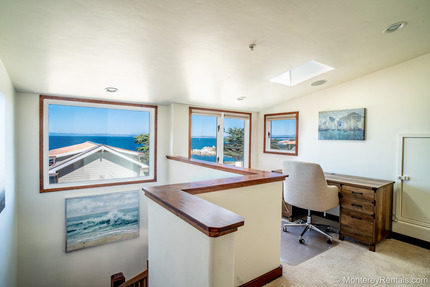 Office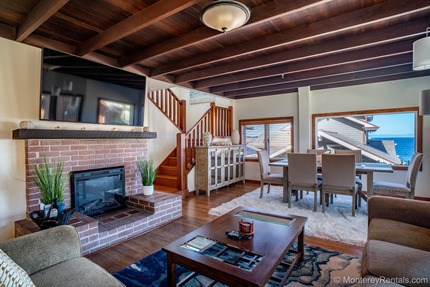 Overview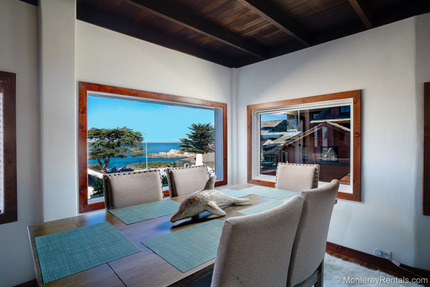 Dining Area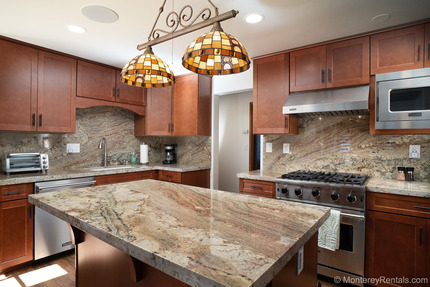 Kitchen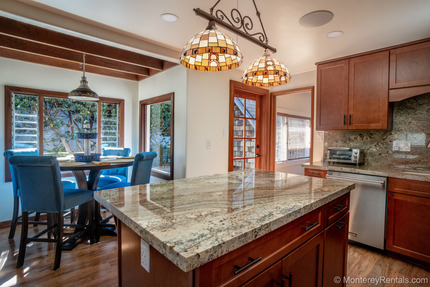 Breakfast Nook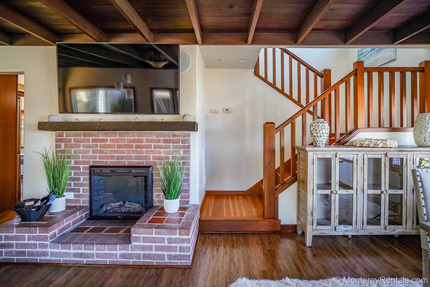 Living Room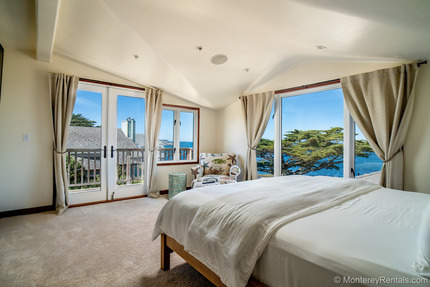 Master Bedroom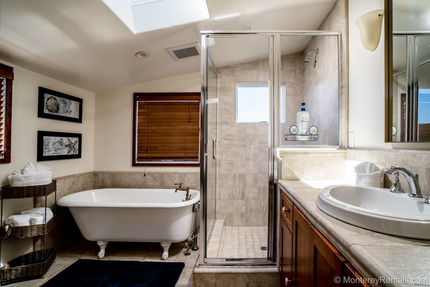 Master Bathroom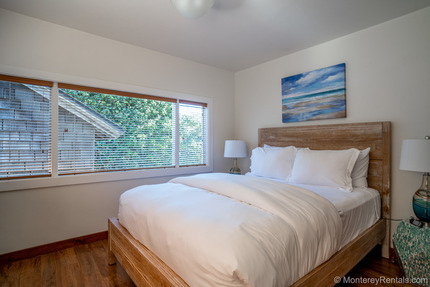 Second Bedroom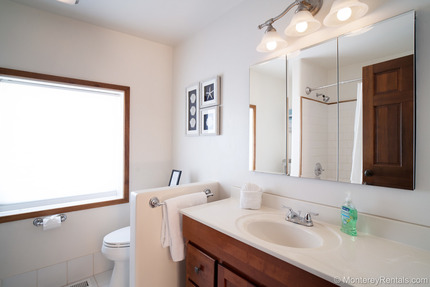 Lower Bathroom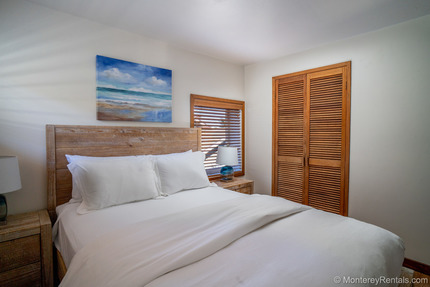 Third Bedroom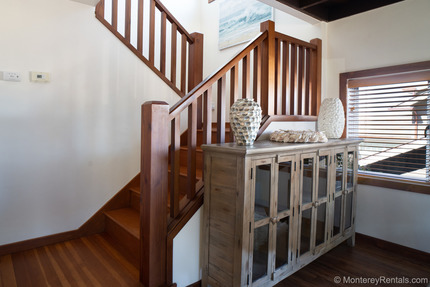 Stairs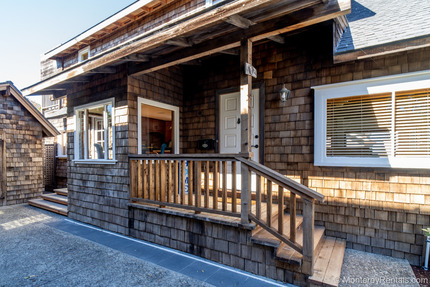 Exterior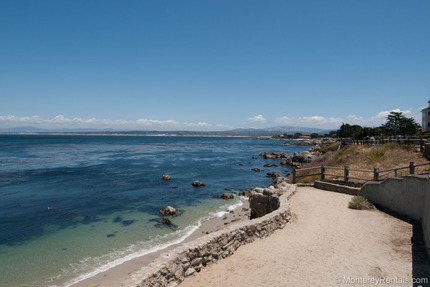 Nearby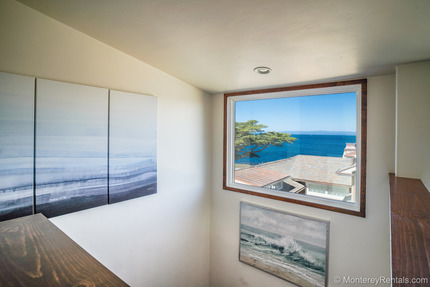 View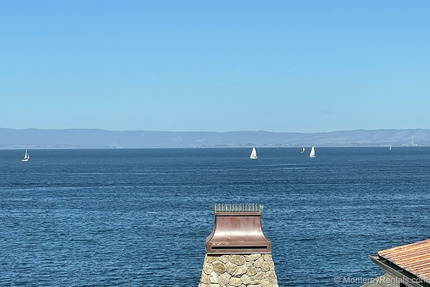 Master Bedroom View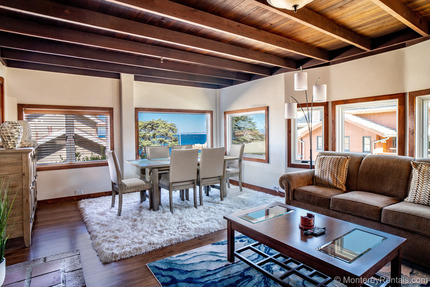 Dining Area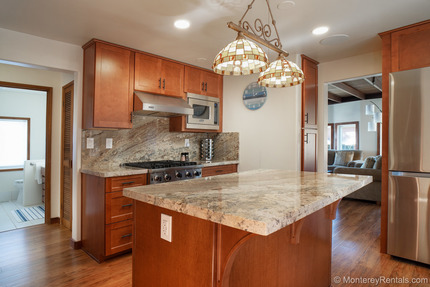 Kitchen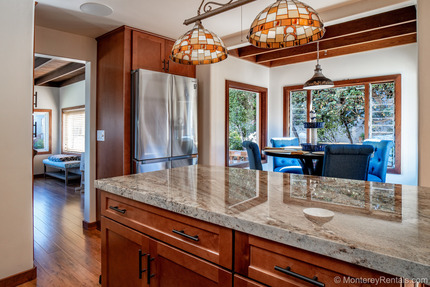 Kitchen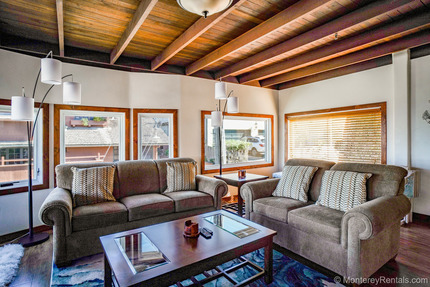 Living Room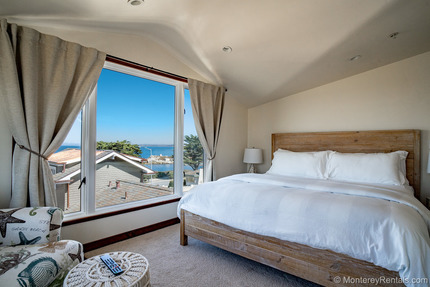 Master Bedroom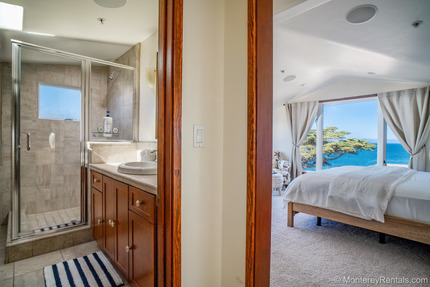 Master Bathroom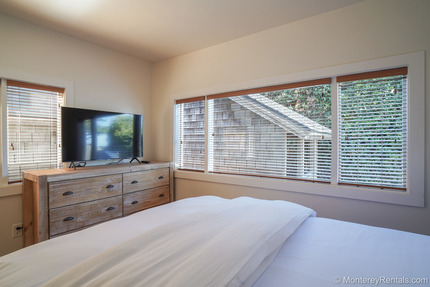 Second Bedroom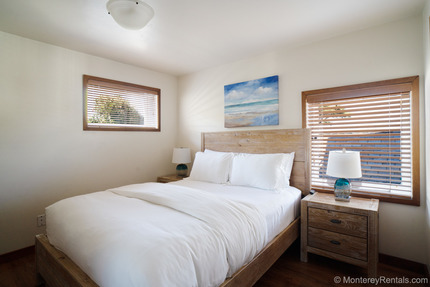 Third Bedroom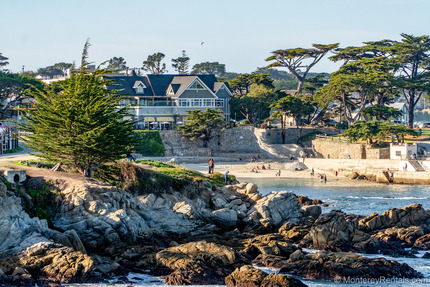 Nearby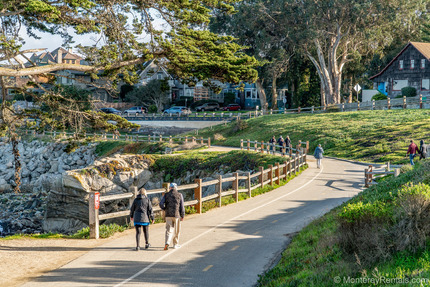 Nearby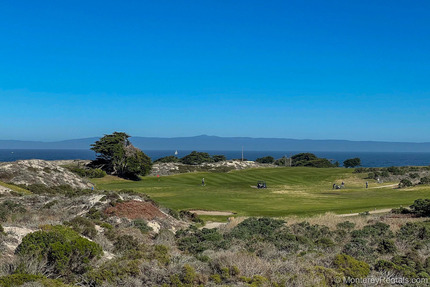 Nearby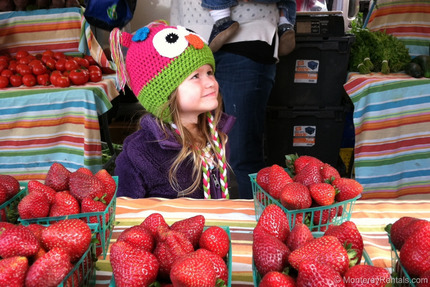 Nearby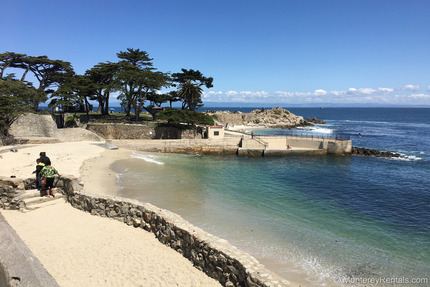 Nearby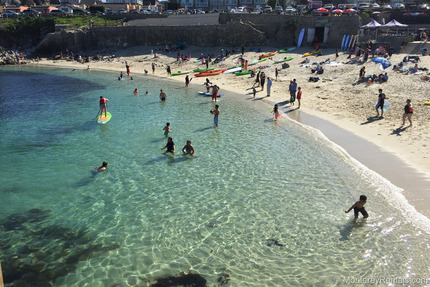 View at Pacific Grove
Seafarer - Pacific Grove
3 Bedroom Ocean View Beach House
Prepare to be mesmerized by the dazzling ocean views from this amazing beach house. One home away from Ocean View Boulevard, it is steps from the water and the coastal recreational trail: turn right to visit the Aquarium and Cannery Row, or head in... more the other direction to commune with sea lions and sea otters on your way to Lover's Point Beach.  The living room has a huge TV over an electric fireplace, and the dining area seats six—both have views to die for. The well-equipped kitchen features a professional four-burner gas range and a built-in Viking microwave/convection oven—but there are restaurants galore close by. Stairs lead to the loft/office with a desk and a huge TV (if you can tear yourself away from the blue horizons). The adjoining master bedroom has a King bed, a dressing room and closet, and a spectacular balcony with—you guessed it—more ocean views. The ensuite master bath has a walk-in shower and a clawfoot tub. Two guest rooms on the first floor with Queen beds share a full bath with a tub/shower.  "Wow!" may be the first word you utter when you enter, and "when can I return?" will likely be the last. Pacific Grove Transient Use License #0476 less ↑
Owner/Manager
Kyle Burritt
Amenities
Kitchen - Full
Laundry - In Unit
Linens Provided
Laundry Detergent
Shampoo, Conditioner, Soap
Paper Towels, Tissues, TP
Hair Dryer
Iron and Ironing Board
Electric Fireplace
Parking - Off Street — Driveway parking
Tub (2)
View/Location
Ocean View
Near the water
Beds
Communication
Internet - Wireless [Free]
Desk
Activities
Beach - 1 Min Walk
Surfing - Nearby
Golfing Nearby
Day Spa - Nearby
Outdoor
Kitchen
Cooking Utensils Provided
Refrigerator - Full Size
Dishwasher
Microwave
Blender
Toaster
Coffee Maker — Drip type
Entertainment
TV - HDTV (5) — Living room, office, all bedrooms
Music Library — Audio reciever
Suitability
No Pets Allowed
Smoking Not Allowed
6 Guest Reviews
Spring Break visit
This lovely home, directly across from the ocean, is very conveniently located for walking to various trails, restaurants, and the Aquarium. The kitchen is well equipped, and the intimate dining room seats six comfortably. Our only small issue was that the outdoor garbage cans were... more overflowing when we arrived on a Monday afternoon (supposedly garbage pick-up day). Therefore, it was impossible to empty the various waste baskets in the house immediately prior to our departure. Apparently, staff assigned to put the garbage cans out on the curb forgot to do so! Otherwise, our stay was comfortable and relaxing. less
— Patricia, Stayed 04/19/2022
Owner/Manager Response
I am so happy to hear that you enjoyed the home and it's amazing location! I do apologize for the trash situation; we had larger cans delivered and have added valet pickup service (so guests don't have to take the cans to the curb). We hope to see you again soon!
Perfect in Every Way
I can't say enough about our stay at Seafearer. The house was the perfect size four our two small families, and came with every amenity you could think of. The location and proximity to area activities was also wonderful; walking distance to restaurants, shopping, the... more Aquarium, and a gorgeous path along the ocean. Our favorite feature was the view from the 2nd floor bedroom…breathtaking!!! Is definitely recommend it, and we'd definitely stay there again! Thank you Monterey Rentals! less
— Sarah, Stayed 04/13/2022
Lovely house, wonderful location
We stayed in this home for 5 days with my parents, my husband, and our 18 month old son. The home is lovely and kept in great shape. It is also very walkable - many days we never got into the car. You have the... more option to walk into Monterey or Pacific Grove for meals, which provided many options. We often spent the afternoon at Lover's Point beach playing in the sand. We would absolutely come back! less
— Erin, Stayed 03/12/2022
Perfect location
The house is at a perfect location. Views are spectacular. Quite comfortable. We had delightful stay
— rosie, Stayed 02/04/2022
Beautiful Home! Wonderful stay!
What an amazing home! We had 6 adults and two children stay in this lovely home and it was perfect. Plenty of space, recently updated, close to everything, full of amenities (whole home stereo, new TVs, new appliances, efficient/quiet HVAC, etc) and above all quiet... more despite being near the water and the road. Really fantastic! We love it so much, we are planning to come back. The one thing everyone needs to be aware of is the driveway (which will fit two large cars nose to tail). Because the neighborhood is old, the driveway does not have a smooth transition to the street. You essentially have to drive up a curb. I had a minivan and it definitely scraped the undercarriage on the street because of the extreme angle. Others had SUVs and crossovers, and they were fine. I would assume this would be very difficult for a sedan and a sports car would be a non starter. Just something to be aware of before you arrive. The good news is, there is plenty of parking on the street nearby and the neighborhood is safe. Can't wait to come back! less
— John, Stayed 02/01/2022
Beautiful home and a GREAT LOCATION!
The home has been beautifully remodeled throughout. It's not hard to feel very comfortable in this home with it's nice decor and close proximity to the ocean. The views from this home help to take your cares away and make one ease into a relax... more mode. Views from the Master bedroom are amazing. Another plus is the location to the walking, jog and bike trails, They are literally across the street. Walking to the aquarium or to the grocery store is a short 10 minute walk. No need to look for parking along Cannery Row or outlets. Only bad point, if any, the thermostat setting shows no HEAT, but one just needs to slide the switch to the far left past the OFF setting to turn it on. It needs to be written on the cover so one will know. Definitely will stay here again in the future. Thank you for sharing your home with our family, it was a pleasure! less
— Edward, Stayed 11/13/2021
Policies