Exterior
Nearby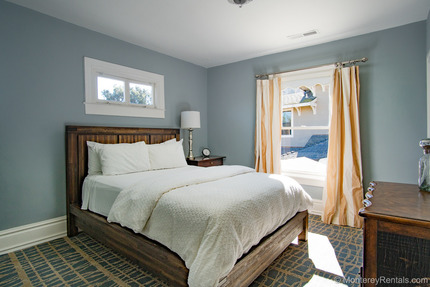 Master Bedroom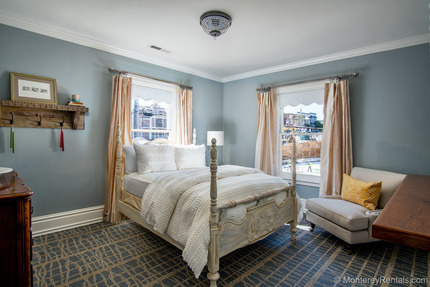 Second Bedroom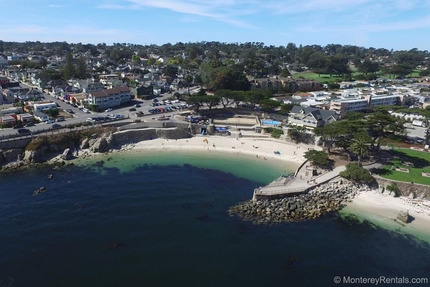 Location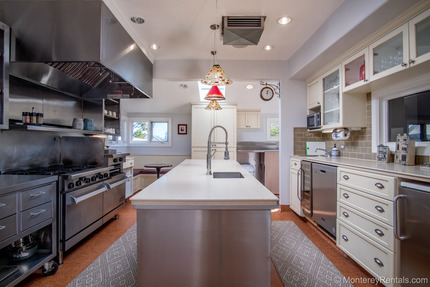 Kitchen
Living Room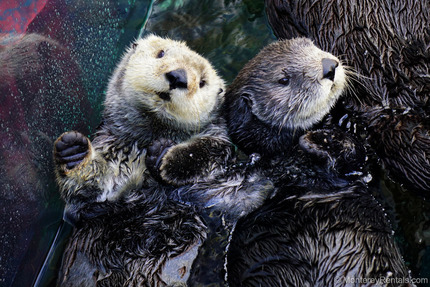 Neighborhood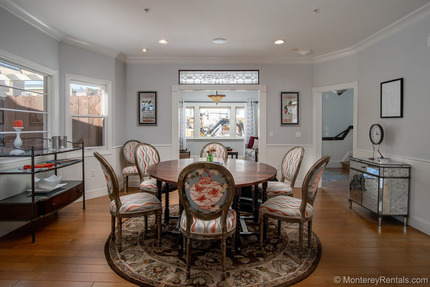 Dining Room
Patio/Deck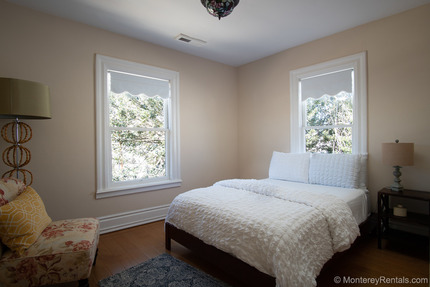 Third Bedroom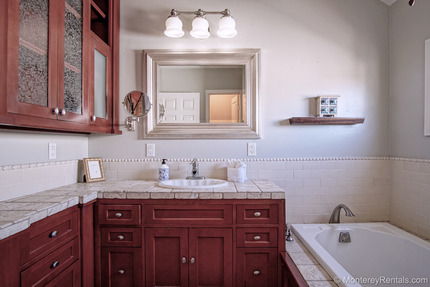 Upper Bathroom
Living Room View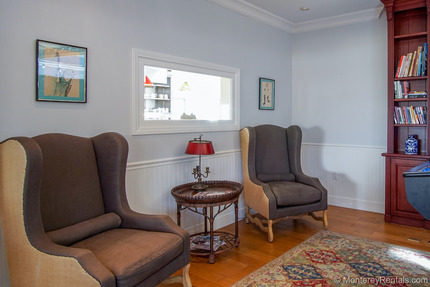 Den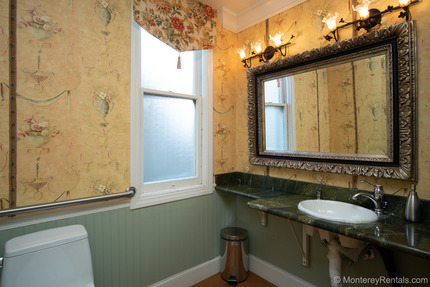 Powder Room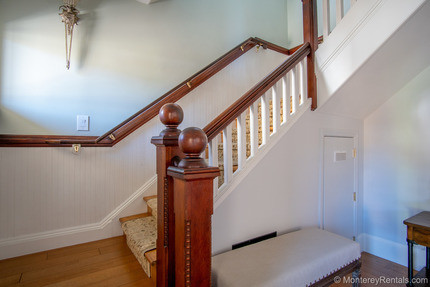 Stairs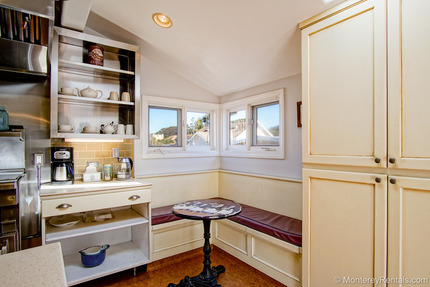 Breakfast Nook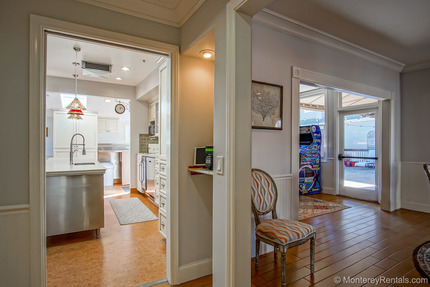 Overview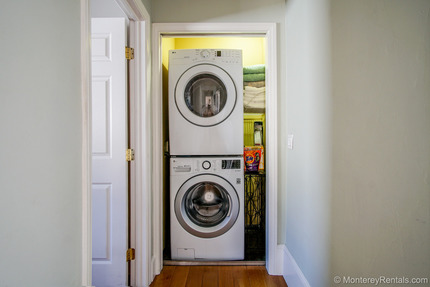 Laundry
Nearby
Nearby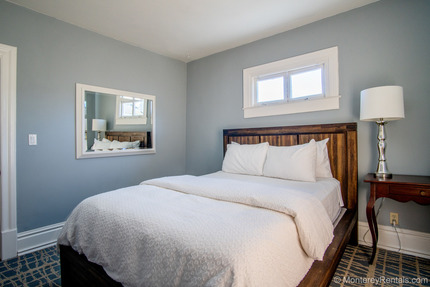 Master Bedroom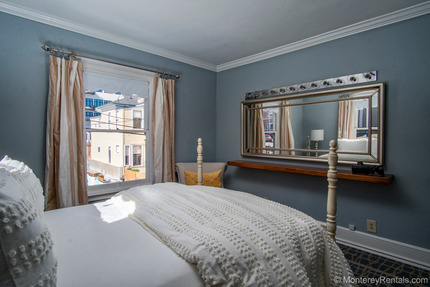 Second Bedroom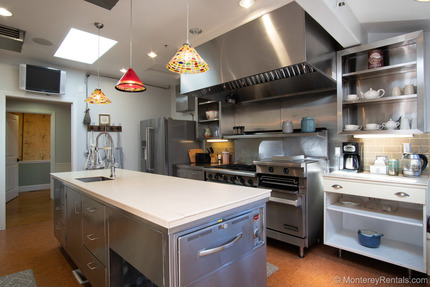 Kitchen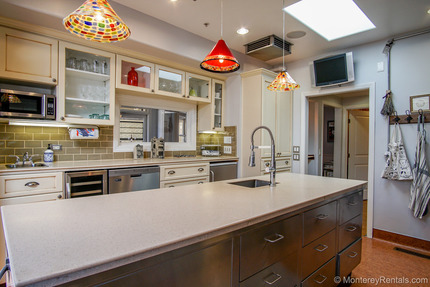 Kitchen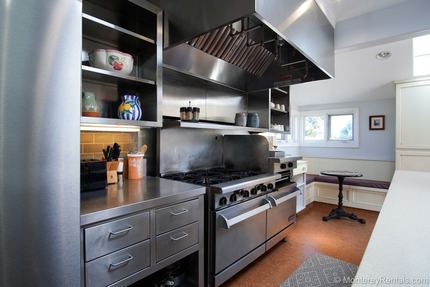 Kitchen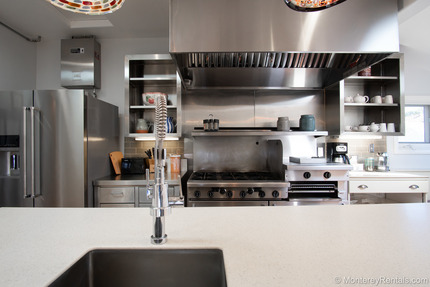 Kitchen
Living Room
Living Room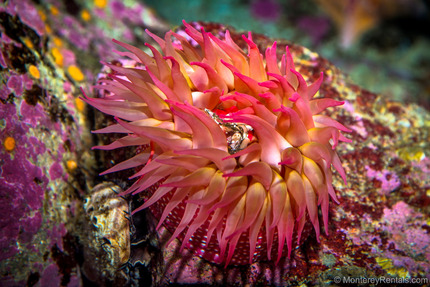 Neighborhood
Patio/Deck
Patio/Deck
Patio/Deck
Patio/Deck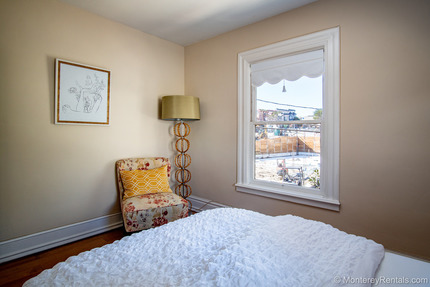 Third Bedroom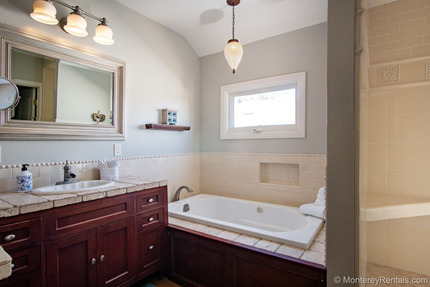 Upper Bathroom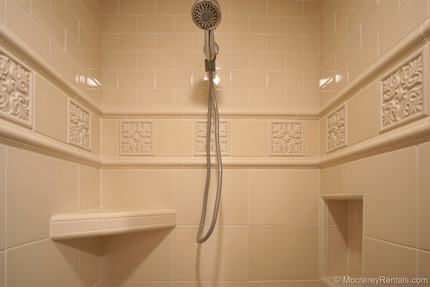 Upper Bathroom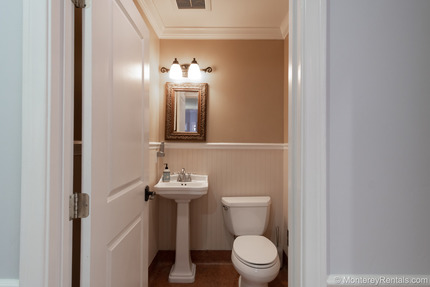 Powder Room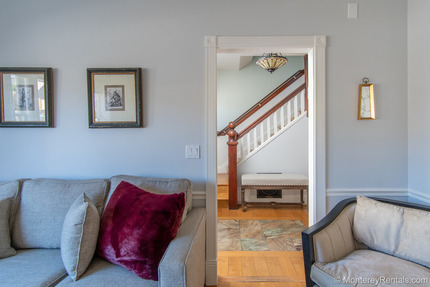 Stairs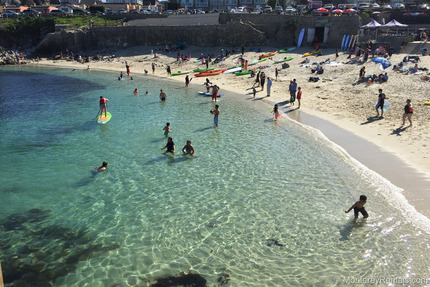 View at Pacific Grove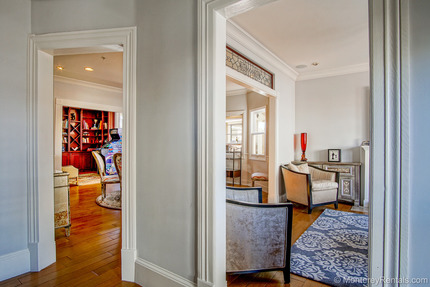 Layout
Gratitude Inn - Pacific Grove
3 Bedroom Walk To Beach Home
DISCOUNTED RATES DUE TO CONSTRUCTION. You'll be grateful for all the space in this historic home in downtown Pacific Grove. A former event venue, it has multiple living areas on the first floor, including a den with books and games; a large dining room;... more a commercial kitchen; two side-by-side powder rooms; and a spacious patio with an outdoor fireplace. Upstairs there are three bedrooms (one Queen and two doubles) along with one full bath (tub, walk-in shower, and separate toilet compartment). There's so much to be thankful for in this location: just walk around the corner to cafes, restaurants, and shops—or head to the ocean and Lover's Point a few blocks in the other direction.  NOTE: Allowed construction hours are Monday - Friday from 8:30am to 5pm with limited exceptions. Road and parking access may occasionally be limited. Driveway parking for one car. Pacific Grove Transient Use License #0461 less ↑
Owner/Manager
Michelle Larkin
Amenities
Kitchen - Full
Laundry - In Unit
Linens Provided
Laundry Detergent
Shampoo, Conditioner, Soap
Paper Towels, Tissues, TP
Hair Dryer
Iron and Ironing Board
Gas Fireplace (2)
Parking - Off Street — One car
Great Value
Tub
Beds
Communication
Internet - Wireless [Free]
Activities
Beach - 5 Min Walk
Restaurant - 1 Min Walk
Surfing - Nearby
Golfing Nearby
Day Spa - Nearby
Outdoor
Kitchen
Refrigerator - Full Size
Dishwasher
Microwave
Toaster
Coffee Maker — Cuisinart drip
Tea Kettle - Electric
Entertainment
Suitability
No Pets Allowed
Smoking Not Allowed
View/Location
Neighborhood View
Walk to town
Near the water
6 Guest Reviews
Gratitude Inn
The place was musty and old smelling. Very dated, lacks a second full bath. Very limited parking. Not a top of the list place for sure!
— Charles, Stayed 08/29/2022
Owner/Manager Response
Thank you for calling the odor to our attention. We certainly want to investigate that, and will do so right away. As is indicated in the listing, the property does have one full bathroom and two half-baths. Street parking in the area is temporarily limited, due to a construction project across the street. Of course, that won't always be the case, so while construction is in progress, we are offering this property at a rate that will give guests an opportunity to stay in the heart of downtown Pacific Grove for a price that is more than reasonable!
Vacation Dream
My family and I had a wonderful stay at this house! The location was perfect for us, being a close walk to downtown for food and snacks, as well as a couple blocks from the beach. The kitchen was nice option to have and it... more was plenty of space of all of us to spread out if needed. We plan on coming again in the future! less
— Carly, Stayed 06/06/2022
Spacious and rustic, comfortable and quiet
My family of 5 (3 young kids) loved staying here. We came down for Cali Roots and wanted something spacious, somewhat affordable and close to the beach. The kitchen is a former commercial kitchen of some sort and was absolutely amazing to cook in. Cozy... more backyard deck. Cozy indoors with big spacious dinner table. Comfortable beds. Bathrooms and shower and bath were great. Super quiet neighborhood. Code lock on the door was very convenient. We thoroughly enjoyed our 4 day stay and would come back again! less
— David, Stayed 06/02/2022
Gratitude Inn
I really enjoyed staying at the Gratitude Inn. I traveled solo, but felt that this space would be great place to spend time with friends or family. The house seems to be made for people to enjoy each other's company. The ad warned about the... more construction; but to be honest, once I was inside the home, it never bothered me. There are many options to dine close by and in the neighborhood, but the kitchen beckons one to cook. The Gratitude Inn is a gem and I would stay there again in a heartbeat. less
— Julie, Stayed 04/13/2022
Well suited for our needs
We stayed at here in July 2021 with 2 kids and 3 adults. The set up is a bit unique, but worked well for us. We are a family of 4 traveling with a college aged nanny. The location was excellent for us. Walking distance... more to the aquarium, Lover's Point and all the fab restaurants in PG. The house is in good condition and is well equipped for a weekly stay. We were remote working during our week, and the internet was generally strong enough for 2 of us to stay on video during conference calls. Things to note... - The set up is 3 bedrooms upstairs. There is no king or ensuite room. - There is only 1 full bath. There are two powder rooms downstairs outside the kitchen. This was a little limiting, but manageable for us. - The commercial kitchen was nice to have, though we were not able to get some elements (griddle, oven) to work. Could have been user error or they have been disconnected. - There are some original bedroom windows that do not close. And, the seabirds are plentiful, noisy and are early risers! Bring earplugs or rise early! less
— Heather, Stayed 07/27/2021
Great Location
We had a great stay at the Gratitude Inn. It's a large, comfortable space in a great location - close to restaurants, the beach, etc. The kitchen while impressive, is sorely lacking in supplies/cooking tools. There was only 1 skillet, which is a bit disappointing.... more I would also suggest adding some small fans for guests, the house doesn't have AC and it can get a little stuffy. less
— Angela, Stayed 06/22/2021
Owner/Manager Response
We're happy you enjoyed your stay! We don't usually need A/C on the Monterey Peninsula, but we want our guests to be comfortable and would have gladly delivered pedestal fans if you had called. (We have since supplied the home with portable fans.) The professional kitchen has TONS of storage, so there are a lot of empty drawers and cabinets, which may have caused you to overlook all the available cookware. We inventoried the kitchen and found everything on our required list, including multiple skillets. We encourage our guests to call our 24 hour maintenance line while they are here so we can deliver anything they need.
Policies