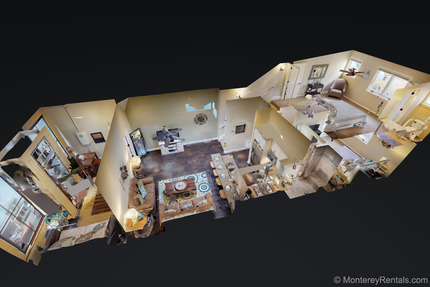 Walkthrough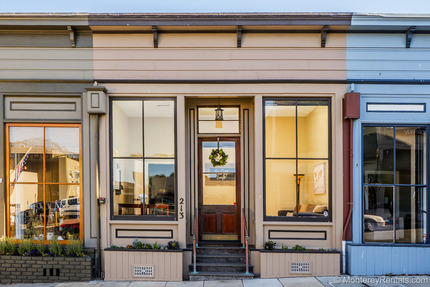 Exterior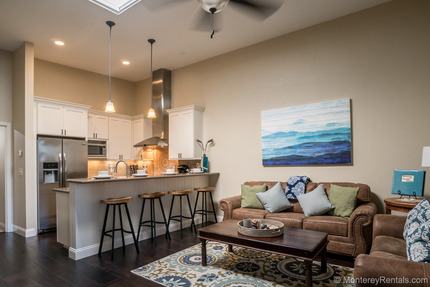 Living Room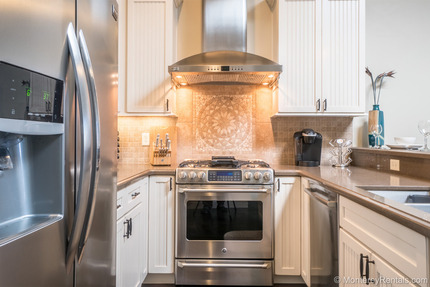 Kitchen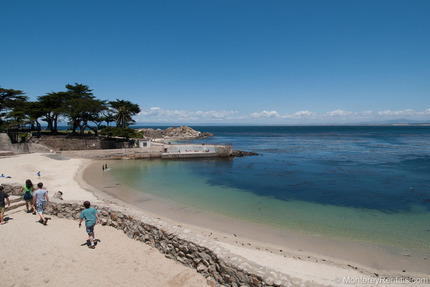 Nearby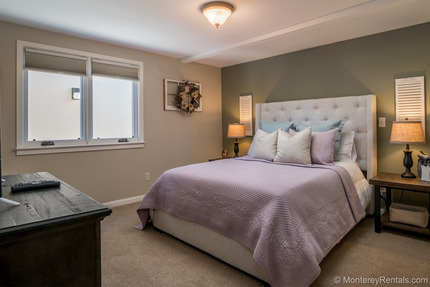 Master Bedroom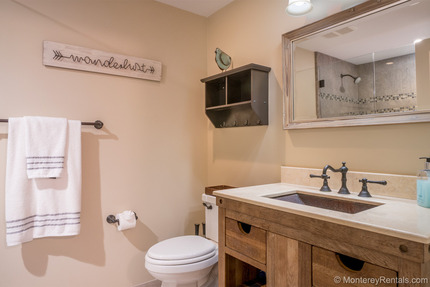 Master Bathroom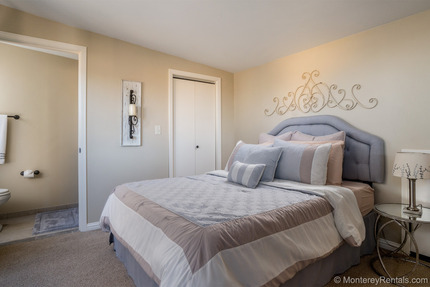 Second Bedroom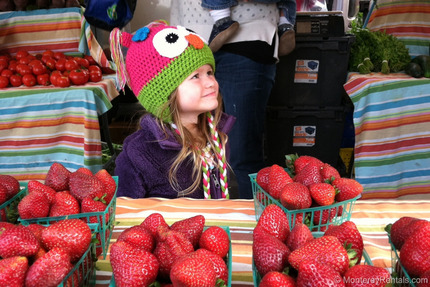 Neighborhood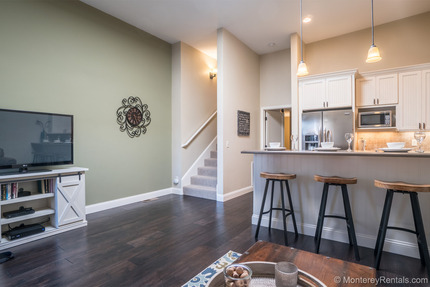 Overview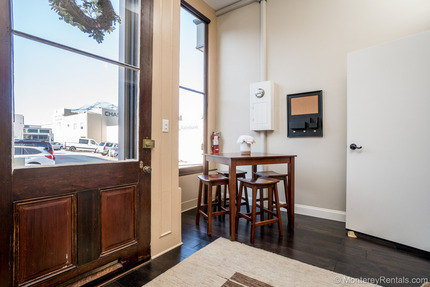 Entry Area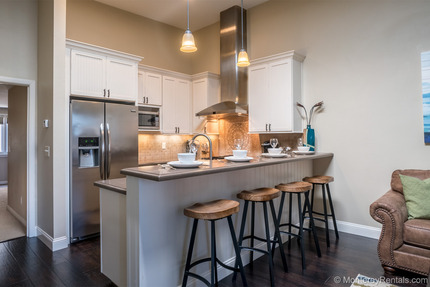 Bar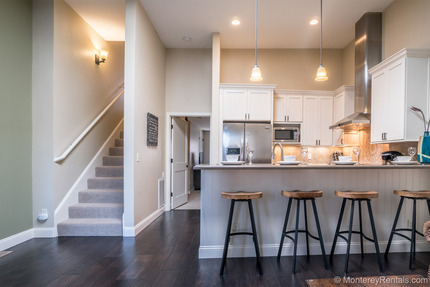 Stairs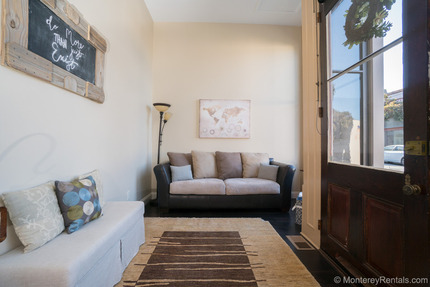 Sitting Area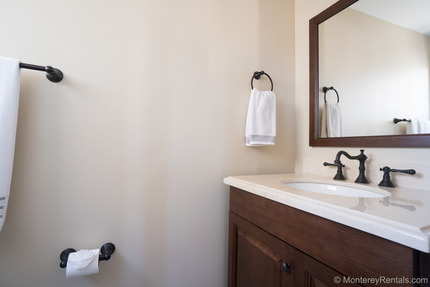 Powder Room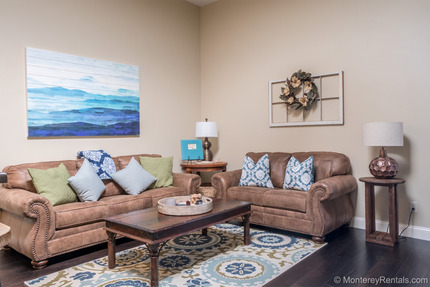 Living Room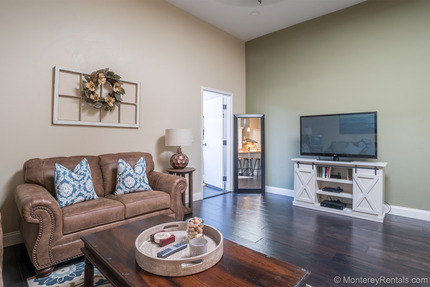 Living Room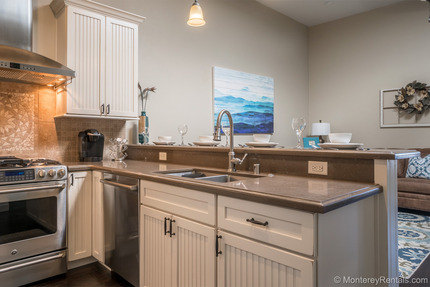 Kitchen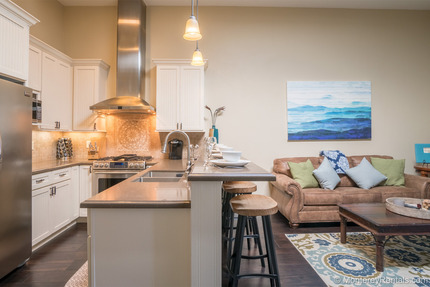 Kitchen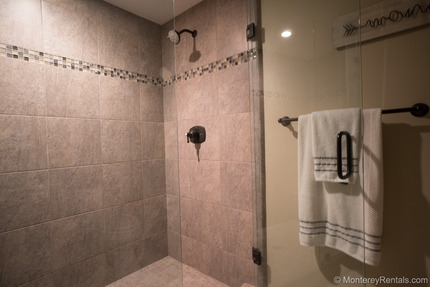 Master Bathroom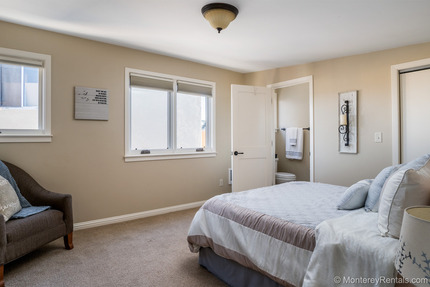 Second Bedroom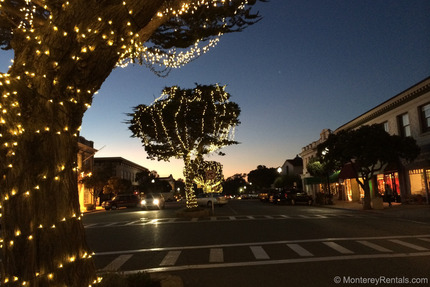 Neighborhood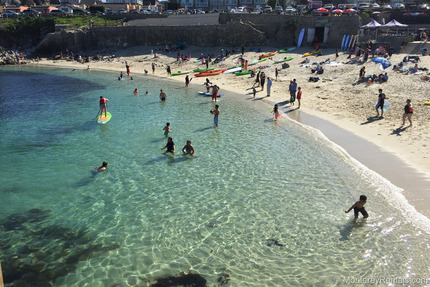 View at Pacific Grove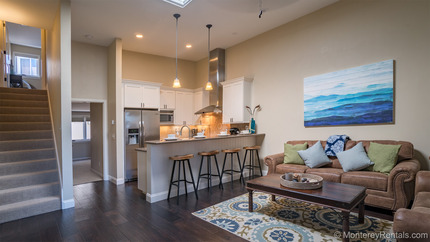 Layout
Ain't Life Grand? - Pacific Grove
2 Bedroom Walk To Beach Home
This urban oasis is a few blocks from the beach, and around the corner from one of the most charming Main Streets in America. Located in the commercial district of Pacific Grove, it's just steps from shops, galleries, restaurants, cafes, a wine bar and... more a movie theater. The entry area—with a bistro table and a sofa—is set up like a storefront. The real living areas are behind the door, where you can relax on leather sofas adjoining a lovely kitchen with mocha-colored quartz countertops, stainless appliances, and a breakfast bar that seats four. The master bedroom has a private bath with a walk-in shower; the upstairs bedroom has a peek of the ocean and an en suite powder room. The laundry is in the basement at the bottom of the stairs, and all the delights of Pacific Grove are right outside your front door. You can swim, dive or kayak at Lover's Point right down the street (with a white sand beach for sunning, a kiddie pool, beach volleyball court, and a snack bar, café and restaurant). With grassy areas for picnics and surrey, bike, kayak and paddle board rentals—this park is a favorite of visitors and locals alike. Stroll down the coastal recreation trail to commune with seals and sea otters, or play golf at the ocean side Pacific Grove Golf Course, affectionately known as a budget-minded alternative to Pebble Beach. A short drive will take you to Cannery Row, Fisherman's Wharf, downtown Monterey or Carmel. Within minutes you can be touring scenic 17-Mile Drive, hiking to secluded Big Sur beaches,horseback riding, deep-sea fishing or whale watching. Any questions? Just ask "Alexa." Street parking and one designated space in the lot across the street. Pacific Grove Transient Use License #419 less ↑
Owner/Manager
Kyle Burritt
Amenities
Kitchen - Full
Laundry - In Unit
Linens Provided
Shampoo, Conditioner, Soap
Paper Towels, Tissues, TP
Hair Dryer (2)
Iron and Ironing Board
Parking - Free — 3 hr. street parking 9am-6pm (unlimited overnight), one assigned space in lot across street.
Beach Chair (2)
Beds
Communication
Internet - Wireless [Free]
Activities
Beach - 5 Min Walk
Restaurant - 1 Min Walk
Surfing - Nearby
Golfing Nearby
Day Spa - Nearby
Kitchen
Cooking Utensils Provided
Refrigerator - Full Size
Dishwasher
Microwave
Coffee Maker — Keurig
Entertainment
TV - HDTV (2) — Premium cable package: Xfinity Double Play
DVD — BluRay
Music Library — Alexa
Cooler - Ice Chest
Suitability
Bedroom on Ground Floor
No Pets Allowed
Smoking Not Allowed
49 Guest Reviews
In Love With This Place!!
We've stayed in the Monterey area many times over the last few years visiting our children who were stationed there. Ain't Life Grand is HANDS DOWN our favorite! The home is immaculate and beautiful and the location cannot be best! The home is completely updated... more and is absolutely stunning! We walked around Pacific Grove to all of the cute little shops, walked to breakfasts and dinners, walked to the beach, etc. Check in/check out was a breeze and we had absolutely zero issues our entire 4 day stay. 15/10 recommend this home! We will be back!!! less
— Rory, Stayed 05/17/2022
Life is Grand in Pacific Grove
My husband and adult daughter enjoyed 5 days at this location. Everything about it was wonderful. At the top of the list is the view every time we stepped out of the doorway - the ocean, beckoning to us. Three minutes to the ocean and... more endless walking paths. This location allows you to pretend to be a local and enjoy so many amenities within walking distance. Personally, we were able to walk to restaurants, a spa and (my favorite) the fabric store across the street. When we return to Pacific Grove in the future, we plan to indulge in "Ain't Life Grand". less
— Lydia, Stayed 05/09/2022
As great as expected
Everything about our stay in Pacific Grove at "Ain't Life Grand?" mirrors all of the other 5 star reviews. The rental was clean, cozy, comfortable and convenient. Parking is easily accessible. The rental is close to so many different attractions and conveniences. We walked to... more coffee every morning, the walk to Lover's Point beach was very doable (we drove most days as we had kiddos with all sorts of beach gear). There is a great market just around the corner where you can get everything you need to cook at home. I loved the personal touch from the owner's notebook with all sorts of recommendations. The neighbors are great - you are in a mix of retail/business environment so not a lot of residential neighbors which is nice because there are no sounds coming from the side buildings after business hours. During the day the music lesson shop next door offers soft sounds of piano through the walls (we enjoyed it). If you are a light sleeper, you will want to bring a sleeping mask as the sun comes right in through the windows in the morning and the window coverings do not block out the light. We had plenty of room to relax and enjoy our evenings in with our family of four. A few things that we felt would be an added bonus for the property to have available include: a small cooler so that guests can pack food down to the beach, a couple of beach towels (the property provides two chairs which were great but we had no extra towels for the beach), a couple of throw blankets for the sofa or even just extra blankets for the bed, a few extra cooking utensils (tongs, measuring cups/spoons), additional dinnerware (we had to run the dishwasher multiple times when it wasn't near full just so we could have enough plates, glassware and flatware) access to a small vacuum to keep floors clean during the stay. I agree with other reviewers - some salt and pepper (even just individual serving packets) and coffee filters or leave a few coffee pods for the Keurig to start the stay would be great. Other than that, there were no surprises or issues. The property management team was great, their communication was clear and concise. We did not have to reach out to them but we felt that if we needed too, they would be available to help with anything. We would definitely stay here again and we would recommend it to family and friends. less
— Jennifer, Stayed 04/13/2022
Great place to stay!
Centrally located, quiet, very central to most attractions. Reserved parking spot. Highly recommended.
— Janet, Stayed 02/06/2022
Policies