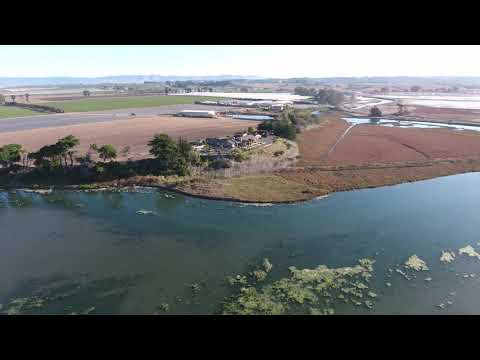 Moss Landing Vacation Rental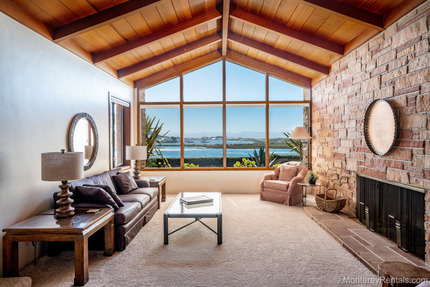 Living Room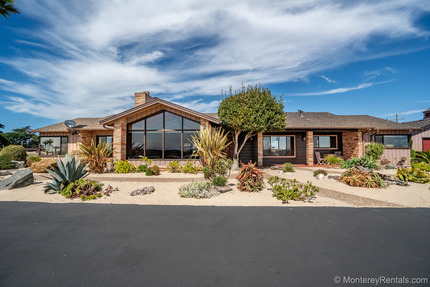 Exterior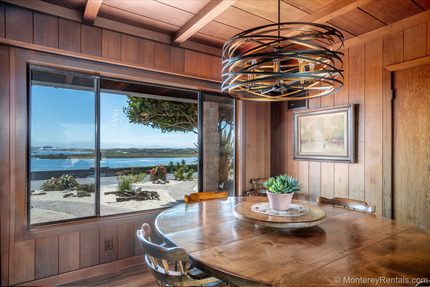 Dining Area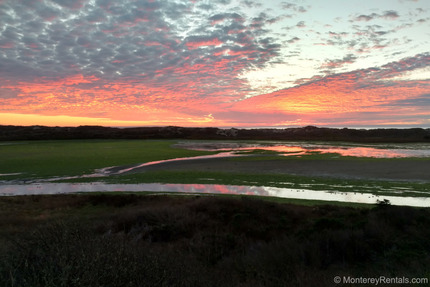 View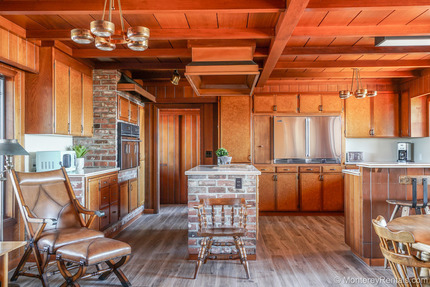 Kitchen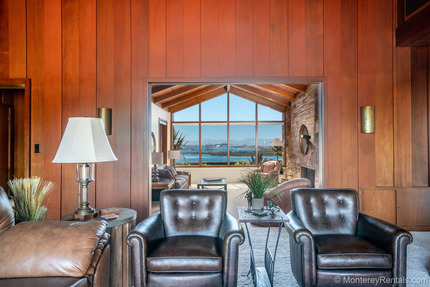 Family Room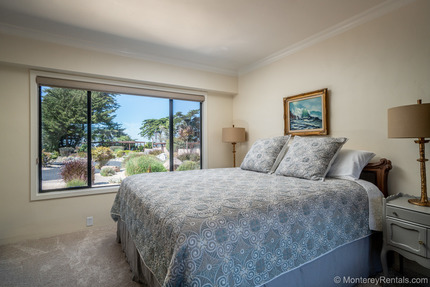 Master Bedroom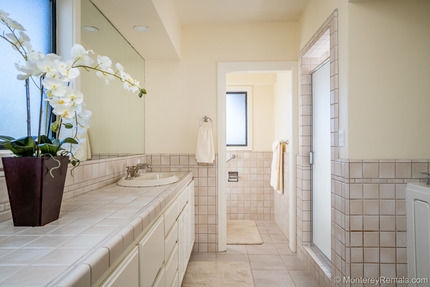 Master Bedroom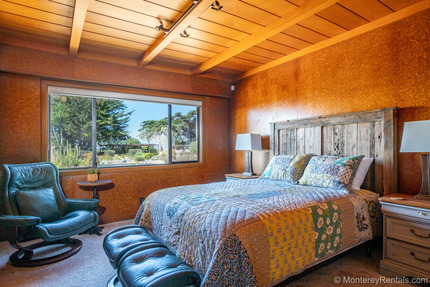 Second Bedroom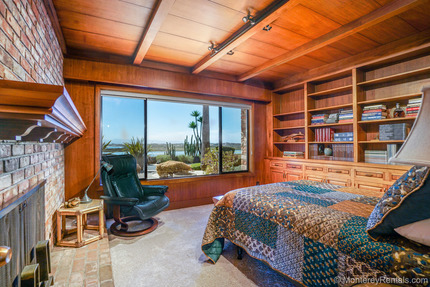 Third Bedroom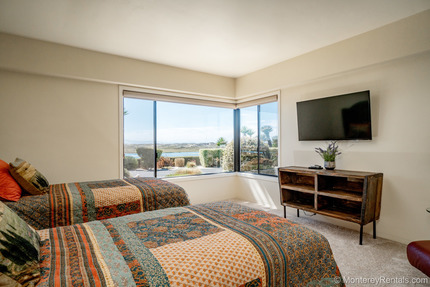 Fourth Bedroom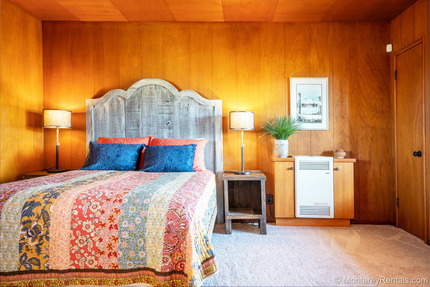 Guest Cottage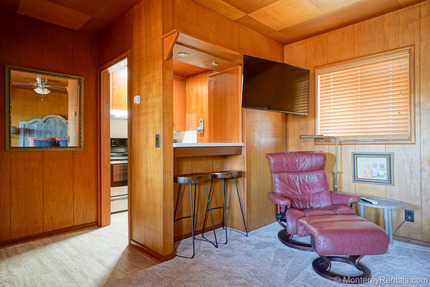 Guest Cottage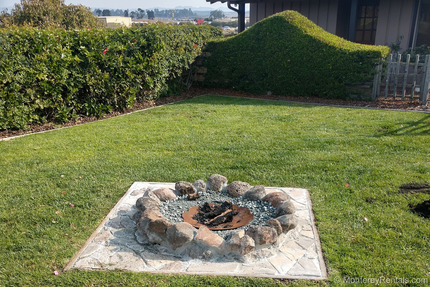 Firepit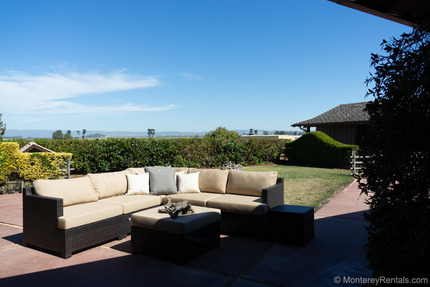 Yard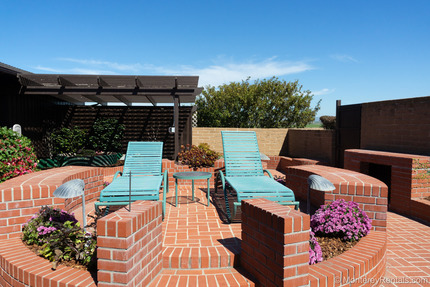 Courtyard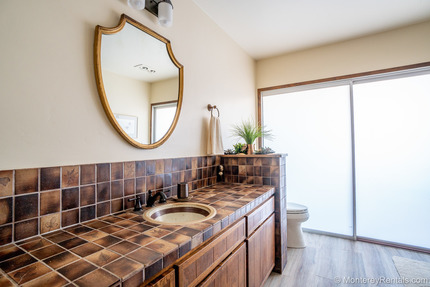 Second Bathroom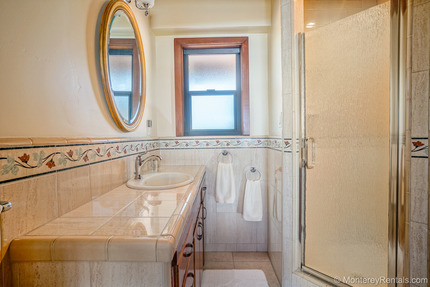 Third Bathroom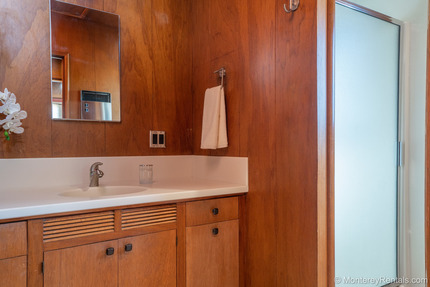 Guest Cottage Bath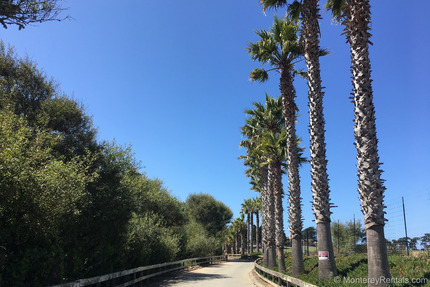 Entry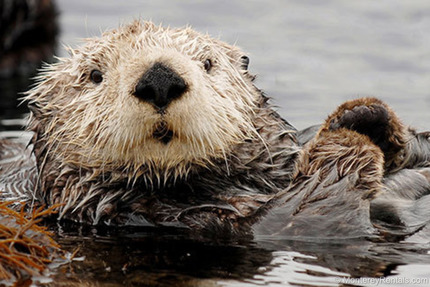 Nearby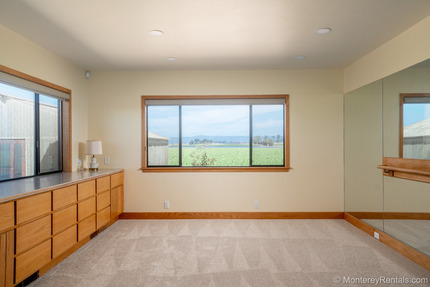 Exercise Room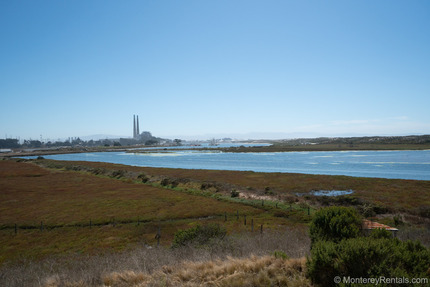 Overview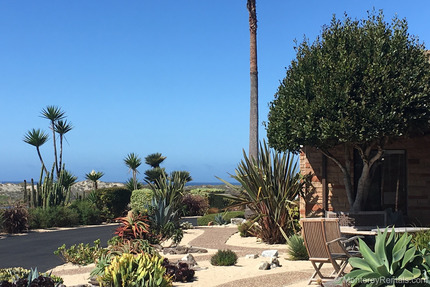 Exterior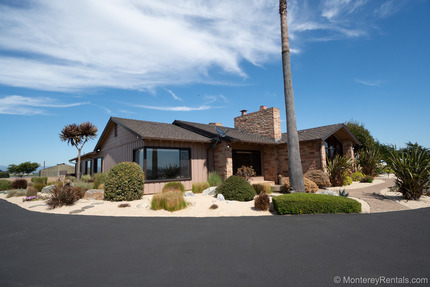 Exterior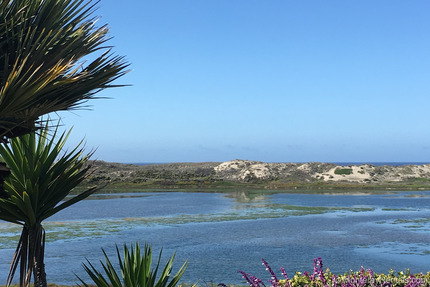 View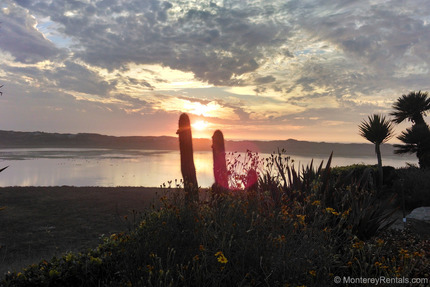 View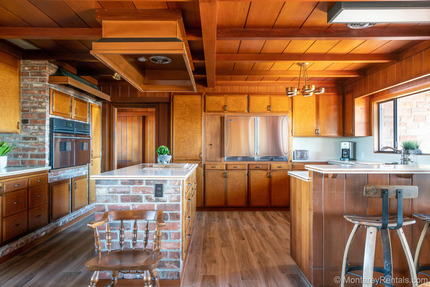 Kitchen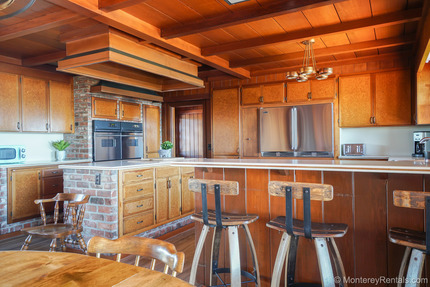 Kitchen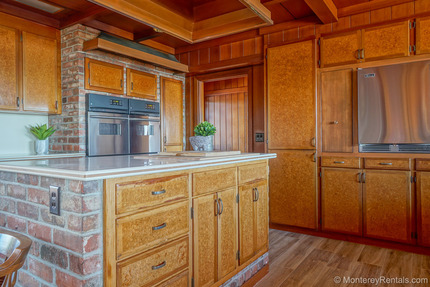 Kitchen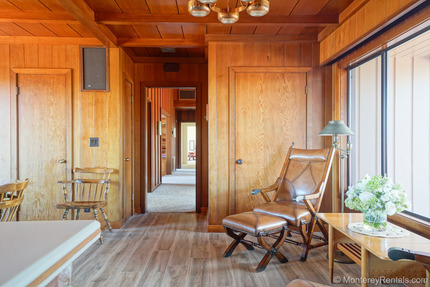 Kitchen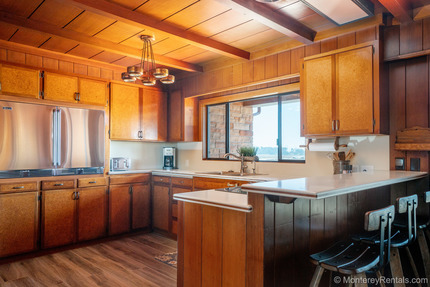 Kitchen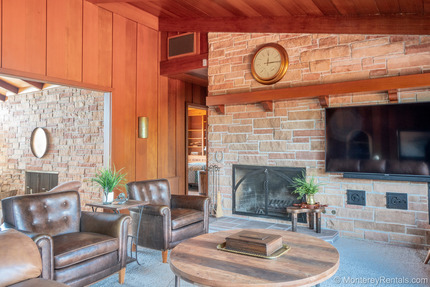 Family Room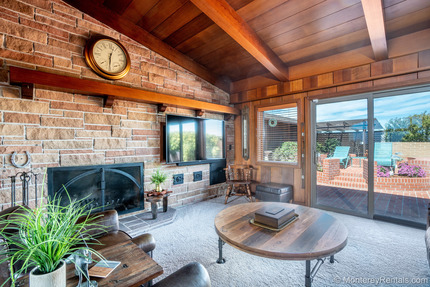 Family Room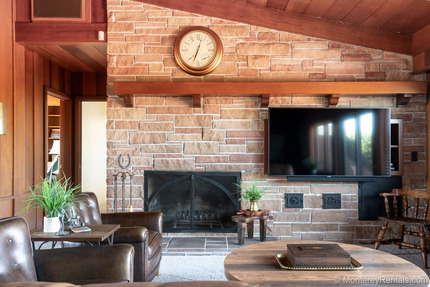 Family Room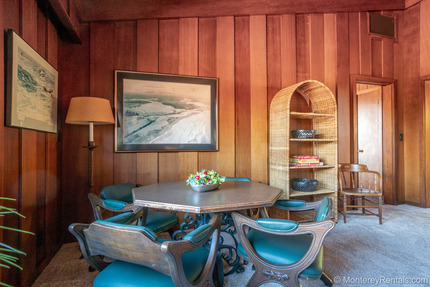 Family Room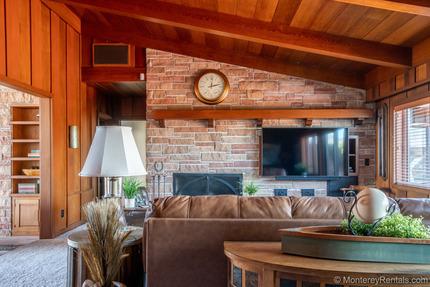 Family Room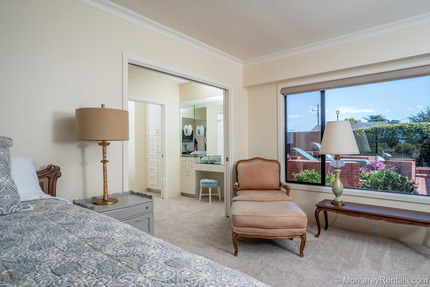 Master Bedroom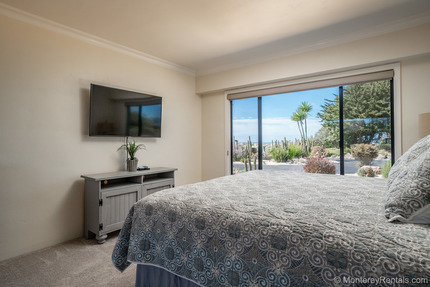 Master Bedroom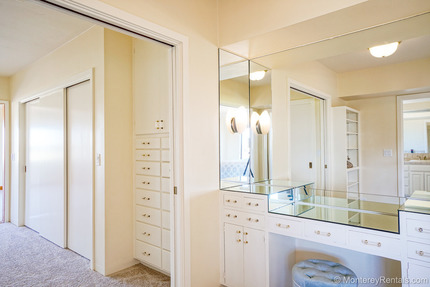 Master Bedroom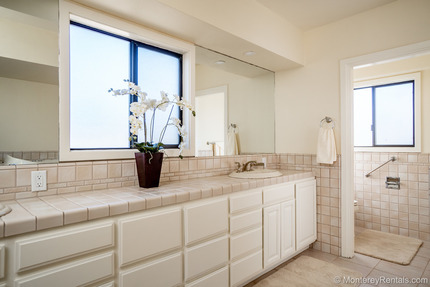 Master Bedroom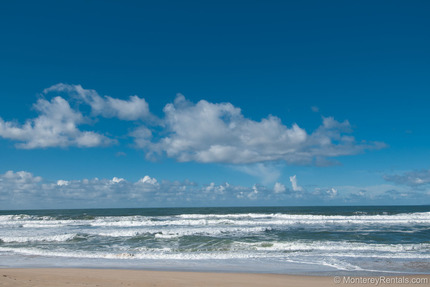 Nearby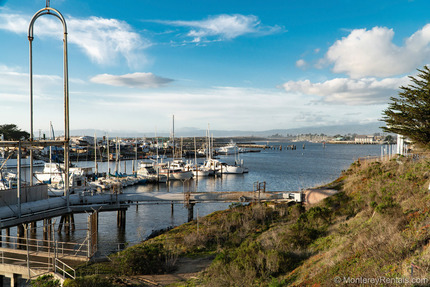 View at Moss Landing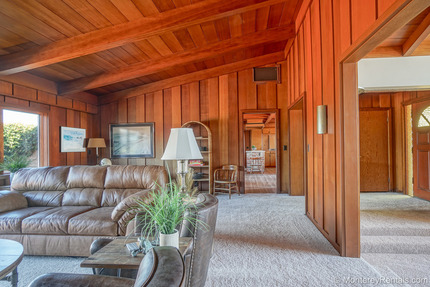 Layout
Capurro Ranch at Moss Landing - Moss Landing
5 Bedroom Ocean View Home
You won't believe the views from this one-of-a-kind property overlooking the ocean and the famed Elkhorn Slough! Perched on a bluff midway between Monterey and Santa Cruz, set amid working lettuce and strawberry fields, this 5-bedroom 1950s ranch home has commanding views of the... more tidal wetlands—a haven for birds, otters, seals and other wildlife. From here you can fish, whale watch, kayak, or explore some of the most private beaches in California—but you're just minutes from Moss Landing, a quaint beach town known for great seafood restaurants, cafes and galleries. Enter and step down to the ocean view living room with a leather sofa and chairs facing a large fireplace. Immediately adjacent, the family room has a second fireplace, a large TV, a game table that seats four, and access to a brick courtyard with chairs for lounging and a pergola for shade. There's also a grassy yard and a second patio with an upholstered sectional, a firepit, a Genesis gas barbecue, and a table and chairs for outdoor dining. The property's history as a working ranch home is apparent in the rustic, mid-Century decor: miles of redwood paneling, vintage tile, and extensive use of brick and flagstone. The ranch style kitchen has a dining table for eight (with leaf), a five-burner electric cooktop, built-in double ovens, and a restaurant style refrigerator. A second refrigerator with top freezer is located in the adjoining laundry room, which doubles as a second prep kitchen. The home has five bedrooms and four full baths. There are four bedrooms and three baths in the main house; the separate guest cottage is in back. The master suite—with garden, ocean and estuary views—has a King bed, a mirrored dressing area, extensive closets, and an en suite bath with a shower and a "walk-in" tub. The adjoining workout room has a built-in ballet barre (bring your exercise mats!). The other three bedrooms (Queen, Double, and two XL twins) share two full baths with showers: one is located in the hall; the other is adjacent to the kitchen and laundry room. The private guest cottage has a Queen bed, TV, leather chair, window seat, and a kitchenette. There's bar seating for two along with a four burner electric range, an apartment size refrigerator, and a petite Cuisinart coffee maker. Located at the end of palm-lined drive, this is the perfect home for lovers of the outdoors and a great base to explore all the natural wonders of the Monterey Peninsula. Cable and WiFi are provided, but due to distance from nearest cell tower, internet speed may not be suitable for streaming.  Closest beaches: Moss Landing State Beach (0.9 miles) and Zmudowski State Beach (2.8 miles).  Monthly discount available. Stays over one month are subject to utility rate caps. less ↑
Owner/Manager
Michael Wiederholt
Amenities
Kitchen - Full
Kitchenette — In guest cottage
Laundry - In Unit
Linens Provided
Laundry Detergent
Shampoo, Conditioner, Soap
Paper Towels, Tissues, TP
Hair Dryer
Iron and Ironing Board
Wood Fireplace (3)
Parking - Off Street — Parking for up to 8 vehicles
Garage (2)
Great Value
Tub
Firepit
View/Location
Ocean View
Near the water
Beds
King Bed — Master Bedroom
Queen Bed (2)
Double Bed
Twin/Single Bed (2) — (XL twins)
Communication
Internet - Wireless [Free] — Not suitable for streaming due to distance from cell tower
Activities
Exercise Room — Carpeted with mirror and ballet barre
Outdoor
Deck/Patio (2)
BBQ Grill [Gas/Electric] - Private
Kitchen
Refrigerator - Full Size (2)
Refrigerator - Bar Size
Dishwasher
Microwave
Blender
Toaster
Coffee Maker
Entertainment
TV - HDTV (4) — Family room, master bedroom, twin bedroom and cottage
Suitability
Smoking Not Allowed
Dog Friendly
15 Guest Reviews
Wonderful Time at Capurro Ranch at Moss Landing
Our family ranging from 9 months old to 71 yrs old had a wonderful time at Moss Landing. The interior of the house is very spacious and clean. The bedrooms are located away from the living area making it nice for the kids to take... more a nap. The only bathtub is in the master bedroom area and it is a walk-in type bathtub. The kids actually thought it was pretty fun taking a bath in it. The rest of us opted to use one of the three showers! The outside of the house is wonderfully landscaped both in the front and in the back. The backyard is completely fenced making it nice for the kids and dogs to play. The house is right off of Hwy 1 but the long private driveway makes it very private with plenty of parking and spectacular views of the estuary. There is a private trail from the house to the beach which we really enjoyed. It's a scenic 1 mile hike to the beach and the kids enjoyed playing on the sand dunes! I corresponded with Ashley and Michael from the Monterey Bay Property Management. They are both friendly and helpful and promptly returned emails and phone calls. My family is looking forward to staying at Capurro Ranch again in the future! less
— Lynn, Stayed 12/05/2021
Great experience!
From the beginning to the end our stay at Capurro Ranch was truly wonderful! With access to the water and beach the Elkhorn Slough was a new and especially rich experience for us. Local and migratory bird and animal life is in abundance! The slough... more changed right in front of the home twice daily due to the tide. So interesting and made me feel connected to the ancient rhythms of time which have been always there just normally unnoticed. With every tidal change we experienced many different animals and birds feeding in front of this comfortable home. Bring your binoculars!!!!!!!! I even saw a Peregrine falcon hunting for its dinner over the slough! The large picture windows provide light and a theater like panoramic scene giving the beautiful home a chance to truly shine. We were fortunate to have very warm weather. I booked a local guided bird watching excursion which travelled far into the slough on a quiet electric boat. It was certainly one highlight and was a great decision. The boat was almost silent allowing the Captain to approach wildlife easily! I've seen many otters and sea lions but never within this proximity. It was just very gratifying to experience the slough in this manner. I was relatively unfamiliar with it until now. Such a discovery and haven for thousands of birds as they reside or migrate through. The home itself is a perfect example of period architecture and design preserved rather than carelessly replaced,remodeled and destroyed. Of course it's been modernized in ways we appreciated but retains its 70s charm with careful consideration for comfort. Always offering necessary amenities we loved of course made it all The better. We lacked or wanted for nothing. Staying 4 days and 5 nights also provided an appreciation for the many beautiful evenings which can be lost if there is no access to panoramic windows, true darkness and privacy. These are incredible scenes especially due to a full moon witnessed through the night as it set in the evening over the ocean. The home is spacious, comfy, warm and gives each guest the opportunity to find privacy and time alone if they choose. With linens and bathrooms updated and immaculate our discerning needs were completely met. More than beautiful this property is nostalgic and practical too. Of course our party of four found the outdoor activities and weather perfect. It lured us outdoors as much as possible. We were truly excited to see the weather cooperate so well. Spending time outdoors but also enjoying the interior patios designed for protection from wind which might be present. This was a thoughtful design element which offers flexibility during your stay. It was calm and sunny for the duration of our stay. We felt fortunate. The truth is the home would be comfortable in any climate condition however! I can only imagine what a roaring fire might be like on a cold rainy day! Maybe next time? I can dream right? As we experienced this incredible property we found ourselves planning our next visit! There's no question we'll be back to discover more attributes this unusual and rare ecological area have to offer. It's perfect for the nature lover who might prefer sea lions over Gucci!!!! But that is available too just twenty minutes South in Carmel!!! We just loved everything about this property and I could continue to expand on our visit but allow me to say it is a unique and luxurious location we believe to be a hidden gem. One more thing…… this updated modern kitchen does offer any cook the ability to prepare meals and snacks any time of day. To be able to prepare meals and food was a huge plus allowing the freedom from eating every meal in a restaurant! There are a few good restaurants close within 5 minutes which we enjoyed also. With water views and diverse menus we never felt it necessary to travel to Monterey for a good meal eaten in or taken to go. Ok, I am happy to tell you as soon as we're able we will be returning! I feel we've found the location which truly serves our needs on so many levels. Not an easy task but we feel completely satisfied. To experience the intoxicating ocean air after a very smoky and extremely hot Summer we felt our stay at Capurro Ranch was without a doubt a breath of fresh air and exactly what we needed and wanted as we move forward into the Winter months. I'm happy to write this statement and recommend this experience to those people who want to feel immersed in nature and also experience the nostalgia which can only come from the carefully tended and maintained original property characteristics of Capurro Ranch. We obviously loved our experience and will be back as soon as possible. I believe this says it all!!! In short we loved our experience and want to thank the efficient team of people who guided us into this unusual unique experience. Thanks to you all especially Michael and Jan! Sincerely, Aleah Koury and guests less
— aleah, Stayed 10/31/2021
beautiful ranch style setting
House has a great layout, with comfortable bedding, cozy setting and lots of windows. with good views. Very private setting, good parking and landscaped well and clean and appealing.
— Connie, Stayed 09/18/2021
Mr
The family LOVED this space and place and want to come back! Very spacious. Beautifully furnished. Kitchen is well equipped for families who like to cook together. Extremely clean. Premium linens and sheets. Outside was wonderfully landscaped and the fire pit was the perfect space... more for family story telling. less
— Marc Zammit, Stayed 09/09/2021
Policies