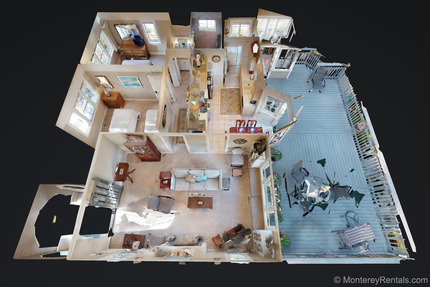 Walkthrough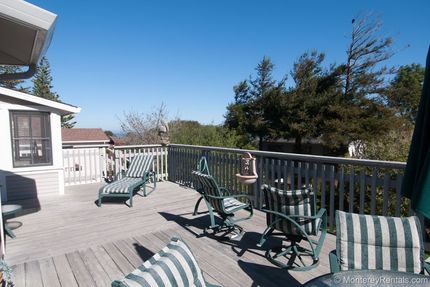 Deck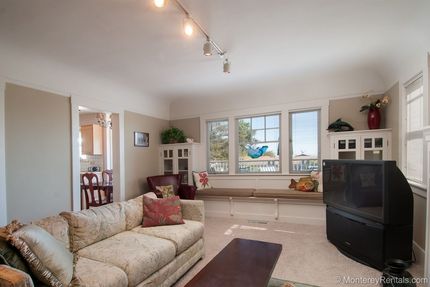 Living Room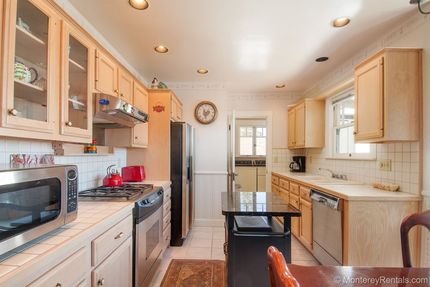 Kitchen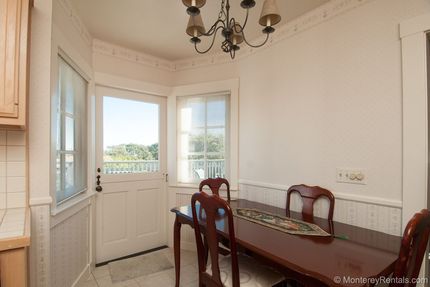 Dining Area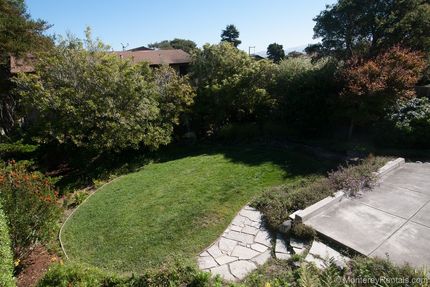 Yard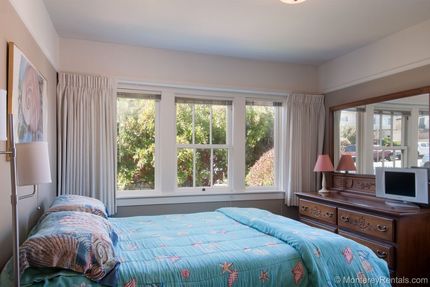 Bedroom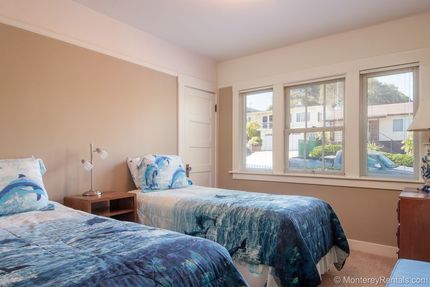 Second Bedroom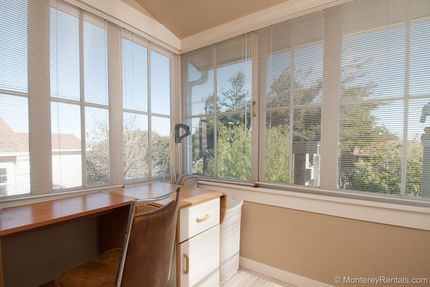 Laundry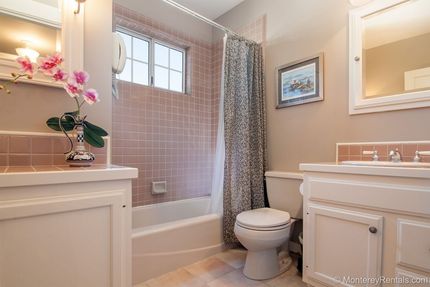 Bathroom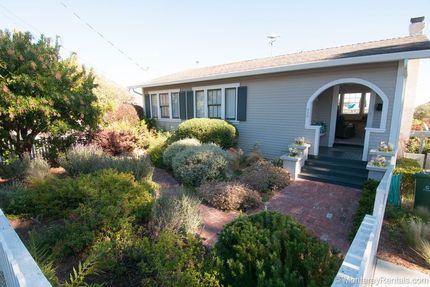 Location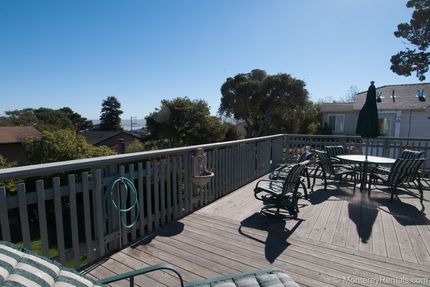 Deck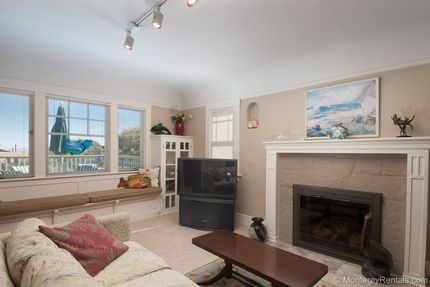 Living Room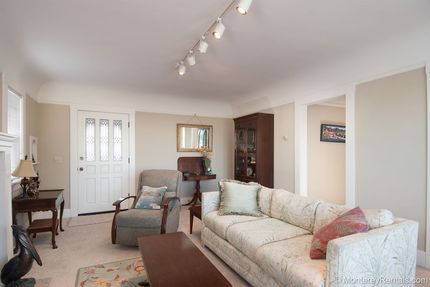 Living Room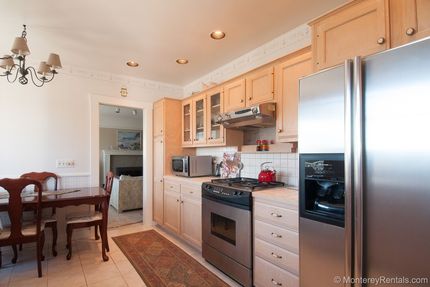 Kitchen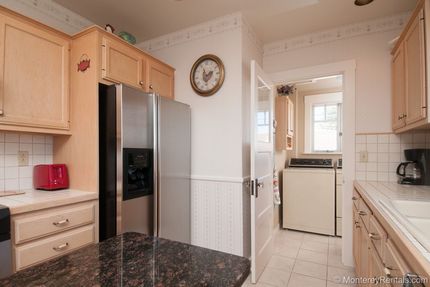 Kitchen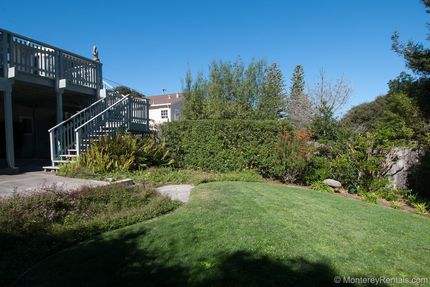 Yard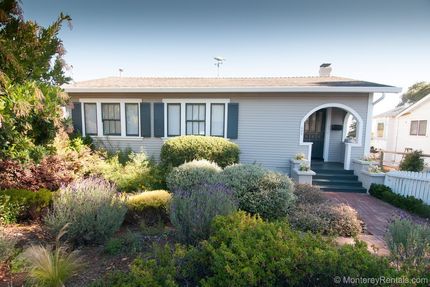 Location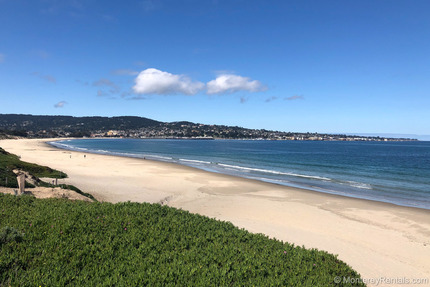 View at Monterey
Bungalow by the Bay - Monterey
2 Bedroom Garden View Bungalow
Conveniently located near historic Cannery Row and the Monterey Bay Aquarium, this vintage bungalow combines the charm of the past with every modern convenience. Enjoy bay views as you relax in the comfortably furnished living room with built-in bookcases, a window seat and gas... more fireplace. Or watch a DVD on the large flat screen TV (high-speed internet service is just a click away!). The spacious, updated kitchen is fully equipped with stainless steel appliances including a gas range and oven, side-by-side refrigerator, dishwasher, microwave, and everything you'll need for preparing and serving meals. The kitchen table seats four, and a Dutch door opens onto the expansive deck overlooking the well-maintained backyard. The lovely bay view makes the deck a wonderful setting for outdoor dining. Up to four guests may be accommodated in two bedrooms: one with a queen bed and the other with two twins. The updated tiled bathroom features a shower over tub. A laundry room with washer/dryer and storage area is located next to the kitchen. Additional storage space is available in the garage. less ↑
Owner/Manager
Michelle Larkin
Amenities
Kitchen - Full
Laundry - In Unit
Linens Provided
Hair Dryer
Iron and Ironing Board
Gas Fireplace
Parking - Free
Parking - Covered
Parking - Off Street
Garage
View/Location
Beds
Queen Bed
Twin/Single Bed (2)
Communication
Internet - Wireless [Free]
Telephone
Free Local Calls
Activities
Surfing - Nearby
Golfing Nearby
Day Spa - Nearby
Outdoor
Deck/Patio
BBQ Grill [Charcoal] - Private
Kitchen
Cooking Utensils Provided
Refrigerator - Full Size
Dishwasher
Microwave
Blender
Toaster
Coffee Maker
Entertainment
TV - Standard Cable/Satellite
CD Player
TV-Cable/Satellite
Suitability
Smoking Not Allowed
Dog Friendly
6 Guest Reviews
Bungalow By the Bay
Peaceful and Serene with amazing views! Plenty of space inside and out for relaxing or enjoying lunch/ dinner or coffee in the morning on the deck! Minutes from cannery row and all your shopping and dinning within 4 blocks. Monterey Rentals go above and beyond... more to find your perfect place ! less
— Catereno N, Stayed 11/02/2022
Bungalow by the bay
Convenient location; technically off street parking available, but mid size SUV very tight and we had to park on street. Cozy, but adequate for our needs. Good storage, nicely furnished throughout. Kitchen dishes and utensils adequate except for glasses and coffee mugs. Good view off... more deck. Upon arrival info concerning trash pickup would have been helpful. We very much enjoyed our stay and would consider future visits. Les and Liz less
— Leslie, Stayed 08/06/2022
Owner/Manager Response
Thank you for for letting us know the house needs additional glasses and mugs and that trash info was missing - we'll rectify both. Please come visit again, and remember to call our 24/7 line for anything you need.
A Piece of Heaven
This bungalow is a place to stay! Very quiet, very clean, very peaceful. Beautiful Place.
— James E, Stayed 10/22/2021
We enjoyed our 2-month stay!
My husband and I spent two months at Bungalow by the Bay with our large dog and had a wonderful experience. The location is amazing - very close to the waterfront rec trail that we ran, walked, or biked on almost daily. You're also less... more than 5 minutes away from Trader Joe's, Safeway, and dozens of restaurants and can access any additional shopping needs just 10 minutes away at Del Monte Shopping Center. The house itself is 100 years old, so the rooms are on the smaller side and the floors creak a bit, as to be expected. It's a cozy space but completely functional for our stay, both living and working remotely. The deck is a real gem, with views of the bay. We also appreciated the garage space below the house, which we used as a home gym. I don't see how any modern-day car could actually make it down the driveway and into the garage - our 2-door BMW didn't fit. That was fine by us, as you can pull one car into the top of the driveway, and there was ample street parking in front of the house for our second car. We also had a great experience with the property management company - a rarity these days! Their 24/7 maintenance man, Shane, was always available and prompt when we ran into a few minor issues (including locking myself out of the house). I highly recommend this rental for your trip to Monterey! less
— Suzanne, Stayed 07/08/2021
A comfortable house
We stayed at Bungalow by the Bay for three weeks over the Christmas holidays. We really liked the location: the house is on a quiet residential street with plenty of parking and a 10-minute walk down the hill to the recreation trail. There is a... more number of nice restaurants within an easy walking distance, as well as a grocery store and a drug store. One can walk into downtown Pacific Grove in about 25 minutes. From the house, there are very nice views with a peek of the ocean from the living room and kitchen windows. A window seat the length of the big window in the living room is a nice touch, as is a gas fireplace. The furnishings are pretty old but serviceable, the sitting furniture and the beds comfortable enough. There is a number of shelves and cupboards filled with sea shells and other sea-related knick-knacks, which we would have preferred to be empty to unpack into. Some hooks by the front door for jackets and a shoe rack or at least a mat would be a welcome addition. The kitchen is large and bright and well stocked. There is a cart on rollers parked in the middle of the kitchen, providing some additional counter and storage space. We found it a bit of a nuisance, since one has to roll it out of the way all the time, depending on whether one wants to get at the oven or the dishwasher or the refrigerator. There is a lovely big back porch and a back garden. However, the patio furniture, which looked so nice on the pictures, was covered with dirt and spider webs from sitting outside uncovered all the time. This unfortunately seems to be the case with most rental units (we are frequent visitors to the area and have stayed in many Monterey Rentals properties.) The house has a basement, which is great for bikes and such. A separate little laundry room off the kitchen also added to the convenience. On the whole, a very nice stay! less
— I. L., Stayed 02/11/2017
Bliss by the Bay
My husband and I spent a month at this charming rental and were pleased with every aspect of it. We had one issue with the toilet not refilling that was fixed within and hour of our reporting of it! It was in walking distance of... more everything and located in a nice friendly neighborhood. We will especially miss the deck with it's tree house like view. We often woke before sunrise so we could experience the city lights and then the sunrise. The barking of the sea lions was wonderful. often they'd start up towards the end of the day. A lovely atmospheric touch! The garden was welll landscaped and maintained. We have no complaints about this property. Thank you we had the time of our lives! less
— Signa, Stayed 02/07/2014
Policies