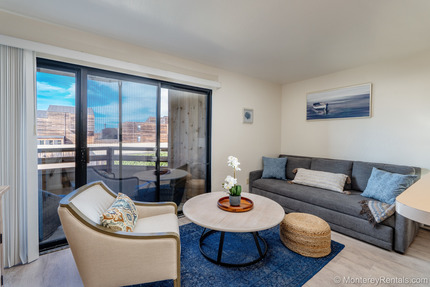 Living Room
View
Location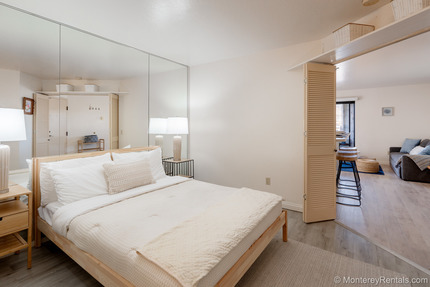 Bedroom
Community Pool
Patio/Deck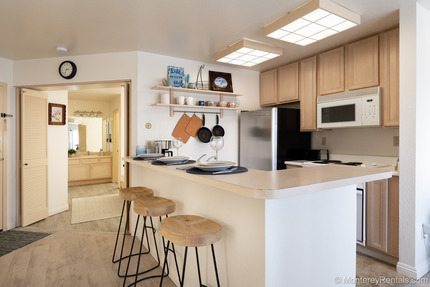 Kitchen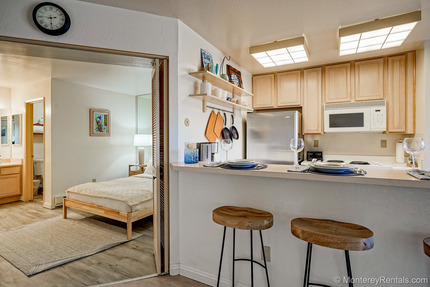 Overview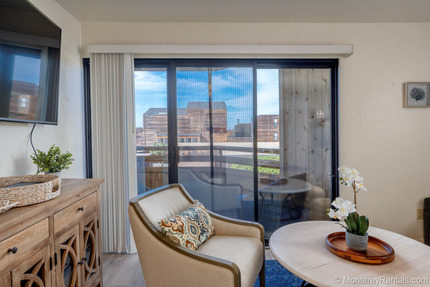 Living Room View
Recreation Room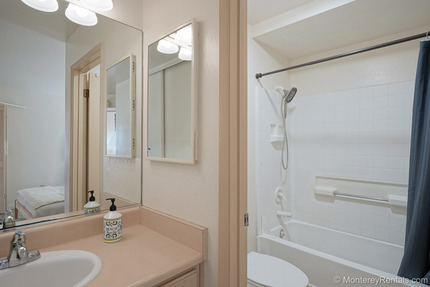 Bathroom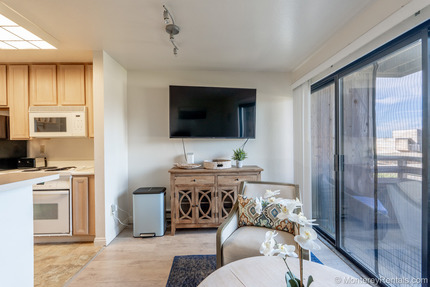 Living Room
View
Location
Location
Location
Location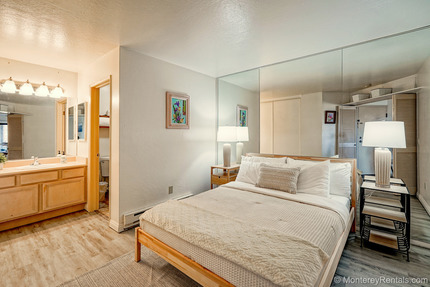 Bedroom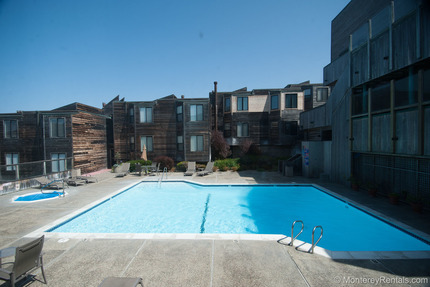 Community Pool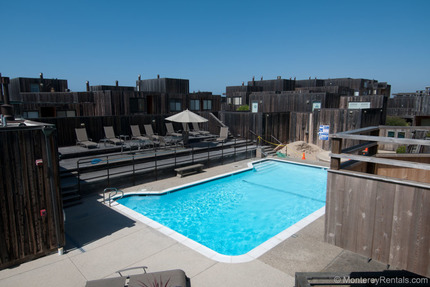 Community Pool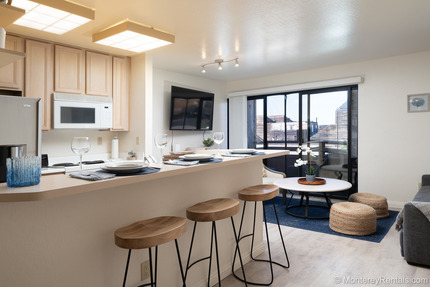 Kitchen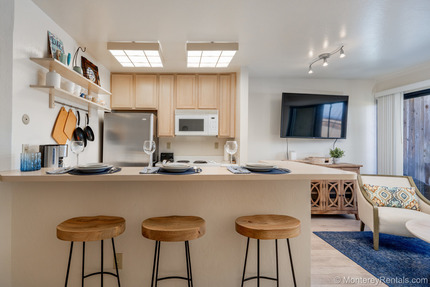 Kitchen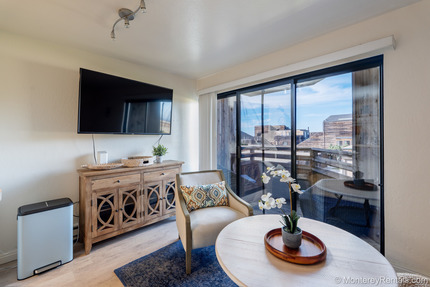 Living Room View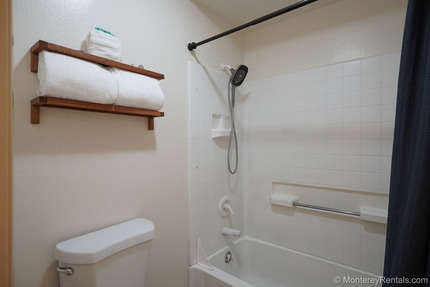 Bathroom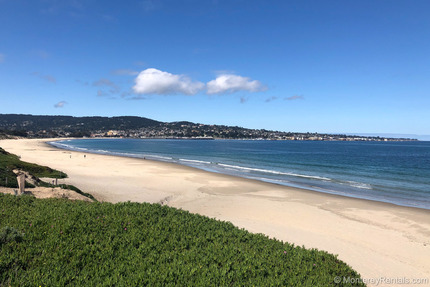 View at Monterey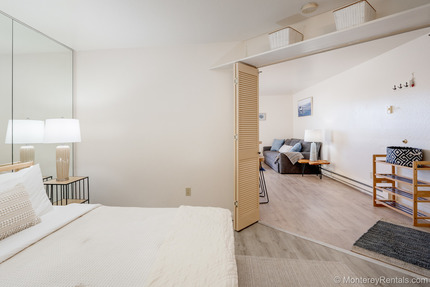 Layout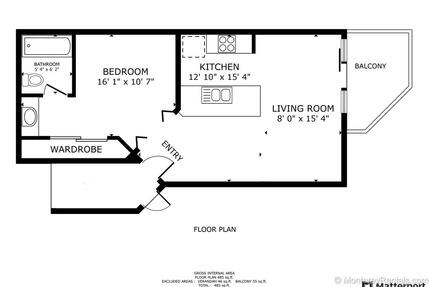 Layout
Ocean Harbor 312 - Monterey
NEWLY LISTED
1 Bedroom Walk To Beach Condo
You know what they say about good things coming in small packages? This compact condo at Ocean Harbor House—one of Monterey's only beachfront complexes—is a case in point. There's a small deck with an ocean view, a fully-equipped kitchen, and bar seating. The bedroom... more is separated with bi-fold doors and the bath features a tub/shower. This condo has carport parking for one vehicle right outside the front door. Del Monte Beach is at your doorstep… and if there's anything better than waking up to ocean views, it's sleeping to the sound of the surf. Ocean Harbor House offers a weight room, two hot tubs, his and hers dry saunas, and two recreation rooms with pool and ping-pong tables. less ↑
Owner/Manager
Michelle Larkin
Amenities
Kitchen - Full
Laundry - Onsite
Linens Provided
Laundry Detergent
Shampoo, Conditioner, Soap
Paper Towels, Tissues, TP
Hair Dryer
Iron and Ironing Board
Pool - Shared (2)
Hot Tub - Shared (2)
Sauna
Parking - Covered
Great Value
Spas and pools
Combo Tub Shower
View/Location
Beachfront
Ocean View
Near the ocean
Beds
Communication
Internet - Wireless [Free]
Activities
Beach - 1 Min Walk
Exercise Room
Surfing - Nearby
Golfing Nearby
Day Spa - Nearby
Outdoor
Kitchen
Cooking Utensils Provided
Refrigerator - Full Size
Dishwasher
Coffee Maker
Tea Kettle - Electric
Entertainment
Suitability
No Pets Allowed
Smoking Not Allowed
Guest Reviews
NEW property! Stay here and be the first to leave a review.
Policies
Unit Policy
During my stay, I agree to follow safety precautions to limit my risk of contracting COVID-19. I further agree that all members of my party will adhere to all government-mandated COVID-19 restrictions. I declare, to the best of my knowledge, that 1) neither I nor anyone in my party are currently afflicted, and within the last 14 days have not knowingly been in contact with anyone afflicted with COVID-19; 2) that I am not experiencing a fever, signs of respiratory illness such as coughing, shortness of breath, difficulty breathing, or other COVID-19 symptoms; 3) that I understand that persons may be afflicted with COVID-19 and: (a) not exhibit symptoms, (b) not be aware that they are afflicted or (c) may not voluntarily agree to disclose their condition. I agree to notify MontereyRentals if members of my party or any guests who visit the property become afflicted with COVID-19, understanding this allows appropriate actions to be taken before the next guest arrives. Online information about COVID-19 Directives is available from the California Department of Public Health (CDPH) and Industrial Relations (Cal/OSHA) at the following location:
https://www.dir.ca.gov/dosh/coronavirus/General-Industry.html
, and from the Monterey County Health Department at the following location:
https://www.co.monterey.ca.us/government/departments-a-h/health/diseases/2019-novel-coronavirus-covid-19
I understand that my agreement to the terms and conditions herein applies with the same force and effect to any family member or guests in my party and as such, I am responsible for their care, safety, and conduct in the premises. By clicking "I agree" and accepting access to the property and/or taking possession of the property, I agree to take all recommended and reasonable actions to protect myself and others from exposure to COVID-19. I understand and agree that no one, including but not limited to real estate brokers and agents, can guarantee I will not be exposed to or contract COVID-19.
MontereyRentals.com
Policies - by checking "I have read and agree to these policies," or by completing this reservation, accepting keys or taking occupancy to the Premises, I signify my acceptance of and agreement with the policies herein. Check in time is 3 pm. Check out time is 11 a.m.

PARKING PERMITS
are required at Ocean Harbor House.
Please fill out these two forms and return to us at your earliest convenience:
http://montereyrentals.com/ohh-vehicle-info
http://www.montereyrentals.com/assets/files/ohh-tenant-acknowledgement-form.pdf

MAIL:
Please arrange for a Post Office box for mail delivery, as no mail will be accepted at the rental property.

SITEMAP
:
http://www.montereyrentals.com/assets/files/ohh-facilities-map.pdf
Cancellations
- This Agreement may be cancelled up to 60 days prior to arrival. The full amount of the rental is due within 60 days of arrival and is non-refundable after that date. The down payment, made at the time of the reservation, is completely non-refundable. - A $35 change fee will be charged to the credit card used to make the original reservation for any change to an existing reservation. Occupancy The Premises are located in a residential neighborhood that includes both short-term guests and year-round residents who enjoy living in a tranquil environment. Maximum occupancy rates are strictly enforced. Special events and/or large parties, such as weddings, receptions, rehearsal dinners, birthday/anniversary celebrations, are strictly prohibited, and are a violation of the rental property owner's rental permit. A small dinner party or gathering for no more than one and one half time the number of guests who are accommodated at the Premises is permitted. Note: If you are planning an event during your stay, please be sure you have arranged for a venue other than the Premises (contact us for suggestions of alternate venues). If you did not understand these policies when you booked your reservation and wish to cancel your stay, please contact us within 24 hours of making your reservation, and we will fully refund any payment made and cancel any future obligation. Security Deposits and Accidental Damage Safeguard Security deposits (if any) are charged to the credit card used to secure the reservation seven days prior to arrival and returned seven days after departure, or an itemized statement indicating the basis for and the disposition of the deposit or any part of it will be provided. Security deposits, if any, will be held in the trust account of Monterey Bay Vacation Rentals. All or any portion of the security deposit, upon termination of occupancy, may be used as reasonably necessary, to (i) pay any sums still due; (ii) repair damage, excluding ordinary wear and tear, caused by the occupants, by any guests, or by any licensees of the occupants; (iii) clean the Premises; (iv) replace or return personal property or appurtenances. Accidental Damage Safeguard ("ADS") is a non-refundable fee for which Monterey Bay Vacation Rentals assumes the liability associated with minor accidental damages to the rented premises or its contents during occupancy relative to this reservation. ADS is not insurance, nor should it be interpreted as such. ADS allows Monterey Bay Vacation Rentals to waive occupants' responsibility for reported accidental damage up to a maximum aggregate amount of $1,500.00. ADS becomes effective upon check-in (and may not be purchased after check-in) and terminates upon departure of the occupants or at 11 am on the last day of the rental term ("check-out time"), whichever occurs first. Unreported damages, non-accidental damages, excluded damages, or damages exceeding $1,500.00 dollars are the sole responsibility of the occupants. The purchase of ADS does not in any way negate occupants' responsibility to care for the Premises as if it were occupants' own home. The cost to repair damage attributable to occupants or occupants' invitees due to intentional acts, willful misconduct, gross negligence, abuse of the Premises, violation of these rental policies, or animals will not be paid under the ADS, and remain the responsibility of the occupants. Damage must be reported to Monterey Bay Vacation Rentals prior to "check-out time." The ADS applies only to loss or damage to the rented premises or its contents. The applicability of ADS to damaged property (and any determination of the extent of damage and/or the cost of repairs thereof) shall be in the sole and absolute discretion of Monterey Bay Vacation Rentals. Note: We understand that accidents happen. You obviously do, too, since you have made this purchase—so please do not hesitate to contact us if accidental damage occurs during your stay. We want to know about it, so that 1) your ADS is applicable, and 2) we can make repairs for both you and future guests. Cleaning and cleaning fees -Potential extra fee: there is a $25/hour charge for excessive cleaning beyond the standard checkout cleaning. Departure housekeeping service includes: Replenishing soap and paper products, vacuuming carpets and rugs, cleaning bathrooms, cleaning crumbs and minor food splatters, unloading dishwasher, dusting furniture and other surfaces, laundering one set of sheets per bed and bath linens that are hung in bathrooms upon arrival, cleaning out wood-burning fireplace, and regular chemical servicing of hot tub (where applicable). Departure housekeeping service does NOT include: Removing spots (such as coffee, wine, and food) from carpets, rugs, and upholstery; unclogging sewer lines due to paper overload (or items other than tissue put into toilets); cleaning major food spills or baked-on food from appliances; cleaning BBQ; washing/loading dirty dishes; moving furniture back to its original place; window washing to remove fingerprints; laundering multiple sets of sheets and bath linens; removal of paper, food, or foreign items from gas fireplace; removal of sand and pine needles from hot tub (where applicable). If your rental has a hot tub, please wash sandy feet before using, and keep it covered when not in use. - All landscaping, furnishings, appliances, and all mechanical, electrical, gas and plumbing fixtures will be properly used by all occupants, and Monterey Bay Vacation Rentals will be immediately notified of any problem or malfunction. All repairs or replacements caused by the occupant(s) and/or their guests, excluding ordinary wear and tear, and including repair of drain blockages or stoppages unless caused by defective plumbing parts or tree roots invading sewer lines, will be charged to the credit card provided to secure this reservation. Checking "I have read and agree to these policies" and/or completing this reservation, accepting keys, or taking occupancy to the Premises, shall be proof of authorization to charge said credit card accordingly. Check in: 3 pm or later Keys and/or entry codes to the Premises will be available at 3 pm on the arrival date listed in the reservation. Note: As we often have guests departing the day you arrive, early check-in or storage of luggage in the room before 3 pm on the day of arrival is permitted only by prior arrangement, for which there may be an additional fee. Check out: 11 am or earlier As we often have guests arriving the day you check out, late checkout is permitted only by prior arrangement, for which there may be an additional fee. You will be charged a late checkout fee for any time past check out that the Premises is still occupied without prior arrangement. Contact your local representative immediately if your departure may be delayed. Unauthorized holding over is subject to a minimum charge of 1.5 times the prorated daily rate. Charges for holding over may also include the cost of alternative housing for any guests who may be displaced, as well as any additional housekeeping fees that may be incurred as a result. Checking "I have read and agree to these policies," or completing this reservation, accepting keys, or taking occupancy to the Premises shall be proof of authorization to charge said credit card accordingly. General Policies - Those contracting for this rental must be eighteen or older. Occupants will receive notice of occupancy, parking and other terms and conditions that apply to the use of the Premises, and are responsible to ensure that impermissible or inappropriate behavior does not occur at the Premises and that all terms and conditions described herein are met. - Occupants are renting the Premises as transient lodgers from the property owner, who retains full legal, possessory and access rights. - Occupancy is limited to the number of persons for which this reservation was originally made. Visitors are permitted to the extent that the total number of visitors does not exceed one and one half times the number of persons for which this reservation was originally made. Overnight guests are permitted to the extent that the total number of persons sleeping at the Premises does not exceed the total number of persons who may be accommodated in the sleeping accommodations provided in the home. If the Premises are used, in any way, by more or different persons than those scheduled with Monterey Bay Vacation Rentals, (i) Occupants, Authorized Guests and all others may be required to immediately leave the Premises or be removed from the Premises; (ii) Occupants are in breach of this Agreement; and (iii) Occupants/Guests forfeit right to return of any security deposit and are responsible for any expenses relative to the occupancy. Checking "I have read and agree to these policies," or completing this reservation, accepting keys, or taking occupancy to the Premises shall be proof of authorization to charge said credit card accordingly. - Condition of Premises: Monterey Bay Vacation Rentals and the property owner make every effort to keep properties in good working order; however, reporting or requesting repairs is not a reason to cancel this Agreement or to receive a refund of any payments made due to the mechanical failure of appliances, video/audio equipment, or any household systems. Occupants will notify Monterey Bay Vacation Rentals upon arrival if anything in or about the premises is found to be damaged or not satisfactorily cleaned. - Access to the Premises by Monterey Bay Vacation Rentals is permitted at any time to make repairs, decorations, alterations, maintenance, or improvements, or to supply necessary or agreed services, to verify compliance with the terms of this Agreement, or in case of emergency. If Premises is offered for sale, occupants will permit it to be shown to prospective buyers, lenders, inspectors or appraisers with reasonable notice. - Should this unit become unavailable for reasons beyond Monterey Bay Vacation Rental's control, an alternate accommodation may be selected from available properties or the cardholder contracting for this reservation may receive a full refund for any time left unused under this Agreement. - No personal property of the occupants or their guests is insured by Monterey Bay Vacation Rentals or the property owner against loss or damage. Owner does not insure against personal injury to occupants or their guests for any reason other than the condition of the Premises. Occupants agree to carry insurance to protect themselves, their guests, and their personal property from any loss, damage, or injury. Occupants and their guests agree to use Premises at their own risk and indemnify and hold harmless Monterey Bay Vacation Rentals and/or the property owner from any and all liability in regard to their use of Premises. - In the event of any dispute, the venue is Monterey County, and the laws of the state of California will govern. All parties will mediate any dispute or claim arising from this transaction in Monterey County. In any mediation or court action arising out of this agreement, each party shall be responsible for his own attorney's fees and costs. - Megan's Law Database Disclosure: Notice: Pursuant to Section 290.4 of the Penal Code, information about specified registered sex offenders is made available to the public via an Internet Web site maintained by the Department of Justice at
http://www.meganslaw.ca.gov
. Depending on an offender's criminal history, this information will include either the address at which the offender resides or the community of residence and ZIP Code in which he or she resides. Neither Landlord nor Owner's Representative are required to check this website. If further information is desired, please obtain information directly from this website. - The Authorized Occupants are individually and completely responsible for the performance of all obligations under this Agreement, jointly and individually with every other Occupant. - Occupants will not disturb neighbors, will not use the Premises for unlawful purposes, nor violate any law nor commit waste or nuisance upon or about the Premises. - No property will be removed from the site. The Premises will be returned in the same condition as found upon arrival (excluding routine housekeeping, as described above). - This is a non-smoking property. If evidence of smoking is found, damage and/or cleanup costs, including, but not limited to stains, burns, odors, and removal of debris, will be charged to the credit card provided to secure this reservation. Checking "I have read and agree to these policies," or completing this reservation, accepting keys, or taking occupancy to the Premises shall be proof of authorization to charge said credit card accordingly. All occupants will leave the Premises immediately and forfeit any security deposit. Policies Specific to this Property - Animals are not allowed on the Premises. If an animal or evidence of an animal is found on the Premises, damage or cleanup costs will be charged to the credit card provided to secure this reservation. Checking "I have read and agree to these policies," or completing this reservation, accepting keys, or taking occupancy to the Premises shall be proof of authorization to charge said credit card accordingly. All occupants will leave the Premises immediately and forfeit any security deposit.
POLICIES SPECIFIC TO OCEAN HARBOR HOUSE
House Rules, Regulations and Policies 1. Please be considerate of your neighbors. Quiet time should be observed from 10 PM to 7:30 AM. (This includes sitting on your deck after 10 PM.) Units are in close proximity to each other, no loud noise of any kind (keep stereos, TVs, and radios at a reasonable level). 2. Clothing, laundry or similar items may not be hung on the deck railing, in the windows, or where it may be seen from the outside of the unit. 3. Each unit has two types of fire alarms. Do not tamper with the hardwired fire alarm. Management will reset this alarm (this is the one with the "Do not remove" sticker in the center; it is connected to the Fire Department). The others are personal smoke alarms; remember to change the batteries twice a year. 4. Residents must keep their units (including the deck, entry, & parking space) neat and clean. Storage on decks, in corridors, or on the parking lift is not permitted. Nothing, including shoes, may be kept on the front door entryway landing, except for a doormat. 5. Bag or wrap trash before placing in bins. Do not place household trash in the common area waste containers. Please use the recycle bins and sort items. Cardboard boxes must be broken down into 3' lengths. Be considerate of residents living near the trash areas (observe quiet hours, 10 PM to 7:30 AM) and do not slam trash container lids. 6. You must accompany your visitors when using the facilities. Do not give your key to anyone except family members. (Not required if use is assigned in writing, such as weekend guests, renters, etc.) 7. Do not exit through the entrance gate or enter through the exit gate. 8. Owners are responsible for any damage to the common area caused by their family members, guests, visitors, tenants, or pets. 9. Skateboarding, roller-skating, roller blading, and bicycling on the common area are prohibited. 10. Do not climb, play, or walk on the seawall (dangerous). Do not walk in the landscaped areas. 11. Report any vandals or trespassers to the police – 911 or the non-emergency number – 831- 646-3838 and Management. 12. The use of all fireplaces, firepits, and/or other open flame heating devices is strictly prohibited. Pool and Spa Rules 1. Pool and spa hours are 7:30 AM to 10 PM. 2. Children under 14 must be supervised by a parent or guardian. 3. Pets are not permitted in the pool area. 4. Glass items are not permitted in the pool area. 5. Unattended flotation devices must not be left in the pool. 6. Pool and Spa use is reserved for owners, tenants and invited guests. Guests shall be limited to 4 per household unless prior approval is obtained from the Board of Directors. 7. Showers are required prior to entering pool or spa. 8. Loud, boisterous noises are not allowed. 9. Pool furniture must remain in pool and spa area and must be kept in a neat and orderly manner. 10. Please assure the pool gates are closed and latched behind you. Do not prop open the gates for any reason. 11. Appropriate swimwear must be worn at all times. 12. Running, horseplay and diving are not permitted. 13. Persons with infectious diseases, cuts, or open sores are not allowed in the pool. 14. Food and beverages are not allowed in the pool area. 15. No scuba gear (or black colored flippers that will mark the pool surface) is allowed. Exercise Room Rules 1. Please consult a physician before beginning any exercise program. 2. Hours of use are 7 AM to 11 PM. 3. Persons 14 or younger are not permitted to use equipment without parental or guardian supervision. 4. Do not move or remove any equipment from this room. 5. No smoking, food or drinks (except water) are permitted. 6. Turn off all lights and close all windows if you are the last to leave. 7. Do not allow weights to slam down. 8. Ocean Harbor House will not be liable for any injuries or accidents incurred while using the equipment. 9. No animals are allowed. 10. No playing of amplified music that can be heard outside of room. Parking Rules 1. All vehicles must display an Ocean Harbor House parking permit. Visitors must display a visitor parking tag. 2. All vehicles must be parked in their assigned parking space. Notify Management if someone has wrongly parked in a pre-assigned space, and temporarily park in a visitor parking space. Leave a note on the windshield with your contact number and the reason you are parking in the visitor's space (for parking patrol). Place a polite note on the windshield of the offending car to let them know that they are parked in the wrong space. 3. Do not park in such a way as to block access to a building or driveways, stairways, or garage doors (no tandem parking, etc.). 4. Do not park in the driveway (fire lane violation) or in front of a fire hydrant. 5. Do not park in a handicapped designated parking space without proper handicapped identification. 6. Owners may not park in visitor parking except to load or unload (Note exception in #2 above). 7. Vehicle maintenance or repair is prohibited on site, except for washing. 8. Driving carelessly or exceeding 10 MPH is prohibited. 9. Vehicle storage is prohibited in the carports or open parking area. This is defined as any vehicle not moved in a 30-day period. 10. Recreational vehicles may park on site for a period not exceeding 48 hours in a 240-hour period. Recreational vehicles must be parked in accordance with all other rules, entirely within a parking space (may not extend beyond the lines in any direction). 11. Inoperable vehicles are not permitted, including vehicles with flat tires and expired license plates. 12. Do not leave garage doors open. 13. Storage in a carport or on a car lift is not permitted. 14. Vehicles in violation are subject to tow at owner's expense. Deck Rules 1. Items that generate any type of noise will not be allowed within the deck area. 2. No decorative items may hang from the ceiling or walls of the deck area such as windsocks, hanging plants, or carved birds. 3. Plants are permitted provided that they are not placed on the ledge of the railing and they are equipped with drain plates to catch any excess water. 4. The cluttered look must be avoided. The area should be kept neat, attractive, and with safety in mind. 5. Flags may be flown during patriotic or honorary events within reason. 6. Decks may not be used as long-term storage of large or overly numerous items, such as bicycles. 7. No items will be allowed to rest on the railings or ledge. Barbecue Use Policy The buildings of the Ocean Harbor House Homeowners Association are constructed of wood: frame, decks, and exterior siding. These materials are flammable; therefore residents must take extra care when using barbecues on the deck areas. 1. Only gas or electric barbecues are allowed. 2. The use of charcoal or wood burning barbecues is not allowed. Guest Use of Common Facilities 1. Use of Ocean Harbor House facilities is limited to members or tenants and their guests. 2. If the unit is rented out, the facility use privileges transfer to the renter. Units cannot be rented for less than 30 days. Management must be notified in advance when a unit is rented. 3. If the unit is loaned to friends or relatives, use privileges transfer to the friends or relatives for that period of time. Management must be notified in advance when a unit is to be used by friends or relatives. 4. Guests can visit the current resident (persons with use privileges). When guests use the facilities (pool, sauna, exercise room. etc.) a resident must be present. Meeting and Entertainment Rooms Rules 1. Rooms can only be used with HOA member's approval, and the person making the reservation must be in attendance. 2. There is a $200.00 refundable cleaning deposit established for the use of the facility. 3. Owners using the facility will be responsible for cleaning. 4. The meeting/entertainment rooms must be locked when leaving. 5. All appliances and lights must be turned off after use. 6. The Association will establish hours of use for the rooms. 7. No wet bathing attire will be permitted in the rooms. 8. Undue noise is not allowed. 9. No pets are allowed in the meeting rooms. 10. The rooms are available for Association approved meetings. 11. The rooms are for the private use of HOA members, tenants, and their guests only. The rooms and facilities of the association are not public accommodations. False Fire Alarm Fine Recovery Policy WHEREAS, it is the intention of the Ocean Harbor House Homeowners Association (hereafter OCEAN HARBOR HOUSE) Board of Directors to minimize general membership expenses resulting from false fire alarm activations and emergency response fines, and; WHEREAS, OCEAN HARBOR HOUSE does not have control over the interior living spaces of units and conditions therein which may result in a false alarm, and; WHEREAS, OCEAN HARBOR HOUSE desires to hold unit owners responsible for expenses related to false fire alarms resulting from owner's unit, now therefore; BE IT RESOLVED, that the Ocean Harbor House Homeowners Association Board of Directors hereby directs management to collect fines from unit owners for false fire alarms within their units which result in emergency response and fines against Ocean Harbor House. Fines shall be collected in accordance with the following schedule, and the count of recurring events shall be reset to zero (0) for each unit on January 1st of each year: First False Alarm from unit within one calendar year: $100.00; 2nd False Alarm: $200.00; 3rd False Alarm: $300.00; 4th False Alarm: $400.00; 5th False Alarm: $500.00. Additional false alarms from the same unit within the same calendar year will result in successively increased fines in additional $100.00 increments. This fine schedule has been adopted in compliance with Article II, Section 2.B.1(f) of the Declaration of Covenants, Conditions and Restrictions (hereafter CCR's). Fines will be enforced as enforcement assessments against the unit owner in accordance with Article IV, Section 4.6 of the CCR's and Article IV, Section 6.1 (b-e) of the Bylaws.