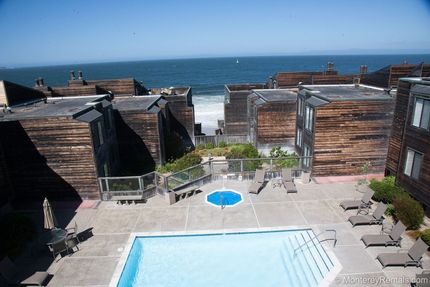 Community Pool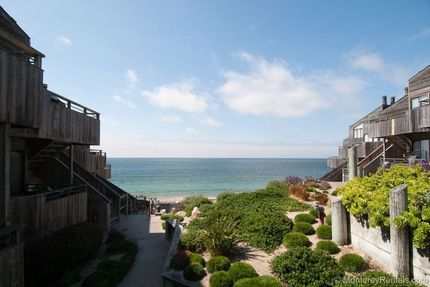 View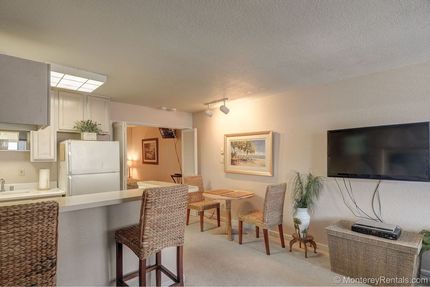 Overview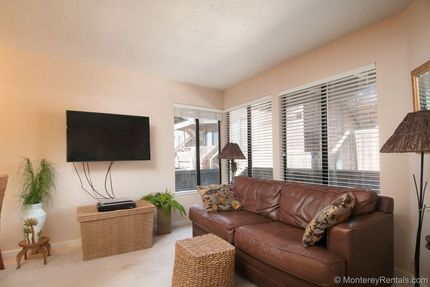 Living Room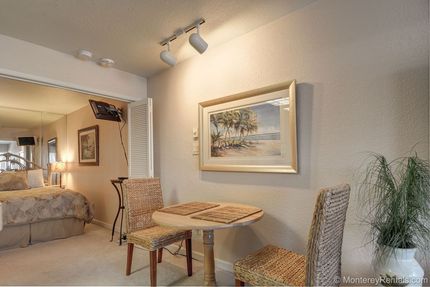 Dining Area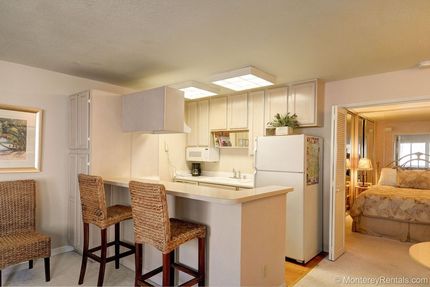 Kitchen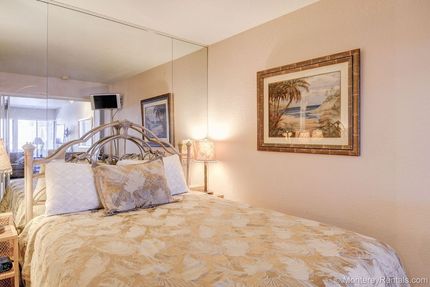 Bedroom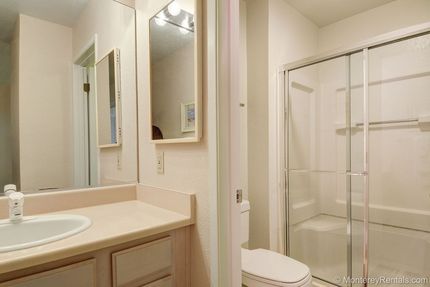 Bathroom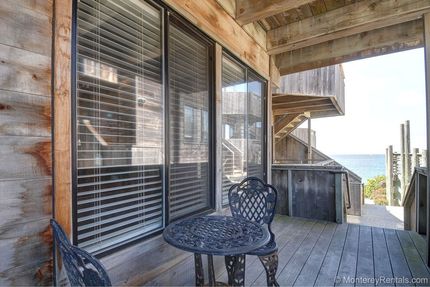 Deck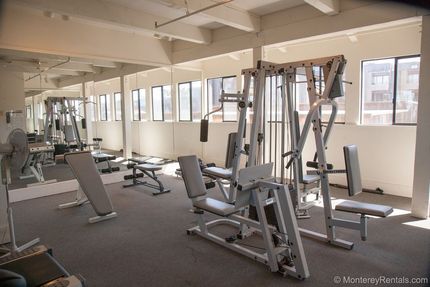 Recreation Room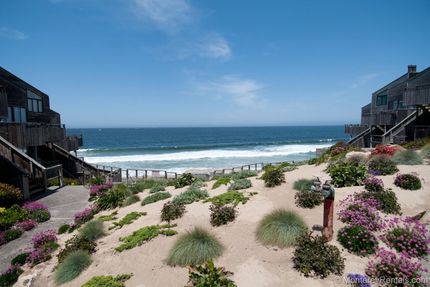 Location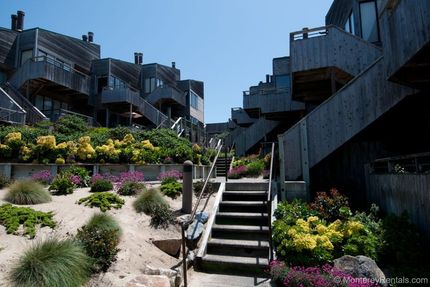 Stairs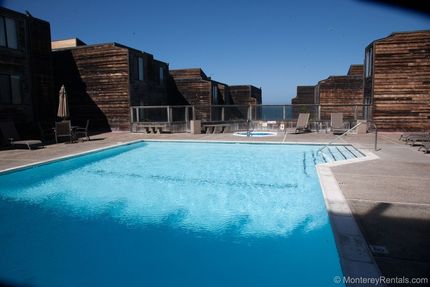 Community Pool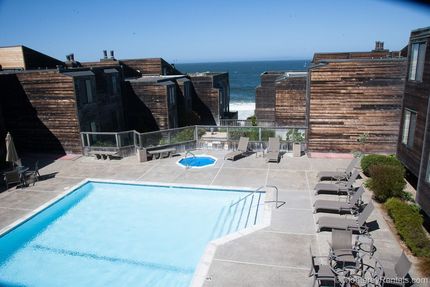 Community Pool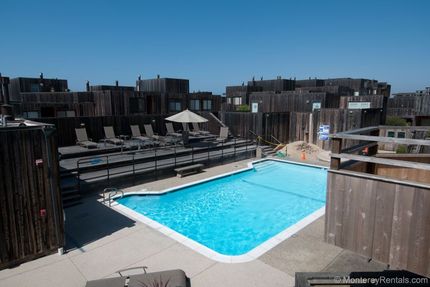 Community Pool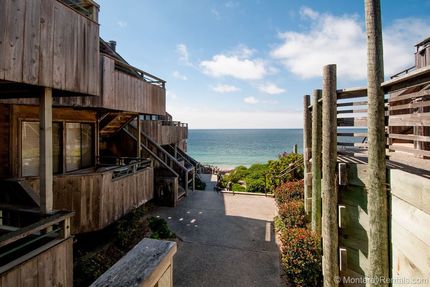 View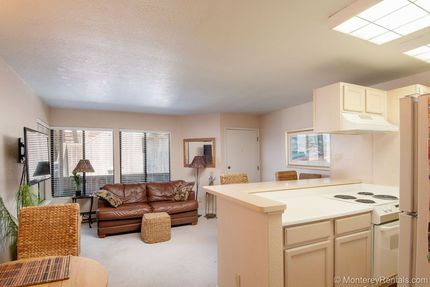 Overview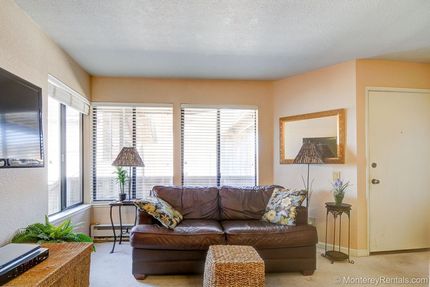 Living Room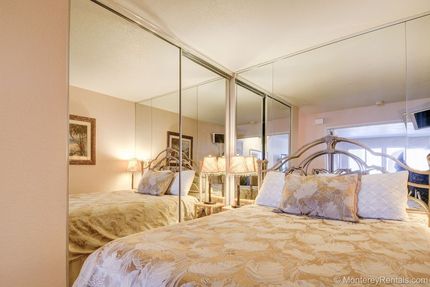 Bedroom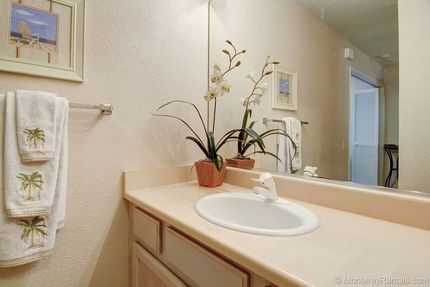 Bathroom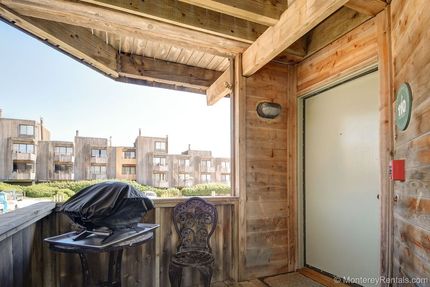 Deck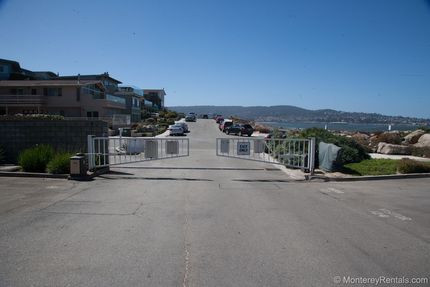 Location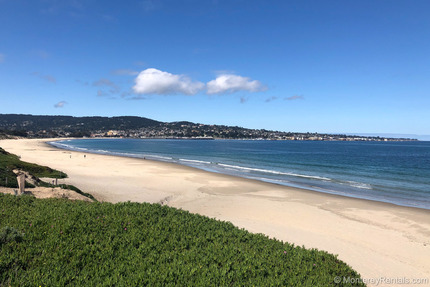 View at Monterey
Ocean Harbor 110 - Monterey
1 Bedroom Beachfront Condo
Listen to crashing waves and watch the surf from this oceanfront condo, with direct access to Del Monte Beach just a few steps away. (Don't be surprised if you spot a sea lion or a sea otter swimming by!) Decorated with a seaside theme,... more condo has a 42" HD flat screen TV in the living room and a second TV in the bedroom—along with an upgraded cable package and DVD/VCR players. The bedroom has a queen size bed, there's a queen sofa sleeper in the living room, and the bath features a walk-in shower and a separate vanity. The dining room table is just off the kitchen, with seating for four at the breakfast bar. There's a bistro table and a barbeque on the redwood deck, so you can enjoy the sights and sounds of the surf as you dine. Ocean Harbor House has many nice amenities including two swimming pools. One pool is very close to the unit—and it's heated year round. Warm up in the sauna or relax in the Jacuzzi after your work-out in the onsite gym. Check out the ping-pong or pool tables, or plan a party in the meeting room (equipped with tables, chairs, and kitchen). Click the remote from inside the comfort of your car to open the Ocean Harbor House security gate, and park in the assigned covered carport just steps from the unit. There are fewer stairs to navigate to this unit than most the others in the complex, so you can save your energy for walking on the beach! There is also a free on-site carwash to keep your auto sparking clean. This unit also offers a 300 cubic foot storage room at ground level if you're bringing bikes, boogie boards, surf boards, or golf clubs—and this central location is perfect for exploring the area. The downtown shops and restaurants of Old Monterey, Fisherman's Wharf, Cannery Row, and the world-famous Aquarium are only a few minutes away by car. Bring your golf clubs to the Del Monte Golf Course, just over a mile away, or tee off at any of the other fine courses on the Monterey Peninsula. Or just step out your front door and walk on the beach - and come back on the paved Coastal Recreational Trail. Unlimited long distance to the US and Canada; free WiFi and Ethernet internet access. Coin-operated laundry room on the premises (close to the unit.) One assigned parking space. less ↑
Amenities
Kitchen - Full
Laundry - Onsite
Linens Provided
Iron and Ironing Board
Pool - Shared
Hot Tub - Shared
Parking - Free
Parking - Off Street
View/Location
Beachfront
Ocean View
Oceanfront
Beds
Queen Bed
Convertible Bed — Queen sleeper
Communication
Internet - Wireless [Free]
Telephone
Free Long Distance
Free Local Calls
Activities
Beach - 1 Min Walk
Restaurant - 10 Min Walk
Surfing - Nearby
Golfing Nearby
Day Spa - Nearby
Outdoor
Deck/Patio
BBQ Grill [Gas/Electric] - Private
Kitchen
Cooking Utensils Provided
Refrigerator - Full Size
Dishwasher
Microwave
Blender
Toaster
Coffee Maker
Entertainment
TV - HDTV
DVD
CD Player
Pool Table
Ping Pong/Table Tennis
Suitability
Honeymoon Spot
No Pets Allowed
Smoking Not Allowed
7 Guest Reviews
110 rental
Very quiet location. Easy to check in and out. Clean apartment. Good view of the water. Will definitely consider a return visit.
— John, Stayed 10/06/2019
Ocean Harbor 110
I enjoyed my stay, great location. This unit was smaller than another unit that I had rented, yet just fine for my extended working stay. The daily rate was MUCH smaller than the alternatives. I really don't recommend this unit if you're planning on having... more more than one guest stop by for a visit. I'd not hesitate to stay at unit 110 again. less
— Jeffrey Baker , Stayed 04/06/2018
Great place to stay
I loved this place! Had a great heated pool that was kept clean. Nice fitness center. Very safe place and right on the beach!! Would recommend this to anyone.
— JoAnn, Stayed 10/01/2015
Great Location by the Sea, Happy Husband, Dog, and I
Beautiful location! Great staff at Monterey Vacation Rentals. My husband and I enjoyed the proximity to the beach...but our dog loved it. I think we all got more exercise than we have had in a while. The condo was nice. It was cozy (aka small)... more but was a great home base for our life style. The furnishings were acceptable. There were some areas that were dated or tired. The kitchen and bathroom was functional but old looking and could use a face lift. We had everything we needed for a three month stay...we did buy a crock pot for the kitchen and a couple little things that helped with the functionality of the unit...you are welcome future guests. But the location really made up for any minor complaint I might have! Monterey is beautiful, and being a NM native...I don't think I will ever be able to eat seafood again because it will never be as good as it was there. less
— Kirstin S, Stayed 05/14/2015
Feet-in-the-sand Location
My wife and I stayed in this condo during the Summer of 2013 and had stayed there previously in December of 2012. The number one attraction is location. Ocean Harbor House, particularly the condos at 1 Surf Way, is right on the beach: there is... more ocean sand under the deck of this unit! At high-tide I could stand on the deck of the condo and throw a Frisbee into the ocean! The condo comes with a storage unit that has a high ceiling that is just right for a couple of bicycles or maybe even a couple of small kayaks. We used it for fishing and scuba equipment and for other beach paraphernalia. We didn't use the exercise-room, Jacuzzi, or pool but made good use of the ping-pong and pool tables. Pool cues & ping-pong paddles were in condo closet. We spent most of our outdoor time on the beach. We walked along the shore to the restaurants on the Wharf on several occasions & to the Best Western, just up the beach, for live entertainment and good food. The kitchen is very well equipped. We had planned on eating out a good deal of the time but ended up cooking, since it was much more convenient and economical to do so. The barbeque looked to be brand-new and functioned well, but we much preferred preparing food in the kitchen and taking it to the deck, or the beach for a picnic. You can still build fires on the beach here, but bring your own wood: not much driftwood. The bed was quite comfortable. The bedroom has its own TV with full cable access. The couch makes out to a queen-sized bed, which we used on a couple of nights the better to enjoy the sounds of the surf! The living room TV has about as big a screen as would work in a one-bedroom unit. It is set up in a fashion so a person can divide his interest between the TV and the view of the ocean. Security is important for us and the fact that this is a gated community that is patrolled by a private security company is reassuring. We plan on coming back. We recommend this unit to family and friends. less
— A FlipKey verified reviewer, Stayed 09/17/2013
Fabulous
Our condo had a beautiful view of the ocean and the pool and we loved every minute of our stay. We even tried to rent the same unit again for a different month. It was quite spacious and had a huge roof top deck that... more overlooked the ocean. The kitchen was well stocked with basic items and we had all the cleaning supplies at our disposal. I was unable to find a blender and the real estate agent immediately supplied us with one. The only thing we disliked about the place was the quality of some of the outdoor furniture on both decks. We had enough usable chairs and lounges for our needs, but they definitely needed to be replaced, but this did not deter us enough to request the same unit for our stay in September. We loved the place. less
— A FlipKey verified reviewer, Stayed 09/07/2013
Nice location, but condo needs some updating.
I stayed at Ocean Harbor 110 for 3 months as a temporary home while coordinating a permanent move to the area. The location is great, though this particular unit has very little view. The furnishings are getting a bit warn out and could use some... more updating. Biggest concern: If you have mold allergy issues, this is not the place to stay. less
— Rebecca, Stayed 07/12/2013
Owner/Manager Response
Thank you, Rebecca, for the great feedback. You are right - this is a great location - and we have many customers who come back, year after year. But I can imagine that for someone coming from a dry area such as Austin, the amount of moisture in the air here is a dramatic change. When you come back to the Monterey Peninsula, please allow us to steer you to a consistently sunnier location! The property owner provided the following: The location is superb: right on dog-friendly Del Monte Beach, near bike and walking paths and walking distance to Fisherman's Wharf. The view, while limited in panorama, is a very close view of the ocean. This summer, without leaving the unit, I saw a pod of baby dolphin swim by almost every day. Within the past two years we have replaced and upgraded: kitchen floor; toilet; kitchen sink fixtures; small appliances; outdoor furniture; barbeque grill. Biggest upgrade was to TV/entertainment center replacing with big-screen Hi-Definition (HD) TV with fast internet. We replace furnishings well before they are worn-out. The prevailing wind is off the ocean, so air-born allergens are far less than further inland. We have never had a problem with mold or any other allergens within the unit, nor (according to manager's report) has Ocean Harbor House.
Policies