Monterey County is under an indefinite stay-at-home order. No hotel or lodging entity can accept or honor reservations for non-essential travel unless the reservation is for at least 14 days and the persons identified in the reservation will quarantine in the hotel or lodging until the 14 day period has expired. We may offer lodging for essential functions and travel including COVID-19 mitigation and containment measures, treatment measures, accommodation for essential workers, and/or housing solutions. If you fit into one of these categories, please contact us for assistance.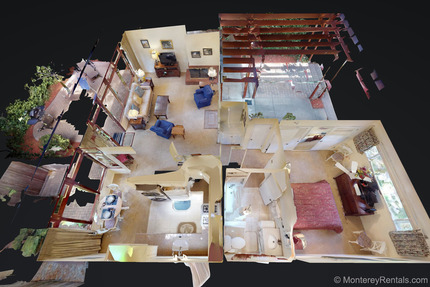 Walkthrough
Overview
Nearby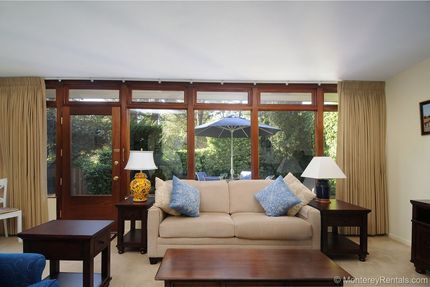 Living Room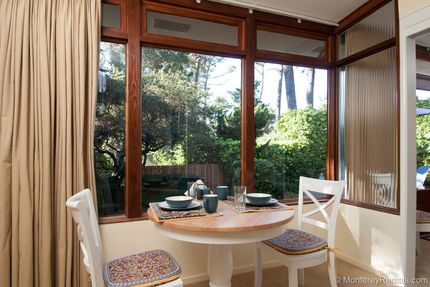 Dining Area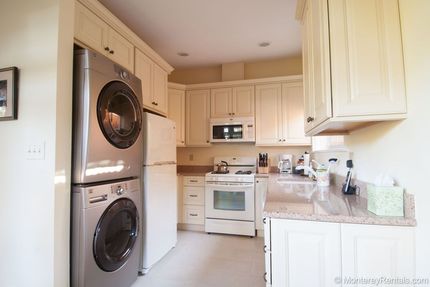 Kitchen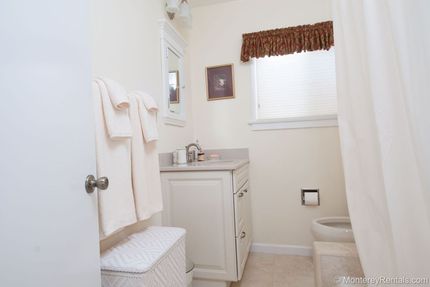 Bathroom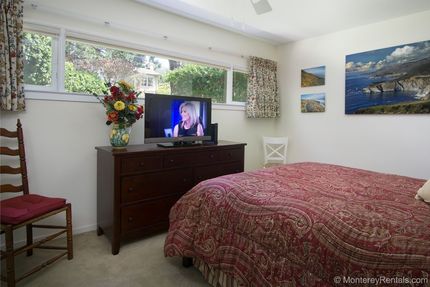 Master Bedroom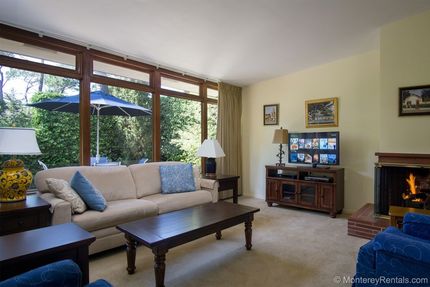 Living Room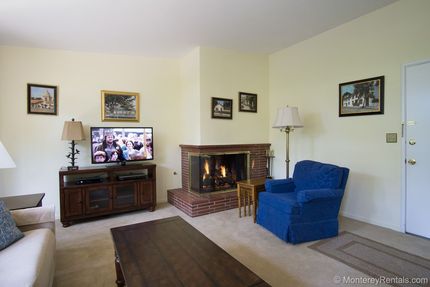 Living Room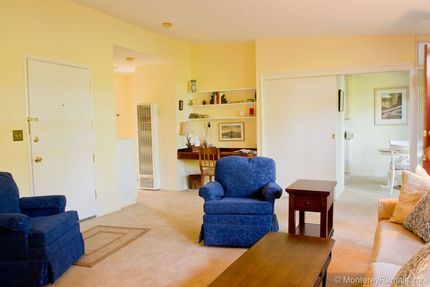 Living Room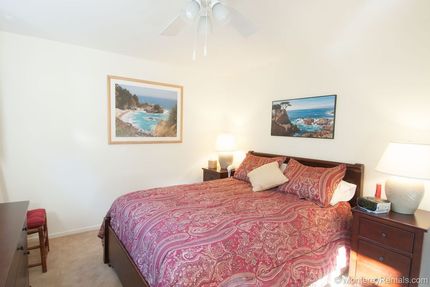 Master Bedroom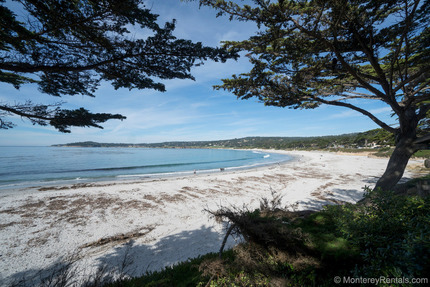 View at Carmel
Peaceful Retreat - Carmel
1 Bedroom Forest Cottage
This newly remodeled one bedroom Carmel Cottage is on a quiet street just six blocks from the restaurants, art studios and shops on Carmel's Ocean Avenue. This is an ideal retreat for a romantic and relaxing vacation. The living room has a brick gas... more log fireplace and overlooks a sunny patio that is protected from ocean winds by tall pines and green hedges. This furnished patio is a great place to enjoy a morning coffee and newspaper or an afternoon beverage. The home is comfortably furnished with new appliances and furniture including a queen size bed, convertible queen size sofa, two flat panel TVs with expanded cable service, DVD player/recorder, AM/FM radio, CD player and WiFi internet access. The full kitchen has all the cookware and dinnerware needed for an elegant meal (or to reheat last night's take home from one of Carmel's award-winning restaurants). To make cleanup easier, there is a dishwasher as well as a washer/ dryer in the kitchen.  Everything is on ground level and there is a carport in front.       less ↑
Amenities
Kitchen - Full
Laundry - In Unit
Linens Provided
Hair Dryer
Iron and Ironing Board
Parking - Covered — Carport
Beds
Communication
Internet - Wireless [Free]
Desk
Activities
Restaurant - 10 Min Walk (2)
Golfing Nearby
Day Spa - Nearby
Outdoor
Kitchen
Cooking Utensils Provided
Refrigerator - Full Size
Dishwasher
Microwave
Toaster
Coffee Maker
Entertainment
TV - Standard Cable/Satellite (2) — Digital Preferred cable package
DVD
CD Player
Suitability
Bedroom on Ground Floor
No Pets Allowed
Smoking Not Allowed
View/Location
Neighborhood View
Walk to town
5 Guest Reviews
Cozy, Quiet Cottage
This was a cozy, quiet cottage in a great location in Carmel-By-The-Sea. 10 minute walk to downtown, 15-20 minute walk to Carmel Beach. Plus easy on/off Hwy 1. The cottage was very cute and quaint; perfect for a single person looking to escape the daily... more grind, or a couple in search of a romantic getaway. The cottage itself was a bit outdated, could use an upgrade when it comes to furniture and decor, but it was still endearing and had everything you needed - whether you are staying for 3 days or 30. The reasons I am giving it a 4 vs 5 rating are for a few reasons: (1) it was very difficult to find; all my guests (and myself) got lost; (2) it needs an overall upgrade. That said, I would highly recommend and hope to stay here again one day. less
— Kari, Stayed 11/23/2020
I didn't want to leave
I was in need of some alone time. I wanted a safe comfortable place so that I can just stay in when I wanted to and go out when I needed too. This place is a home away from home! I didn't want to leave!... more It has everything you need to feel at home I love to cook and the kitchen had all the supplies needed and more! It had a bbq grill outside with a backyard set to sit and enjoy the beautiful sounds of nature and view of all the trees if you look closely you can see the ocean.. the living room is super comfortable with a pull out bed and extra blankets and pillows if needed.. the room has two walk in closets so much storage more then I needed..their is a heater that I had off most of the time so I can have the windows open.. the drive way is steep so be careful don't go straight in reversing will be hard so reverse into the drive way if you are confident much easier to get out.. or just park on the street.. the location is amazing to get everything u need is such a short drive max 10 mins to get to the movies Safeway or mall...the town has so many different restaurants of all kinds of food I will find what ever you are craving... oh and the beach is walking distance or if u take ur car so many places to park.. the location of this beautiful cottage is amazing but the fact that it is literally a home away from home is amazing!!!!! less
— Kholoud, Stayed 06/10/2019
Peaceful Retreat
The Peaceful Retreat served as home base for us while we pursued our search for a permanent residence in Carmel, CA. This charming unit was perfect for us. It was within easy walking distance to downtown Carmel. It was located in a quiet residential neighborhood.... more Having a private patio, internet access, a carport and a washer/dryer made this the perfect home during our stay in Carmel. There is a wall of windows in the living room and dining area that makes the unit feel light and airy. We found this small condo to be just the right size for 2 people. We would highly recommend the Peaceful Retreat. less
— Charlie & Pat, Stayed 09/18/2017
Couldn't be better!
Pictures cannot capture the charm this place beholds. Cozy, well stocked, quiet,washer dryer +, charming retreat. Easy access on/off Hwy. 1 as well as into town. Sunset Center a few blocks away (wonderful performances) and the best restaurants in the Monterey Peninsula right at your... more finger tips. Heads up...Carmel does not have addresses on this side of town nor satellite. Post office about five (5) blocks away. During rain - T-mobile not reliable. Verizon works best. Phone service in cottage cuts off @ times while in the middle of a conversation. With no communication, one could not ask for more!!! Definitely a "peaceful retreat"!!! less
— A FlipKey verified reviewer, Stayed 03/05/2014
Even Better Than Excellent
The place is just so sweet and comfortable with great design elements, a wonderful backyard, an easy walk into town or the ocean, quiet neighbors and a restful silence that insures peaceful days and a good night sleep. Of many vacation rentals from Victoria BC... more to Portland Maine this one probably ranked as our favorite. And to just answer that question we all have when booking things online. Yes, it looks exactly like the pictures. Monterey Rentals were just great in every way. You can count on their Customer Service if you need them. less
— A FlipKey verified reviewer, Stayed 10/03/2013
Policies