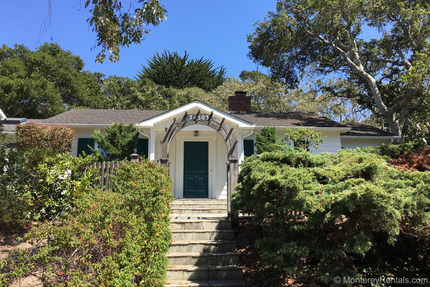 Exterior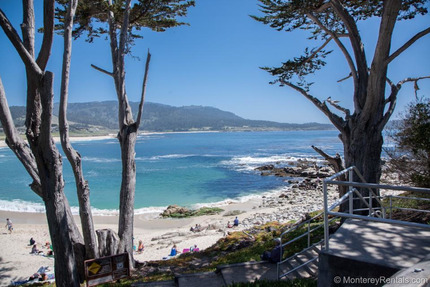 Nearby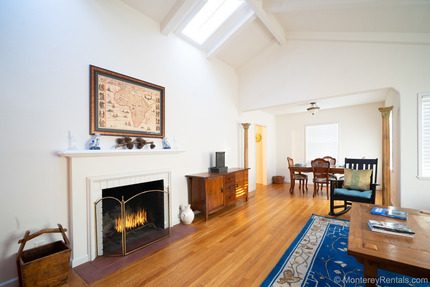 Living Room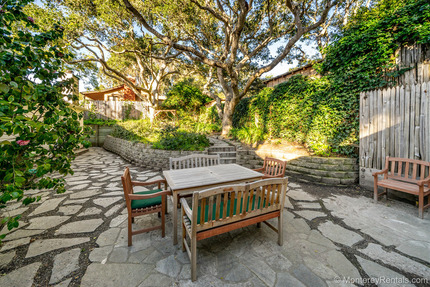 Patio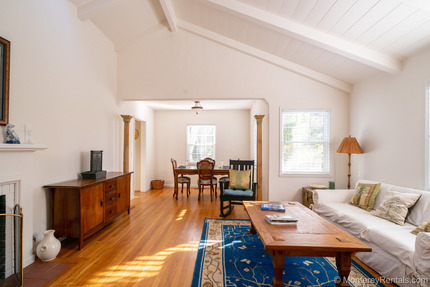 Overview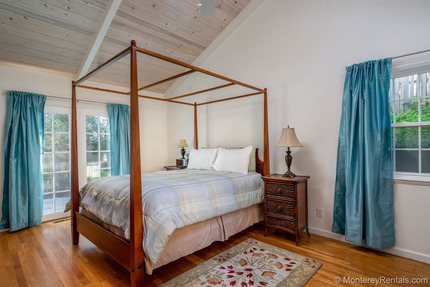 Master Bedroom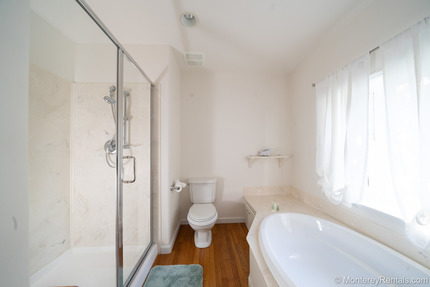 Master Bathroom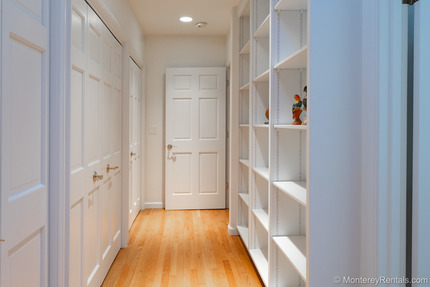 Master Bedroom Closet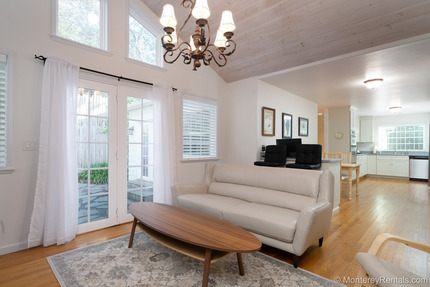 Den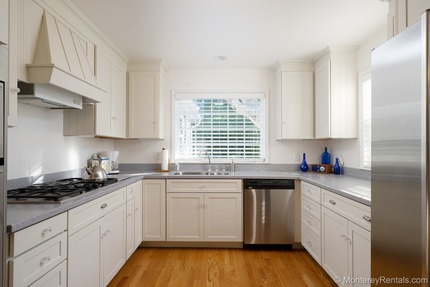 Kitchen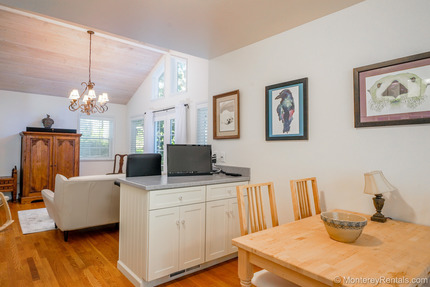 Breakfast Nook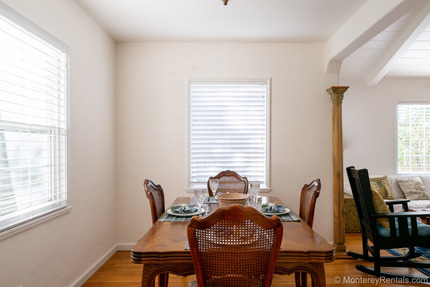 Dining Area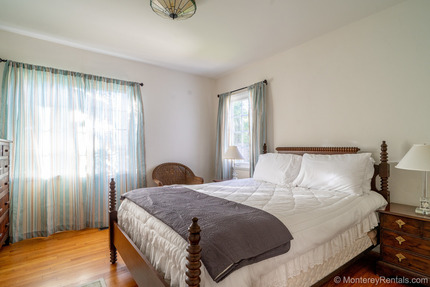 Second Bedroom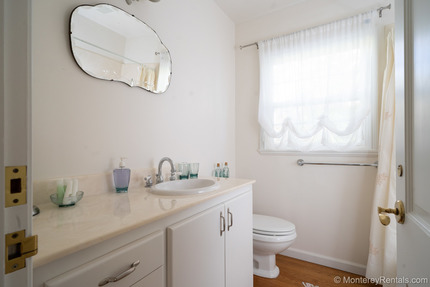 Second Bathroom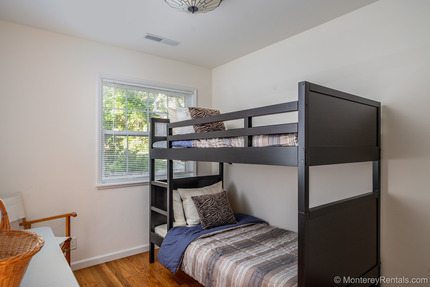 Third Bedroom
Powder Room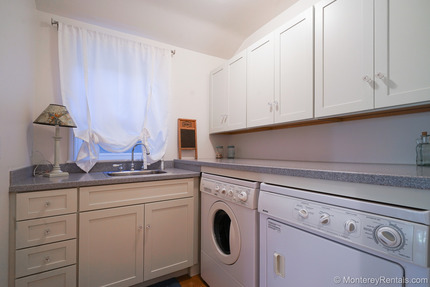 Laundry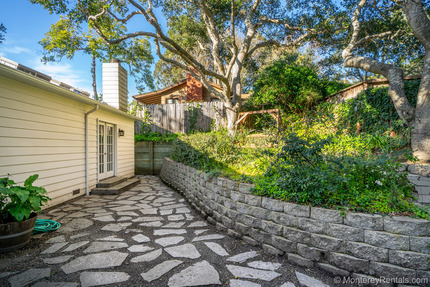 Yard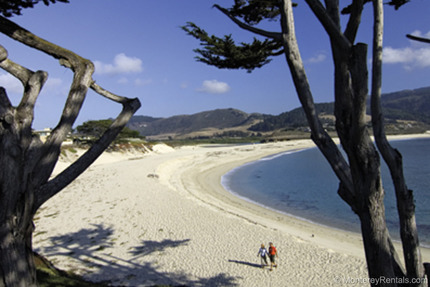 Nearby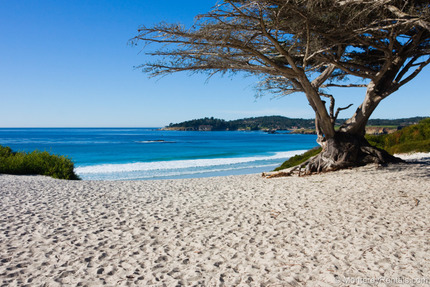 Nearby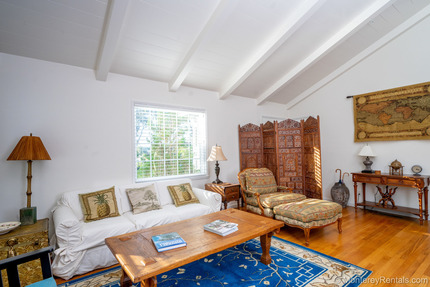 Living Room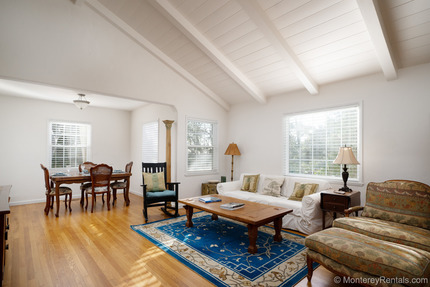 Living Room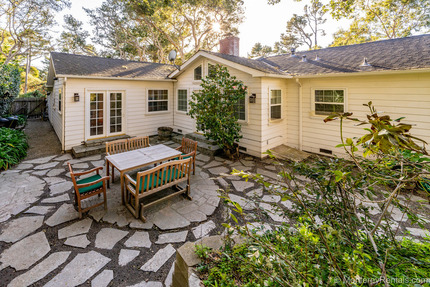 Patio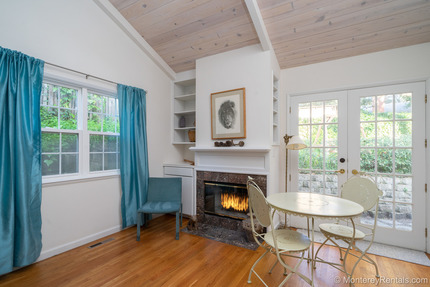 Master Bedroom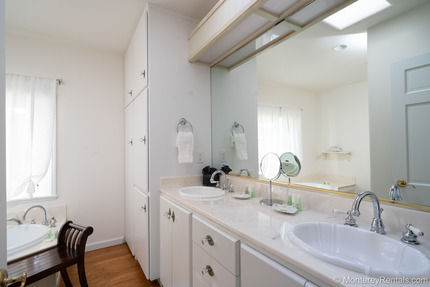 Master Bathroom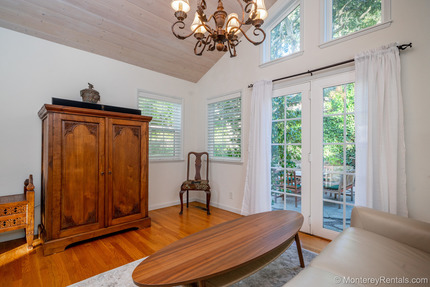 Den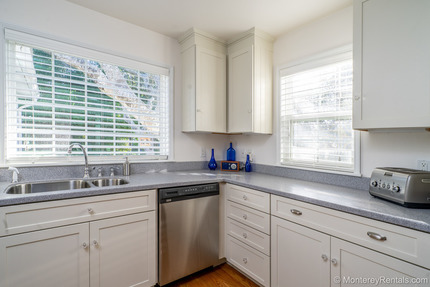 Kitchen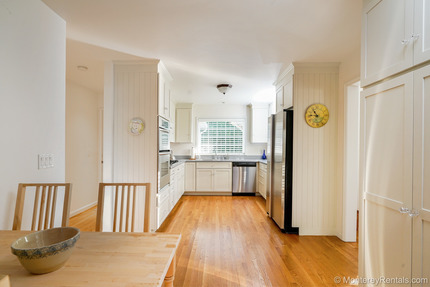 Kitchen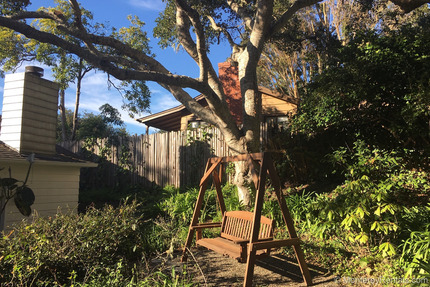 Yard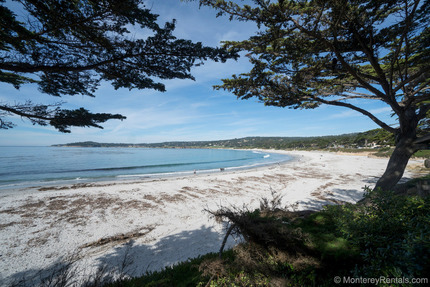 View at Carmel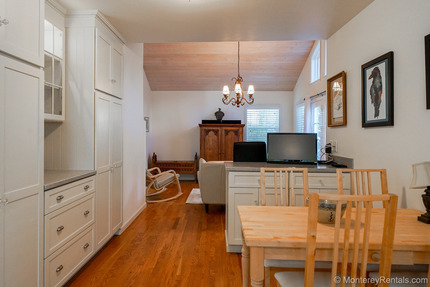 Layout
Arcadia - Carmel
3 Bedroom Neighborhood Home
This comfortable, single-story home on a corner lot in Carmel is the perfect spot from which to explore the many splendors of the Monterey Peninsula. Between the living room (with a fireplace for chilly nights) and the cozy den—with a leather sofa and a... more large TV—you'll have plenty of room to spread out here. There are two dining areas, one off the living room and a breakfast table beside the large kitchen, which features fresh white cabinetry, a stainless side-by-side refrigerator, a five-burner gas range, and built-in oven/microwave. There's a twin bedroom (with bunk beds), a powder room, and a laundry room off the kitchen. On the opposite side of the home, you'll find a Queen bedroom facing a hallway bath with a tub/shower. Further down the hall is the master suite: Queen-sized poster bed, fireplace, and a large TV in an antique armoire. The en suite bath has an oval soaking tub, a walk-in shower and dual sinks. Outdoors, you can while away the hours in the porch swing or dine al fresco in the large backyard under the oaks. And when you're ready to explore, Carmel's storybook downtown is just a short walk away. Two-car garage with driveway and street parking. less ↑
Owner/Manager
Kyle Burritt
Amenities
Kitchen - Full
Laundry - In Unit
Linens Provided
Laundry Detergent
Shampoo, Conditioner, Soap
Paper Towels, Tissues, TP
Hair Dryer
Iron and Ironing Board
Gas Fireplace (2)
Parking - Off Street
Garage (2)
Great Value
Beds
Queen Bed (2)
Bunk Bed — Two twins
Communication
Internet - Wireless [Free]
Telephone
Activities
Surfing - Nearby
Golfing Nearby
Day Spa - Nearby
Outdoor
Kitchen
Refrigerator - Full Size
Dishwasher
Microwave
Toaster
Coffee Maker
Tea Kettle
Entertainment
Suitability
No Pets Allowed
Smoking Not Allowed
View/Location
Neighborhood View
Walk to town
7 Guest Reviews
Carmel in the woods
If you want the woodsy whimsical Carmel experience, this is the place. Beautiful grounds, can't even see the grounds but it tastefully cared for. Great kitchen, bathrooms, bedrooms. That being said, the living rooms and sitting rooms need some work. The couch had a bland... more cover over it. When you sat down you are about 12" from the floor. We are senior citizens and it was hard to get up off the couch. My wife could not sit on it. There is the large table in the middle of the room. I guess a coffee table. I hit both my ankles on it. nothing serious but did fall over. Furniture needs upgrades. But, do not let that deter you from this place. Truly a gem, just needs a little TLC. less
— dan, Stayed 11/29/2023
Great place
Our stay at Arcadia was great. The house is very spacious and clean. The beds were comfortable, water in the shower hot, and all the appliances were newer and in great working condition making it a breeze to cook in the well-equipped kitchen. The house... more is in a very quiet neighborhood and close to downtown Carmel, though I wouldn't consider it to be 'walking distance' as there are no sidewalks or street lights in the neighborhood so even though it is just over a mile away, I don't think it would be a practical walk. That definitely wouldn't prevent me from staying here again, though, as the place checked all the boxes with respect to comfort and quality. less
— christopher, Stayed 09/27/2023
Review of Arcadia
The house was as it was represented. It was clean, and we had a nice week there.
— Warren Spurling, Stayed 08/27/2023
Beautiful, spacious house
I booked Acadia for my parents, children, spouse and myself while we were in town for a wedding. I usually book a vacation home based on bed arrangements and location, so I forgot what it looked like from the website photos until we arrived. I... more was pleasantly surprised that the house was comfy, well decorated, and huge. My parents and kids arrived before us and my kids exclaimed "this is the best vacation hotel house ever!" They absolutely loved the bunk beds. The house is a bit far from town so we couldn't really walk in, but it was a quick drive. My only complaint was that the house carried noise, so when my kids woke up early at one end of the house we heard it from the primary suite in the back. Also the primary suite could easily fit a king bed instead of queen, but the queen bed was extremely comfortable. Overall I was very pleasantly surprised and would absolutely recommend this house to others! less
— Ashley, Stayed 07/26/2023
Beautiful Carmel
Beautiful Carmel by the sean was perfect. Shopping, dining and exploring the beaches. Location of our property was minutes from town and very quiet. Would definitely go back.
— Brooklin, Stayed 06/04/2023
Arcadia
Our stay was great!! Property very clean and close to downtown Carmel!!
— Keri, Stayed 03/20/2023
Monterey rentals-Arcadia
We've been renting properties from Monterey rentals for few years now. Kyle, and in the past Debra, are very efficient and helpful. It truly matters who manages the property. This property is situated in a quiet neighborhood surrounded with charming lace oak trees. Serene and... more tranquil place, that's what we were looking for. The backyard has a swing. The house had most of the things we needed. We enjoyed the stay. less
— Ida, Stayed 08/05/2021
Policies