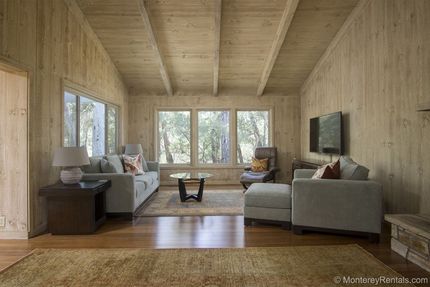 Living Room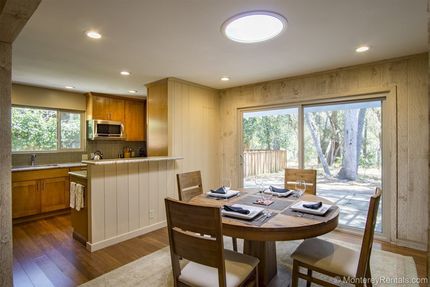 Dining Room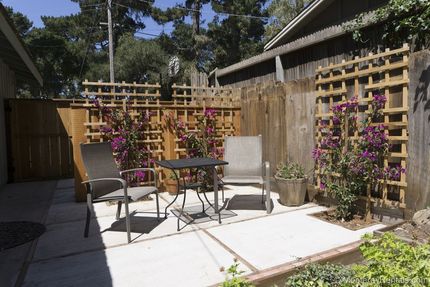 Patio/Deck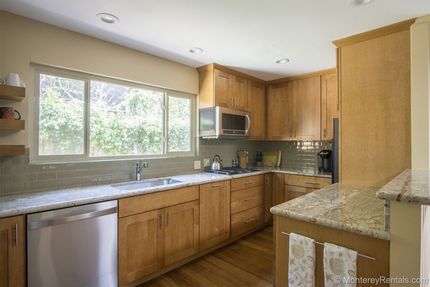 Kitchen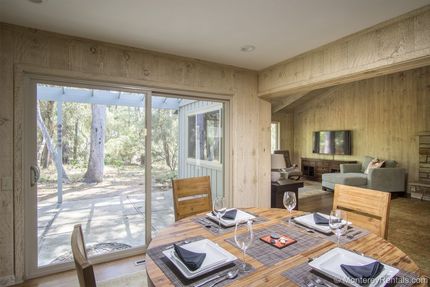 Overview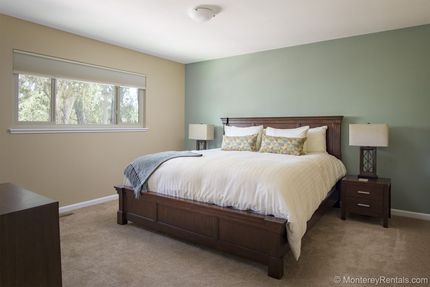 Master Bedroom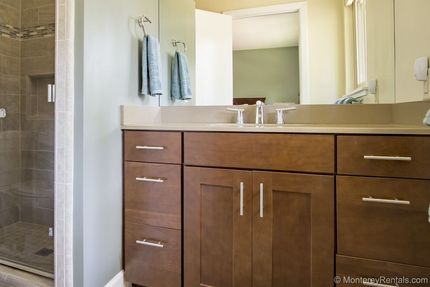 Master Bathroom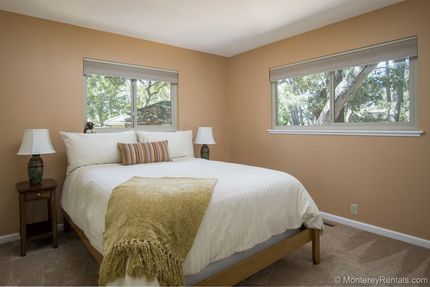 Second Bedroom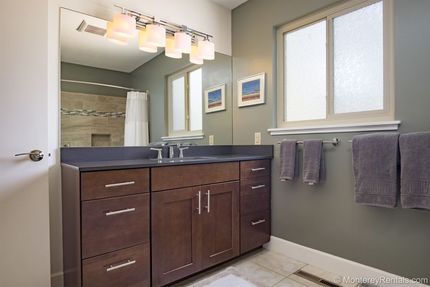 Second Bathroom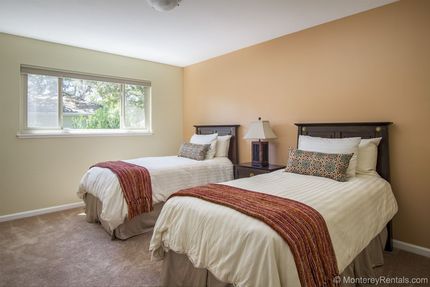 Third Bedroom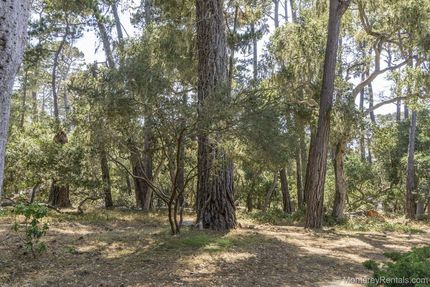 Yard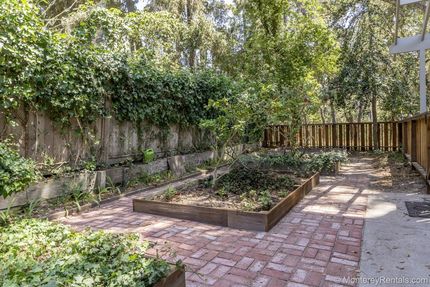 Fenced Yard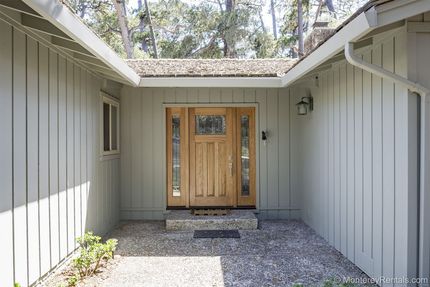 Entry Area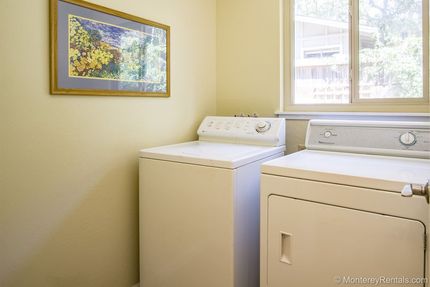 Laundry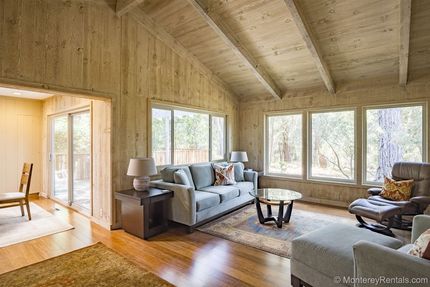 Living Room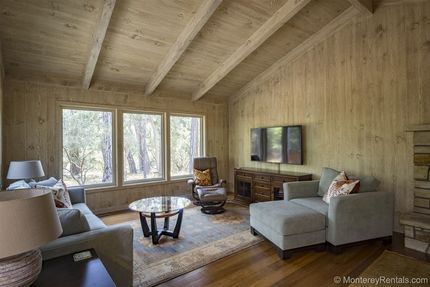 Living Room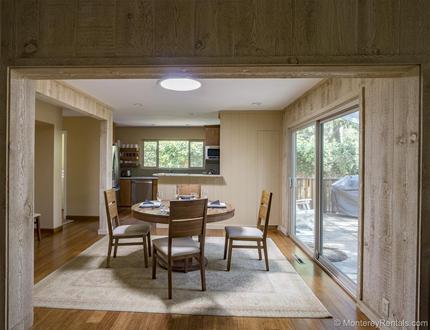 Dining Room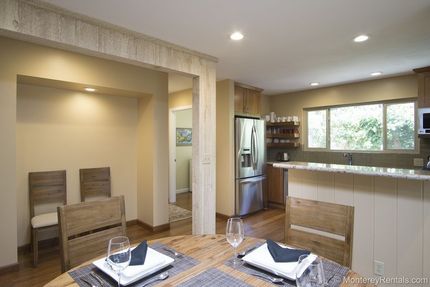 Dining Room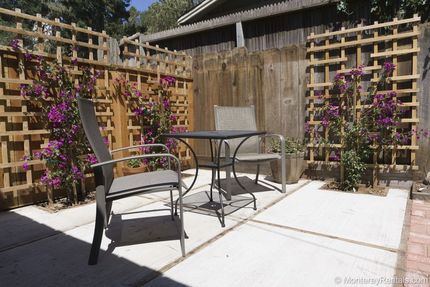 Patio/Deck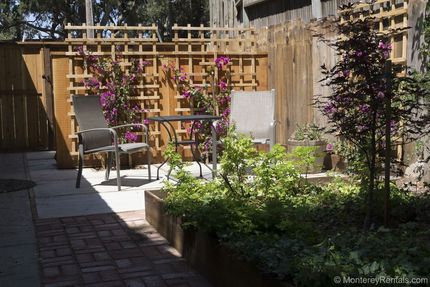 Patio/Deck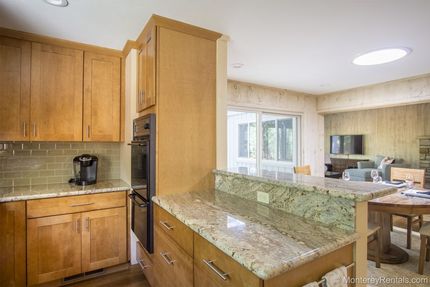 Kitchen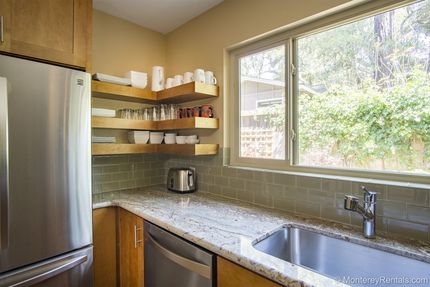 Kitchen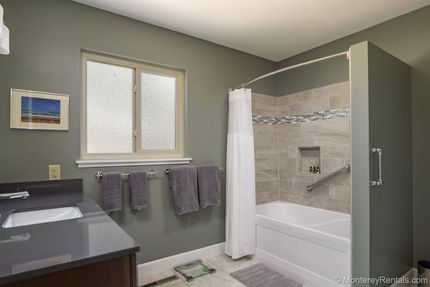 Second Bathroom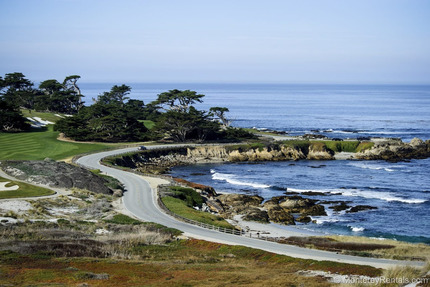 View at Pebble Beach
Tranquillity - Pebble Beach
3 Bedroom Forest California Ranch
With the Del Monte Forest as your backyard, this serene ranch-style home radiates the peace that is Pebble Beach. Large windows frame a still life... with wildlife. Red-headed woodpeckers, black-tailed deer, squirrels and bluejays populate this quiet landscape. This recently renovated home is a... more of modern charm and relaxed elegance, decorated in a soothing palette of cream, cafe au lait, teal, and spice tones. The living room - clad in whitewashed wood with a vaulted ceiling - has comfortable furniture and a large flat screen TV. The skylit dining room seats six, and the adjacent kitchen features granite counters with a grey glass backsplash and stainless appliances, a four-burner gas cooktop, a double oven and a Keurig coffeemaker.  There are three bedrooms, two full baths and a powder room. The Master has a King bed and an en suite bath with a walk in shower. Two more bedrooms (a Queen and two Twins) share a bath with tub/shower.  There's a sunny, fenced side yard with a patio framed in scarlet bougainvillea, a separate laundry room, and a single garage.  From this location you are minutes from all the amenities of Spanish Bay and Pebble Beach, with easy access to the shops and restaurants of Pacific Grove. less ↑
Owner/Manager
Michelle Larkin
Amenities
Kitchen - Full
Laundry - In Unit
Linens Provided
Laundry Detergent
Shampoo, Conditioner, Soap
Paper Towels, Tissues, TP
Hair Dryer
Iron and Ironing Board
Garage
Beds
King Bed
Queen Bed
Twin/Single Bed (2)
Communication
Internet - Wireless [Free]
Activities
Golfing Nearby
Day Spa - Nearby
Outdoor
Deck/Patio
BBQ Grill [Gas/Electric] - Private
Kitchen
Cooking Utensils Provided
Refrigerator - Full Size
Dishwasher
Microwave
Blender
Toaster
Coffee Maker (2)
Entertainment
Suitability
Bedroom on Ground Floor
Smoking Not Allowed
Dog Friendly
View/Location
7 Guest Reviews
Our 3rd summer @ Tranquility
We loved our 2 months at Tranquility. The house is open to nature with its large windows, it was great fun watching the wild life. COVID was a breeze staying inside the Del Monte Forest. Very few humans on the streets, walking down to Spanish... more Bay and Asilomar just about 15 minutes away. Happy that Pebble Beach closed the streets to the public during the holidays, keeping the traffic down. The house is centrally located, you can get anywhere in 10 minutes. And getting to Pebble Beach and Carmel Beach is a breeze. We love working with Michelle and Ashley at Monterey Bay Property Management. We have rented from them for 8/9 years (lost count) There are many rental options on the peninsula, but my choice is Monterey Bay Property. No surprises, great follow up, the houses are super clean, easy to work with and not a million hidden charges.. Tranquility has a nice open plan, good size rooms and bathrooms. Well stocked Kitchen and I love their washer and dryer (super fat) And they allowed us to bring our dog. Life is good.. God willing we will return in 2021... less
— Slyvia, Stayed 10/08/2020
Peace and Quiet
Tranqility is as is indicated, peace and quiet. We thoroughly enjoyed our stay at this home in Pebble Beach. The home is open and spacious and backs up to the beautiful Del Monte Forest. Everything we needed was provided in the home. There are endless... more walks to be had along 17-mile drive and through the Del Monte Forest. My husband and I were able to truly relax and enjoy the clean air, cool breezes, and spectacular views along the coasline. Thanks to Monterrey Vacation Rentals for providing us with a wonderful experience. It was difficult to return to the heat in Fresno, but we'll be back. Dana and Bob Powell less
— Dana and Robert , Stayed 08/07/2020
There is something special about this place.
This was our third summer renting Tranquility for the months of August and September. We have been a customer of Monterey Bay Property Management for approximately 8 to 9 years, I've lost count. We will only rent from MBPM, they are professionals and easy to... more work with. We love Tranquility, it s a bright happy house, with good size rooms decorated tastefully. The location is perfect, near two of the Pebble Beach gates and 5 minutes from golf, supermarkets, Trader Joes, restaurants and the beach. You can walk to Spanish Bay and Asilomar beach in 15/20 minutes and drive to Carmel in minutes. The neighborhood is quiet and very friendly. The wild life never disappoints. Plenty of deer, quail, bob cats, hummingbirds, wood peckers and jays. Tranquility is our home away from home, we love the area and what has to offer, so many things to see and do. Looking forward to next year. less
— Slyvia, Stayed 10/04/2019
Another wonderful Summer @ Tranquility
Again, we loved our 2 month stay @ Tranquility. The home is sweet, located perfectly near the Pacific Grove gate and all the stores and restaurants, (PG, Monterey and Carmel) We walked down to Asilomar Beach everyday just a 1/2 hour walk. We fed the... more wild life and it paid off. We had hummingbirds, blue jays, stellar jays, Western quails, neck ring doves, gray, brown and black squirrels, acorn wood peckers, morning doves and a dozen deer, all just feet from the back windows. The neighborhood is friendly and quaint. It is truly heaven on earth! We have booked our Monterey Peninsula vacations with Monterey Bay Property Management the last 8 years. Our experience has been great. Michelle is professional, sweet and great to work with. We drive with our dog from Florida every year and I can't think of doing business with any one else but Monterey Bay Property Management. We are booked for our 2019 summer! Can't wait. less
— Slyvia, Stayed 10/08/2018
We loved Tranquility
Tranquility was the perfect summer home. We have rented many homes thru out the years from Monterey Bay Properties and this one is one my favorites. The house is decorated beautifully, our bed was very comfortable, and all the furniture was also very comfortable. The... more kitchen well stocked. We loved the location, a few minutes from the PG's gates and close to 68 and shopping. Supermarket, Trader Joe's. And only a few minutes from the Carmel gate. We didn't have to deal with the 68 traffic. We love the proximity to the beach, only a 15/20 minute walk to Asilomar and Spanish Bay. The house is on a beautiful wooded street were the deer roam frequently. The wild life behind the house was spectacular. We saw lots of deer, hummingbirds, Western Quail and much more. The house sits on the edge of the woods and is super private with large low windows that allow you an excellent view of the woods. The house was super clean and I love the simulated wood floors. Perfect for my dog. The neighbors are super sweet and friendly and it was a wonderful 50 day stay. See you next year. And thank you for a great summer. less
— Sylvia , Stayed 10/02/2017
Best ever!
We have worked with Monterey Bay Property Management for well over a decade to find and manage our summer vacations. They have never disappointed us with the properties we've booked and their service response is lightening fast if ever there was a rare problem. This... more house was perfect for our summer vacation 2016. It is a peaceful and well appointed residence. Michelle is a wonderful agent and I would highly recommend her for your vacation needs. less
— Susan, Stayed 09/05/2016
Modern, comfortable, peaceful
This vacation rental is aptly named, "Tranquility." Backs up to the woods, we saw deer in front and back yards everyday. Tastefully decorated in a simplistic, feng shui style. Had everything we needed and more. Perfect retreat. Walked / jogged to beach most everyday (only... more about a half mile away). My family and I had many spontaneous beach happy hours at the beach of Spanish Bay. We would definitely stay here again. less
— Tammy, Stayed 10/04/2015
Policies